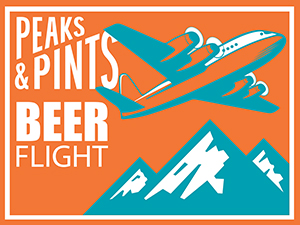 March marks National Peanut Month, with National Peanut Lover's Day celebrated today. Every day we want to celebrate one of the world's most versatile and delicious legume. The peanut plant probably originated in Peru or Brazil in South America. No fossil records prove this, but people in South America made pottery in the shape of peanuts or decorated jars with peanuts as far back as 3,500 years ago. European explorers first discovered peanuts in Brazil. Peanuts were grown as far north as Mexico when the Spanish began their exploration of the new world. The explorers took peanuts back to Spain, and from there traders and explorers spread them to Asia and Africa. Africans were the first people to introduce peanuts to North America beginning in the 1700s. As you know, Peaks & Pints celebrates just about every occasion with a beer flight. Go nuts over our Craft Beer Crosscut 3.15.20: Flight of Peanuts.
Craft Beer Crosscut 3.15.20: Flight of Peanuts
Belching Beaver Peanut Butter Milk Stout
5.3% ABV, 30 IBU
This San Diego-brewed, 2014 World Beer Championships silver medalist Belching Beaver Peanut Butter Milk Stout hits a nostalgic note: Peaks and Pints remembers how good a creamy peanut butter sandwich tastes with a glass of milk. That same luscious, nutty peanut butter flavor flows alongside coffee creamer richness; slight coffee roast and peanut butter on our noses before a lightly roasted, bitter finish.
Iron Horse PB & Death
6.53% ABV
Ellensburg, Washington's Iron Horse Brewery is an iconoclastic brewery. They're not ones to copy/paste a style into their profile just to compete with the Irish beer giants. Quilter's Irish Death was born of a reverence to the dry Irish stout. Created by the Iron Horse Brewery founder Jim Quilter, this craft beer has been called a sweet stout, strong ale and Scotch Ale. We call it delicious with a massive amount of chocolate malt that goes down easy. Then, Iron Horse added peanut butter to the Death for sweet toasted peanut butter goodness.
Wingman P-51 Peanut Butter Cup Porter
8% ABV
Wingman Brewers introduced a peanut butter and coconut porter to the Port Townsend Strange Brewfest several years ago. At its 2014 Porterpalooza festival, the Tacoma brewery dropped the coconut and added chocolate. It was a huge hit. It re-appeared for Porterpalooza 2015, this time in 22-ounce bottles as a seasonal. Peanut Butter Cup Porter tastes like a Reese's Peanut Butter Cup full of rich peanut, chocolate, some light roasted notes and a decent amount of sweetness.
Dugges Peanut Butter
10% ABV
In 2005, Mikael Dugge Engström opened Dugges Ale & Porterbryggeri (Porter Brewery) in Landvetter outside Gothenburg, Sweden. Today, Dugges Bryggeri is on the top one hundred brewers in the world list, which isn't a surprise since they brew some absolutely phenomenal, world-class beers. Their Peanut Butter imperial stout hits the not with peanut butter, which transfers to the tongue but with underlying notes of chocolate. It's all about the peanut butter and does a remarkable job at hiding any traces of alcohol from the taste.
Claim 52 Kandy Kake
11.6% ABV
The Kandy Kake was not cake. Curtiss Candy Company, best known as the name behind Baby Ruth candy bar, invented the Kandy Kake in 1920. It was "chocolate pudding, nut topping" coated in chocolate. Well, not really "pudding," but they didn't know what else to call the new consistency that was "richer than marshmallow, fluffier than nougat, better than either of them." Claim 52 Brewing in Eugene, Oregon, brewed Kandy Kake Imperial Stout made with Kandy Kakes and milk sugar, then conditioned on peanut butter, chocolate and vanilla. Sweet peanut butter takes the cake on this one.
Photo courtesy of Paul Brennan
---