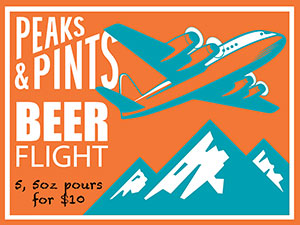 Craft beer is a movement of equal parts tradition and innovation. Though the many major style categories establish framework in which many beers exist, the beer world includes other distinct styles, flavors and aromas that often depart from traditional brews and carve out their own niche — and they're just as fun to explore. For example, some brewers use unusual ingredients like fermentable sugars and starches, while others include vegetables as flavor adjuncts. Hybrid beers are produced from a mixture of ingredients and fermentation temperatures to come up with unique flavors and aromas. Hybrid and specialty beers can include everything from the traditional floral and spice additions to fruits, honey, smoked essences and seasonal creations. The proliferation of craft brewing continues to spawn new beers that defy conventional, existing style categories — mashing up styles. If you enjoy experiencing a brew that's truly out of the ordinary, you're likely to enjoy Craft Beer Crosscut 3.14.18: A Flight of Mash Ups.
Dogfish Head SeaQuench Ale
4.9% ABV, 10 IBU
SeaQuench Ale is a session sour mash-up of a crisp kolsch with lots of wheat and Munich malt, a salty gose with black limes, coriander and sea salt, and a citrusy-tart Berliner weiss made with lime juice and lime peel, blended together in the fermentation tank to create this German hybrid. Dogfish Head's experimentation focuses on three thirst-quenching styles with German roots, but no single style quite hit the mark and mood the brewery was going for — so it blended them for a cloudy gold brew with a savory and citrusy smell. It has a fair amount of tart wheat and coriander character, but the salt and lime are extremely strong. There are many goses brewed in the same vein, but not many are this dry, bright and thirst quenching.
21st Amendment Not Your Cup of Tea
9% ABV, 24 IBU
The 21st Amendment Brewery has launched a new series of beers called Tales from the Kettle, and the first release is Not Your Cup of Tea, a Scottish-style ale brewed with black tea. Each new beer in the series will come from an employee home-brew competition judged by members of the San Francisco Brewers Guild. Team "Slainté to the Queen" — 21st Amendment's graphic designer, a server at its pub, its Chicago sales rep and one of its maintenance technicians — is this year's winner and they tell their tale through a one-of-a-kind, exceptional Scottish-style ale brewed with black tea they call "Not Your Cup of Tea." We can't taste the black tea so much but we can taste caramel, molasses, earth, slight cocoa, touch of plum, little prune and plenty of peat smoke with additions of charcoal. It hides the 9 percent ABV well.
Lagunitas Dry-Hopped Censored Ale
6.7% ABV
Not so much as a mash up, but rather a mistake, Lagunitas Brewing's has released a new limited release Dry Hopped Censored Ale, which was once known as The Kronik. (Due to label approval by the Feds this beer name was not approved due to its marijuana reference, therefore Lagunitas slapped CENSORED over top where the label said KRONIK.) Dry Hopped Censored Ale entered this world as a normal batch of the classic Censored Ale but was given new dimension when it was unintentionally brightened up with a generous dry-hopping of Centennial, Chinook, Simcoe and Citra hops meant for another tank.  Being the chill kids that they are, the folks at Lagunitas rolled with this "mistake" and ultimately discovered that the additional hops supplied a pleasant bite to the beer's malty, roasty, and deceptively smooth character.
Green Flash Cellar 3 Series: Oculus Sauvage
10.1% ABV, 101 IBU
Talk about experimentation: Green Flash Brewing combined its Belgian-style Trippel and American Imperial IPA, added black and red currants, inoculated it with Brettanomyces, then aged it in red wine barrels for 12 to 24 months. Brewed with Amarillo, Summit and Nugget hops, the resinous hops characteristics are refined by barrel-drawn notes of vanilla and French oak tannins. Wild, dual yeast fermentation imparts a barnyard funk with hints of apple orchard that linger in the finish.
Schneider-Brooklyner Tap 5 Meine Hopfenweisse Pale Wheat
8.2% ABV, 40 IBU
Schneider Brooklyner Hopfenweisse is a collaboration between brewmasters Hans-Peter Drexler of the Schneider Brewery and Garrett Oliver of The Brooklyn Brewery. Together they bring you their joint creation: a pale weissbock robustly dry-hopped with the Hallertauer Saphir variety grown in the fields near the Schneider brewery. Hoppy, zesty and supremely refreshing, Schneider Brooklyner Hopfenweisse is a delicious blend with vanilla, light banana, warm clove, pale malts, cinnamon and citrus floating over the tongue and cheeks opening up for orange, apricot, flowers, orange zest, bright caramel and touches of clean white pepper. It finishes clean and crisp with the sweet hints of weissbier, and the fresh notes of hops.
---