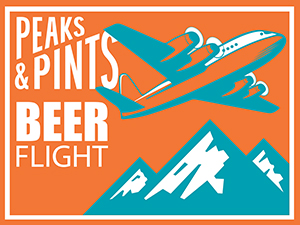 It's Friday the 13th. Typically, we would offer some sort of scary-themed flight. Obviously, that isn't a good idea right now. But, beer flights are our thing, so today we are offering Craft Beer Crosscut 3.13.20: Flight of Beer Flowers. Technically, hops are flowers, which means basically every beer has flowers in it — but we present a beer bouquet, beers with floral notes. Floral beers can get aggressive in an Aunt Martha-who's-been-wearing-the-same-perfume-for-decades sort of way. It's risky territory when it comes to flowers in the world of beer. We handpicked five floral brews, in a variety of styles, that will leave you feeling more like you're drinking happiness and less like you're hanging out with Aunt Martha and her impressive potpourri collection. Cheers!
Craft Beer Crosscut 3.13.20: Flight of Beer Flowers
Garden Path The Prime Barrel Age
7.2% ABV, 17 IBU
Garden Path Fermentation's owners come from the famous Jester King Brewery in Texas — and the ciders, meads, and beers they've been producing since opening in 2018 have not been a disappointment. They incorporate only ingredients they can get locally, whether it's the native yeast, the Skagit malt, the hops they can find locally. Garden Path Fermentation's The Prime Barrel Age is a carefully curated blend of several different renditions of native yeast fermented, mature barrel-aged beer. The aroma leads with funk, Brett and wood, with white grape, grass, lemon zest, and wet earth supporting. Taste is more wood tannin centric, surprisingly malty yet springy with grass, flowers, citrus, and Brett.
Upright Pathways
8% ABV
Upright Brewing's Pathways Saison is a mixed fermentation beer blended from a lot of barrels varying in vintage from three to nine months. Multiple yeast and bacteria strains develop complex flavors and aromatic within a saison base. The nose is a mix of nectarine, wood tang, and pungent flowers. The taste opens with a hay-and light cracker grain like many a saison but right along side is the nectarine and a sweet vinaigrette amalgam with a mix of lemon, vinegar, sweetness, and floral notes.
Nightmare Lingchi
8.1% ABV
A favorite of Chinese emperor ruling in the Five Dynasty period, Lingchi torture was employed for a century, lasting from 900CE before finally being banned in 1905. The scarcely clad victim was affixed to a pole or framework where the executioner would begin to methodically make small cuts across the entire body until death. Nightmare Brewing's Lingchi is an Asiatic sour ale soured on apricots with rice sugar, candied ginger, peach and apricot purée, with all ingredients originating from China. The stone fruit/sherbert nose will torture you until you dive into the floral backdrop with gummy peach ring and ginger sharpness. Expect a puckering dry finish of fuzzy nectarine balanced with candied ginger zing.
Breakside I Can Show You The World
5.3% ABV
Peaks & Pints was shocked to hear The Rare Barrel, Berkeley's all-sour, all-barrel aged brewery, made a pilsner with Breakside Brewery. But, they did. And, it's delicious. The Breakside 10th Anniversary collaboration pilsner is brewed with a crackery Canadian base malt balancing herbal, fruity, and floral flavors from European hops and jasmine flowers.
Skookum Submerge
6.6% ABV
Rakau hops translate into lovely and pungent whifs of ripe fruit (particularly peach) backed with bright notes of grapefruit juice, stone fruits, and a suggestion of tropical flowers and balsam. Skookum Brewery brewed the wheat IPA Submerge drowned in massive amounts of El Dorado, Idaho 7 and Rakau hops, with a little Enigma for good measure. It's a straightforward hazy that has pastures of spring flowers, fruity citrus, plus hints of grapefruit, pineapple, and pine resin.
---