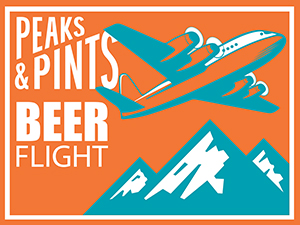 Happy National Milky Way Day! In 1923, Frank C. Mars created the Milky Way candy bar in Minneapolis, Minnesota. It was named after a malted milk that was popular during its release. It sold more than $800,000 in its first year. There are two versions of the Milky Way bar: in the United States, the bar is made of chocolate-malt nougat topped with caramel and covered in milk chocolate; global Milky Way bar, the Mars Bar, is more similar to the 3 Musketeers bar, with no caramel topping. Peaks and Pints leans more toward the U.S. version as we dig caramel — especially in our craft beer. Celebrate this important holiday at Peaks and Pints with our Craft Beer Crosscut 3.12.20: Flight of Milky Way.
Craft Beer Crosscut 3.12.20: Flight of Milky Way
Pelican The Brewed Abides
7% ABV, 25 IBU
A few days ago, Peaks and Pints drank this milk stout from the teat at Pelican Brewing in Pacific City, Oregon. The Brewed Abides takes its inspiration from the classic White Russian cocktail, as well as The Dude imbibing it in the movie that made it famous, The Big Lebowski. This milk stout is brewed with Costa Rican coffee beans, cacao nibs, vanilla beans, pure coastal water, and pure ale yeast abiding in harmony to create intense, rich flavors with hints of coffee, caramel maltiness and a velvety mouthfeel. 
Breakside Salted Caramel Stout
6.7% ABV, 28 IBU
Breakside Brewery's popular Salt & Straw collaboration is a deliciously dessert-worthy beer. Made with specially made caramel and a pinch of sea salt, this is a delicately balanced ale that pre-dates many of today's cloying monstrosities, offering a full-bodied roast, and leaning on the salt to invite you back for more. A creamy mouthfeel carries roasted marshmallow flavors, sweet caramel and just a hint of salt in the finish. After a few sips, its flavor profile falls somewhere between caramel brittle and salted caramel ice cream.
Evil Twin Sey No More Coffee Porter
11.5% ABV
Evil Twin's imperial porter brewed with vanilla, milk sugar and 150 pounds of almonds with a distinct coffee nose, also with some sweet vanilla. Tastes of moderate sweetness, very light roast, caramel, bakers chocolate, vanilla, coffee and only a hint of nuts. Overall, caramel sweetness, chocolate and vanilla seem to dominate, and there is coffee, but we were hoping for more roastiness and nuts to balance the caramel sweetness.
Loowit Tiamat
10.2% ABV, 45 IBU
A five headed dragon of lore, Tiamat was the queen of all reptilian monsters. Loowit's Tiamat, is, hmm, not sure what to call a dark ale made of a blend of three beers, from two different types of barrel. What you can expect is notes of oak, cocoa, coffee, tobacco, and caramel.
Hair of the Dog Fred
10% ABV
Fred Eckhardt's book, A Treatise on Lager Beers, published in 1969, was the first modern book about beer. During his stint as the Oregonian's first beer columnist he penned The Essentials of Beer Style, helping many homebrewers understand their craft and in turn helped launch many craft brewing careers, including Hair of the Dog's Alan Sprints, who created an American Strong Ale simply named Fred. Fred, the beer, is a deep golden color. It is made with aromatic and rye malts and includes 10 different hop varieties — Northern Brewer, Progress, First Gold, Crystal, Fuggle, Willamette, Tettnang, Chinook, Spalt, Saaz and Strisselspalt for caramel, bitter hops and some alcohol.
Original photo courtesy of Evan-Amos
---