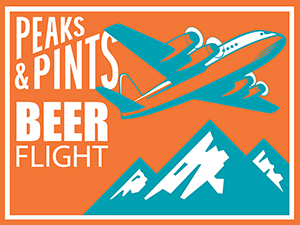 Baerlic Brewing brews down-to-earth beers made by down-to-earth guys. In 2014, then-homebrewers Ben Parsons, a graphic designer, and Richard Hall, who earned his paycheck as a bike mechanic, took their work-a-day approach to life and transplanted it into Baerlic, which means "of barley" in old English. Tucked onto Southeast 11th Avenue in Portland's Central Eastside — in the midst of one of the densest thickets of breweries in the city — the "stubbornly independent brewery and taproom" Baerlic has thrived thanks to devoting a significant part of their taplist to lighter, crowd-pleasing lagers and pilsners. Their work-a-day approach has paid off: Baerlic was named the 2017 Small Brewery of the Year at the Oregon Beer Awards followed by an award for their growth, 2018 Mid-Sized Brewery of the Year at the Oregon Beer Awards. Today, Peaks and Pints presents a flight of the Portland brewery that we call Craft Beer Crosscut 2.6.20: Flight of Baerlic.
Craft Beer Crosscut 2.6.20: Flight of Baerlic
Baerlic Dad Beer!
5.6% ABV, 1 IBU
Brewed with flaked corn reminiscent of our great great grandpappy's favorite chuggin' beer from the 1880s this golden lager has more of a crushed corn flakes aorma than the corn syrup we all know too well. Mild traces of tangerine, hay, and dried flowers add to the aroma. The taste is similar to the classics, but much more pronounced. The corn flakes are dominant, but like a simple and healthy breakfast, it works. Some white rice like sweetness, some water crackers, a slash of orange, and a hint of floral hops finish it off. It finishes dry, but not too dry.
Baerlic Pancake House Cocoa Maple Coffee Stout
11.5% ABV
Baerlic must have channeled our great great grandpappy. In addition to corn flakes lagers, great great grandpappy also enjoyed a stack of hotcakes slathered in maple syrup alongside a bottomless cuppa joe at the Pancake House. Berlic has recreated this breakfast with their Russian imperial stout. Pancake House Cocoa Maple Coffee Stout is brewed with loads of coffee in the mash and in the fermenter, plus maple syrup, cocoa nibs and lactose. Coffee slightly edges out the maple in the nose but rules the roost in the flavor with chocolate and maple pushed to the background.
Baerlic Night Howler
10% ABV
Back by popular demand, Baerlic's beast of an imperial stout will surely keep you warm as we descend into Peaks and Pints' February Get Stouts Done. Brewed with pale, Munich, black, midnight and chocolate malts, roasted malt, milk chocolate, black coffee, caramel, nuts, and char nose isn't shocking. The taste is on the bitter side with burnt coffee grounds, baker's chocolate, burnt nuts, earthy char and ash. There is virtually no sweetness; only a faint taste of caramel on the tip of the tongue.
Baerlic Futureisms
8% ABV
"In honor of all the great things to come in the New Year, we brewed up a totally tubular Double Hazy," states Baerlic's website. Indeed. Brewed with a malt bill of Weyermann Pils, wheat, oat malt and oats, then tumbled with el Dorado and Strata hops, Futureisms sports a creamy body popping of overripe papaya, rock concert cannabis and sweet candy.
Baerlic Dark Thoughts Black IPA
6.66% ABV, 66.6 IBU
Baerlic cold steeped roasted wheat for up to 36 hours to extract the rich chocolate, sweet and fruity flavor compounds while leaving behind the harsh and tannic flavors of the roasted malt from utilizing this slow and torturous process. Dark Thoughts is dry hopped with .666 pounds per barrel of Columbus and Mosaic hops for a nose of juicy citrus and tropical fruits with subtle roasted coffee in the background. Taste- follows the nose with a lot of juicy citrus and tropical fruit, along with roasted coffee beans and bakers chocolate with a nice bitterness.
---