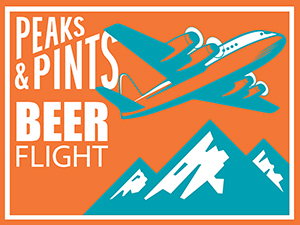 Tonight, Peaks and Pints hosts its inaugural Peaks and Pints Pastry Pairing Pop-up, launching the series pairing Urban Family Brewing's "Hearts" sours with The Vintage Baker's cupcakes. It's a Valentine's Day prefunk, if you will, pairing the Seattle brewery's Briar Heart, Heart of Stone, Heart Strings, Coffee Dark Hymn and Addition by Addition sours with the Puyallup bakery's dark chocolate cake with chocolate ganache buttercream, orange sponge cake with apricot infused buttercream and tiramisu cupcake soaked in coffee topped with a Chantilly mascarpone. The pairing begins at 6 p.m., but the Urban Family sours will pour all day in a flight we call Craft Beer Crosscut 2.5.20: Flight of Urban Family.
Craft Beer Crosscut 2.5.20: Flight of Urban Family
Urban Family Heart of Stone
5.5% ABV
Heart of Stone is Urban Family's ever-evolving love affair with the ancient pairing of stone fruit and sour beer. This beautiful golden sour is aged on huge amounts of peaches and apricots, which lend fleshy stone fruit characteristics to the bright and crisp acidity.
Urban Family Heart Strings
6% ABV
The newest addition to Urban Family's fruited sour series, Heart Strings is a mix of fresh strawberry and red currant juiciness. This bright red beer has excellent berry-forward characteristics, and is held in good balance with the slight sweetness in the finish of the beer.
Urban Family Briar Heart
6.5% ABV
This sour features the jammy and tart characteristics of boysenberries, with a small supporting roll from raspberries in there background. Rich red berry aromas and flavors pack this beer with dessert-y goodness.
Urban Family Addition by Addition
7% ABV
This is another special release from Urban Family's deep cellar. This very richly flavored beer is a cherry and raspberry sour ale aged for a year in previously used Chardonnay barrels.
Urban Family Coffee Dark Hymn
7.5% ABV
This very rare and very special version of Urban Family's infamous raspberry dark sour ale has been infused with Onda Origins' favorite single origin coffee beans for a rich cold-brew, coffee-like background to the bright raspberry flavors and the roasted malts responsible for the black color. Also expect a hint of rich and bitter chocolaty aroma and flavor.
---
Category:
Beer Line Blog
,
Craft Beer
,
Critical Drinking
,
Crosscut Flight
,
Events and Festivals
,
Food/Beer Pairing
,
New Releases
,
Peaks and Pints Lodge Meetings
,
Proctor District
,
Specials
,
Taps Takeovers