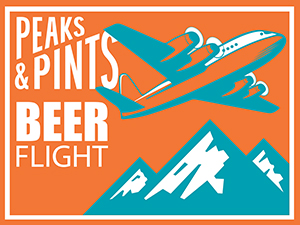 In the 1980s, annoyed that the forces of good had defeated him for millenia, Satan hatched a fool-proof plot: Taking over the world through the Dungeons & Dragons game that appealed to something like two percent of American high school students. D&D is a cornerstone of nerd-dom. In the tabletop game, participants role-play as elves, dwarves, wizards and more, slaying dragons, exploring foreign lands and fighting creatures who have less than noble intentions under the careful eye of a dungeon master. Well, geeks of the world, unite. You have nothing to lose but … nothing, because your day has come. Peaks & Pints presents Craft Beer Crosscut 2.28.20: Drinks and Dragons, a beer and cider flight for D&D fans. We'd crack more geek jokes, but we would just be making fun of ourselves.
Craft Beer Crosscut 2.28.20: Drinks and Dragons
Dragon's Head Manchurian
6.9% ABV
Named for the dragon that guards the apples of immortality in the Garden of Hesperides, Dragon's Head Cider was founded in 2010 on Vashon Island. Ignoring their last name, owners Laura and Wes Cherry planted a beautiful orchard of apples and pears with production held on site. The Cherry's don't believe in cold storing their apples; they press during harvest season at its peak ripeness. Once pressed, the fruit ferments in winter, is blended in spring, and ready to be bottled by early summer. Dragon's Head's 2018 Great Lakes International Cider and Perry Competition silver medalist Manchurian Cider is made from a blend of apples, but features the unique characteristics of the Manchurian Crabapple. This petite yet bold apple imparts flavor and dimension to cider on a scale much larger than its size predicts. Expect notes of blood orange, tangerine, tart apple and pear once you move past tropical fruit, woody resins and lightly floral aroma notes. It sports a clean finish.
Ommegang Game of Thrones: Fire And Blood
6.8% ABV
Over the last few years Game of Thrones fans have not only been able to digest all of the wonderful Westerosi-content they crave, they have been able to literally ingest it. For six years Brewery Ommegang has partnered with HBO for a number of Realm-related brews. They took inspiration from characters, events, and locations on the show. Named after the motto of House Targaryen, Fire and Blood is inspired by Daenerys Targaryen and her three dragons, Drogon, Rhaegal, and Viserion. The red ale has a deep, dark red hue with a persistent, creamy off-white head. Aromas of ripe fruit, raisins, malt and slight spice are followed by a slightly floral and spicy hop character. A fruity, sweetish malt taste gives way to faint drying provided by the hops and rye. Underlying flavors of raisin and prune from the ancho chilies give way to a balanced malty and spicy finish.
New Holland Dragon's Milk Reserve
12.5% ABV, 30 IBU
Just 20 short years ago Jason Spaulding and Brett Vander Kamp were lining up investors to get started on their goal to make beers that were unique to Western Michigan. Eleven years later they were making more than 7,500 U.S. barrels a year at their New Holland Brewing Company. Dragon's Milk, a year-round staple at the brewery, has long been a favorite of New Holland fans. First brewed in 2001, the stout uses two row, Munich, caramel, crystal, black, chocolate malt, and flaked barley grains along with glacier and nugget hops to achieve its roasted, malt character. It's also made with Michigan beet sugar and aged for more than 90 days in oak bourbon barrels that give it its signature flavor. The first Dragon's Milk Reserve release of 2020 is aged for 3 months in rum barrels imported from Jamaica and finished on nearly 200 pounds of chocolate, 1,000 pounds of hazelnut, and 2,500 pounds of toasted coconut. Those flavors marry beautifully with notes of warming rum for a truly delicious experience.
Oakshire Hellshire IX
13% ABV, 14 IBU
Deep within the recesses of the alcoves and antechambers of Oakshire Brewing lies another realm. It's a place where beers are carefully laid to rest in oaken sarcophagi. They slumber for aeons and emerge as wholly new and unique entities, fueling the malformed creatures that populate those blasted and eldritch wastes. That place is Hellshire. Oakshire Hellshire IX belongs in this flight because the name alone screams Lord of the Rings. Then, there's the demon label artwork from weirdo artist Sean Aaberg. It's all so damn eerie. For those unfamiliar, Hellshire began under former Oakshire brewmaster Matt Van Wyk, now part of Alesong Brewing and Blending. The beer carried with it a mythos before it was even released, heralded by many as a continuation of Wooden Hell, a similarly-styled annual release Van Wyk crafted at his previous brewery, Flossmoor Station. Oakshire aged Hellshire IX imperial stout for nine months in Kentucky bourbon barrels for all the freshly dumped bourbon barrels goodness, imparting rich vanilla and caramel characteristics with a pleasant hint of cola.
Avery Mephistopheles
14.666% ABV
The name Mephistopheles originally appeared in literature as the demon in the German Faust legend. According to the story, Faust was dissatisfied with his life and made a deal with the devil, exchanging his soul for unlimited knowledge and worldly pleasures. Mephistopheles appears in this legend as a plain-clothed devil, mirroring the massive imperial stout. First brewed in 2005, Mephistopheles was the third installment of Avery Brewing's Demons of Ale series. After creating The Beast Grand Cru and Samael's Oak-Aged Ale, Adam Avery decided he wanted the third demon to be a massive stout unlike any other. One of the most distinguishing ingredients is the beer's Westmalle Belgian yeast strain, which produces layers of esters and phenols that create much of the beer's complex flavor. The grist bill is focused mainly on roasted and black malts making it dark and rich. There is also a small amount of Special B, a specialty malt, added for a touch of raisin-like sweetness. The result is a massive and complex stout with notes of vine-ripened grapes, anise, bitter chocolate and an espresso-like finish.
---