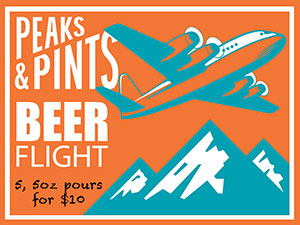 Polynesian culture washed onto America's shores after World War II, when soldiers returned from the South Pacific armed with aloha shirts, Hawaiian music and a thirst for tropical beverages. We're not sure who brewed the first tropical-inspired craft beer, but honing in on the tropics can be accomplished via a couple different techniques. First, many of the recently released hops have flavors and aromas ripped from a fruit bowl, including Citra (papaya, mango), Mosaic (berries), El Dorado (watermelon, pears), Galaxy (peach, melons), Hull Melon (honeydew) and Galaxy (pineapple). Dial up a recipe with these hops, used later in the brewing to emphasize flavor and aroma, not bitterness, and you can create a juicy beer that'll rival a Mai Tai for all your tropical-drinking pleasure. Beyond finding fruity flavors in hops, brewers can add actual fruit. The beer is run through a centrifuge and filter so pulp exits, but flavor and aroma remain. With this week's snow and ice, we've all imagined what it would be like to be relaxing in a tropical paradise. But instead of spending thousands of dollars getting there, bring that paradise home with you with Craft Beer Crosscut 2.23.18: A Flight of Tropical Paradise.
Maui Brewing Coconut Hiwa Porter
6% ABV, 30 IBU
Brewed with hand-toasted coconut and six varieties of malted barley, Maui Brewing's Coconut Hiwa Porter is a very dark, almost impenetrable, black coffee color. The aroma recalls baked coconut macaroons or, on the other end of the spectrum, coconut suntan lotion. The coconut flavor is present, but not overwhelming in the mouth, along with other roasted earthy lactose flavors.
Boulevard Tropical Pale Ale
5.9% ABV, 45 IBU
In 1989, believing that Kansas City was suffering from light-beer fatigue, Boulevard Brewing Co. launched with a spotlight on its Pale Ale. Inspired by Boulevard Brewing's collaboration with Florida's famed Cigar City Brewing, Tropical Pale Ale marries Boulevard's passion for balanced pale ales with the bright refreshing flavors of grapefruit and passion fruit accented by juicy, citrusy hops. If Tropical Pale were a style, this would be it. Pack your bags and bring your taste buds.
Oskar Blues Death By Coconut
6.5% ABV, 45 IBU
Oskar Blues Brewery's Death By Coconut is a standout Irish porter cold-infused with dried coconut. The coconut is steeped in the beer, tea-like, in large sacks as to get the aroma and creamy sweetness of the coconut into the beer. Death by Coconut's other essential ingredient is cholaca, a liquid chocolate made with cacao and coconut sugar. The cholaca doesn't just gel with the porter and coconut, but it accentuated both aspects well. It's a rich, full-bodied fudgy coconut porter with toasted marshmallow notes too.
Sierra Nevada Tropical Torpedo
6.7% ABV, 55 IBU
Sierra Nevada fired up its hop torpedo — a device the brewery designed to dry-hop beer through one or more torpedoes slowly for four days, ensuring that all the desired oils are extracted from the whole hops — and added a little hula. The Chico, California brewery took its Torpedo Extra IPA, named for the device, and Comet, Citra, Mosaic and El Dorado and added drops of trop with passionfruit and mango aromas and flavor (we taste pine and grapefruit rind too) with a sexy bitter finish, thanks to our friend Amarillo.
Full Sail IPApaya
6.2%, 58 IBU
Full Sail Brewing's IPApaya was born out of our interest in the tropical aromas of Northwest hops. Pale and wheat malts along with healthy additions of Equinox and Cascade hops provide the perfect golden base for the addition of papaya. The result is a refreshing IPA with the subtle essence of papaya. Tropical aromas of citrus, passion fruit, and papaya are well complemented by clean malt notes.
---