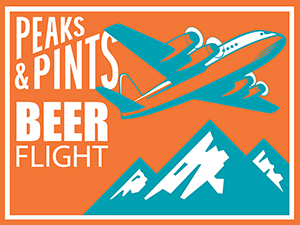 The 2020 Best of Craft Beer Awards was held last weekend in Bend, Oregon. This year 96 judges sampled through 2,237 beers from 44 states, five countries and 375 different breweries that submitted entries. BJCP judges, vetted brewers and guest judges from the craft beer industry awarded 170 breweries from 33 states for a total of 262 medals for their exceptional beer in 2020, including five pouring in our beer flight today, Craft Beer Crosscut 2.22.20: Flight of Best of Craft Beer. The judges followed the 2019 Brewers Association style guidelines, which list 157 styles. Click here for a list of winners, which includes Silver City Brewery, Top Rung Brewing, Trap Door Brewing, Fort George Brewery, and pFriem Family Brewers.
Craft Beer Crosscut 2.22.20: Flight of Best of Craft Beer Awards
Standard Faithful and Truth
6% ABV
Standard Brewing took bronze for Specialty Saison at the 2020 Best of Craft Beer Awards in Bend, Oregon. This oak aged saison offers myriad of flavors including pear, apricot, graham cracker, and bread crust. It's soft, fresh and effervescent, like a good saison should be, with perfect saison fluffiness in the back of the mouth.
Grains of Wrath Frost Hammer
4.6% ABV
The metal- and punk-loving Mike Hunsaker cut his teeth as a homebrewer and by working for breweries in Chicago and Cleveland, before relocating to Portland in 2014 to become the head brewer at Fat Head's Brewery. Fat Head's closed, which lead to Hunsaker opening his new punk and metal inspired brewery Grains of Wrath in Camas, Washington, with backers Brendan Greenen, Shawn Parker, and Brendan Ford. Grains of Wrath grabbed gold at the 2020 Best of Craft Beer Awards for this helles lager for its floral Noble hops, plus crisp, smooth and radiantly vivacious drinkability.
Reuben's Brews Bits & Bobs
7% ABV, 50 IBU
This year's Bits & Bobs was honed over a number of beta batches released in Reuben's Brews' taproom. As they experimented with their brewing process, they ended up moving more hops to the whirlpool at a new temperature, which gives a softer bitterness and a richer, more layered hop character. They also use Sabro hops in the strong pale ale, which we first started playing with in 2019. Expect a hoppy aroma with a nice mouthfeel and sweet, clean melon taste from this silver medalist at the 2020 Best of Craft Beer Awards.
Kulshan Heliotrope IPA
7.3% ABV
From its inception, Kulshan Brewing Co. has long pulled inspiration from the rugged peaks of the Cascades beginning with its namesake, Koma Kulshan, meaning Mt. Baker. With the North Cascades right at their back door, it's quite fitting that the newest line of IPAs released by the Bellingham brewery be named the Cascade Peaks IPA Series. The series aims to pay tribute to a handful of prominent peaks within the range that Kulshan employees know and love. Kushan kicked off the series with Heliotrope — named after the Heliotrope Ridge at Mt. Baker — a fruit forward IPA, with a focus on citrus and tropic fruits. Expect a little berry with a pleasant dry, pine finish to go along with its 2020 Best of Craft Beer Awards gold medal for American Style India Pale Ales.
Moonraker Electric Lettuce
8.5% ABV, 80 IBU
Moonraker Brewing Co. opened a couple of days before Earth Day 2016 in a nondescript commercial warehouse in rural Auburn, California. Owners Karen and Dan Powell give a damn about the environment. For instance, there are solar panels on the brewery's rooftop. They espouse a net-zero energy goal, and their brewing system is powered with renewable electricity. Anyhoo, their Electric Lettuce New England style double IPA hopped with Mosaic and Citra took silver at the 2020 Best of Craft Beer Awards in the hazy IPA category. This beer is bursting with big citrus flavor and a touch of melon. It's one big juicy double.
Photo courtesy of bestofcraftbeerawards.com
---