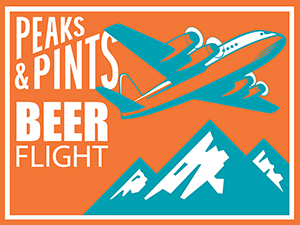 Nicknamed the "Academy Awards of Beer," the Oregon Beer Awards ceremony filled Portland's Revolution Hall Tuesday, Feb. 18 honoring the finest brews (in more than 30 categories), bars, and festivals in all the land, and by land we mean Oregon. The Oregon Beer Awards bestows the medals after 1,200 craft beers from across the state are tasted in a double-blind judging weekend by a panel of 100 diverse, expert judges. This year, the awards ceremony passed out 90 medals, with entries from 113 breweries. Today, Peaks & Pints presents a beer flight of some of the winners in what we call Craft Beer Crosscut 2.21.20: Flight of 2020 Oregon Beer Awards.
Craft Beer Crosscut 2.21.20: Flight of 2020 Oregon Beer Awards
Baerlic Dad Beer!
5.6% ABV, 1 IBU
In 2014, then-homebrewers Ben Parsons, a graphic designer, and Richard Hall, who earned his paycheck as a bike mechanic, took their work-a-day approach to life and transplanted it into Baerlic Brewing, which means "of barley" in old English. Tucked onto Southeast 11th Avenue in Portland's Central Eastside, the "stubbornly independent brewery and taproom" Baerlic has thrived thanks to devoting a significant part of their taplist to lighter, crowd-pleasing lagers and pilsners. Their work-a-day approach has paid off: their Dad Beer! Grabbed bronze for Golden, Blonde And Other Light Ales at the 2020 Oregon Beer Awards. Brewed with flaked corn reminiscent of our great great grandpappy's favorite chuggin' beer from the 1880s this golden lager has more of a crushed corn flakes aroma than the corn syrup we all know too well. Mild traces of tangerine, hay, and dried flowers add to the aroma. The taste is similar to the classics, but much more pronounced. The corn flakes are dominant, but like a simple and healthy breakfast, it works. Some white rice like sweetness, some water crackers, a slash of orange, and a hint of floral hops finish it off. It finishes dry, but not too dry.
pFriem Flanders Blonde
7.1% ABV, 9 IBU
Located in Hood River on the bank of the Columbia River, pFriem Family Brewers is a staple of the Northwest beer scene. pFriem continues to be in a perfect niche for experienced Oregon beer drinkers and the high expectations of the beer-drinker culture in the area as this week's Oregon Beer Awards proved. pFriem grabbed several awards, including gold for its Flanders Blonde. Every batch of pFriem Flanders Blonde spends 18 months in an oak barrel where it inherits the flavors and aromas of the Pinot Noir that was once aged in the very same cask. It overflows with notes of green apple, hints of lemon zest and a spritzy finish.
Logsdon Deep River Blues
7.5% ABV
Logsdon Farmhouse Ales started in a big, red barn in the rural outskirts of Hood River in 2011, then quickly churned out some of the finest mixed fermentation ales in the history of the Northwest. Though founder Dave Logsdon and acclaimed brewers like Charles Porter (Little Beast) have also moved on to other projects, present brewer Shilpi Halemane and the team have been steadily creating new and interesting pours, including 2020 Oregon Beer Awards bronze medalist Deep River Blues, a tart, gently funky saison made with loads of blueberries. Indeed, 1.7 pounds of blueberries per gallon of beer were refermented in a combination of French and American oak barrels, providing tons of ripe berry aromas and a gorgeous shade of pink. The full flavor of the blueberries is complemented by the tart, dry finish.
Culmination Gimme! Gimme! Gimme!
11% ABV, 30 IBU
Culmination Brewing had their best showing at the Oregon Beer Awards since being voted Best New Brewery in 2016; this year they won three medals and medium-sized brewery of the year: Gold for Gimme! Gimme! Gimme!, bronze or Obscured by Clouds, and a gold for Drone Logic. It was amazing cap on head brewer Conrad Andrus's stint with Culmination, as he recently took a job with Modern Times. Gimme! Gimme! Gimme! is an imperial stout brewed with cardamom, vanilla bean, and almonds brewed for Full Throttle Bottle's 2nd Anniversary. The aroma hits with cardamom seeds, roasted coffee notes, dark chocolate and toasted biscuit character. The flavor follows the nose punching the cardamom's earthy semi-spiciness, as well as adding rich chocolaty layers.
Block 15 Sticky Hands
8.1% ABV, 100 IBU
Block 15 Brewing grabbed a gold medal for Imperial India Pale Ale at the 2020 Oregon Beer Awards. Block 15's two breweries reside in Corvallis. The brewery's name hails from Corvallis' previous incarnation as Marysville and the old plat map location from the old town. In late 2011, homebrewers Nick and Kristen Arzner opened the brewery and restaurant serving beers true-to-style with ingredients imported from different parts of the world, along with all the Willamette Valley produced grains, hops, fruits, herbs and yeast. Its Sticky Hands double IPA is a "Hop Experience Ale" featuring ample additions of sticky, resinous, lupulin packed hop buds grown in the Pacific Northwest. Sticky Hands begins with an aromatic blast of tropical fruits, citrus and dank herb; transitions into luscious hop flavor; and ends with a balanced bitter finish, gently propped up by pale malted barley and fermented with Block 15's privately banked Brewers yeast.
---