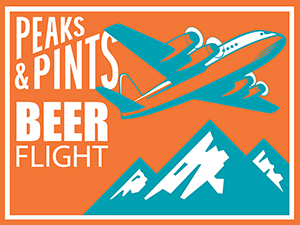 Join Peaks & Pints Party Games tonight as craft beer and cider from Bend, Oregon, battle equal boozy liquids from Yakima, Washington. Boneyard Beer and Avid Cider Co. will be on one side of our lodge with Bale Breaker Brewing and Tieton Cider Works on the other, with the warfare beginning at 6 p.m. We can all probably agree that actual drunken warfare would not be a good time for anyone. However, adding alcohol to the innocent card game War makes for fantastic fun. Technically, the rules don't force anyone to drink, but expect plenty of prizes, and, of course, delicious craft beer and cider. We're also pitting said breweries and cideries in another battle — Craft Beer Crosscut 2.20.20: Flight of Bend vs Yakima. We offer a beer and cider from each player with you, the drinker, picking the fifth beer or cider and, thus, choosing the winning region. Cheers!
Craft Beer Crosscut 2.20.20: Flight of Bend vs Yakima
Avid Hard Dragonfruit
6% ABV
Oregon's second-largest cider maker, Atlas Hard Cider, changed its name after Atlas Brew Works, which produces beer in Washington D.C., complained the name was too similar. The 7-year-old cider company with a production facility in Bend, Oregon, has made a cider from dragonfruit. The fruits cactus-like neon-magenta skin and lime green scales very closely resemble the flesh of a mythical dragon. It is believed that those who feast on the flesh, which has a mild kiwi/sorbet flavor, will be endowed with the strength, which is nice.
Tieton Cider Bourbon Barrel Cherry
6.9% ABV
In 2008, Craig Campbell and his wife, Sharon, began experimenting with making cider from dessert apples grown in their 400-acre commercial fruit orchards. Despite naysayers who warned that cider apples required a maritime climate, Craig also planted a two-acre test orchard with 25 varieties of cider apples. Today, their two-acre experiment expanded into Cider View, a 30-acre "high-density" cider orchard. In their commercial cidery, Tieton Cider Works, they blend American heritage, English and French cider varietals with dessert apples to capture the best of what each variety brings to the bottle: sweetness, acidity, tannin and aroma. Tieton took their dark, sweet cherry cider and aged it in bourbon barrels for a splash of vanilla and oak tannins addition to the bold cherry flavor.
Boneyard Bone-A-Fide
5.5% ABV, 40 IBU
Heavily influenced by Three Floyds, Boneyard's Bone-a-fide pale is hoppy like an IPA but without the bitterness. The malts used to create the beer balance nicely with some of the Yakima Valley's most bonafide dank hop varieties: Cascade, Centennial and Chinook. This medium bodied pale blasts of juicy hops for a citrus/tropical fruit presence with lots of grapefruit, mango, pineapple and orange peel sweetness that is countered by dry, bitter pine needle flavor.
Bale Breaker Earth Bound
7.4% ABV, 60 IBU
Bale Breaker has grown to become the fourth largest independent craft brewery in Washington. With a 30-barrel brewhouse and a 27,000 square foot facility, they craft five year-round canned beers, including the widely celebrated Topcutter IPA. They also have a 5-barrel pilot brewhouse, the Imagination Station, where they test and develop new recipes such as Earth Bound, an IPA with big juicy hop aroma and flavor, low bitterness and malt flavor.
What's in your fifth, 5-ounce taster glass?
Avid Blood Orange Cranberry
6% ABV
Light cranberry flavor with a tangy fruity finish but still light.
or
Tieton Golden Russet Apple
6.9% ABV
Expect tropical fruit with a bit of hazelnut in the background and a citrusy tart finish.
or
Bale Breaker Dormancy Nitro
6.8% ABV, 50 IBU
Breakfast stout boasting notes of freshly-brewed espresso and rich chocolate, plus creamy mouthfeel.
or
Boneyard Aleien
6.8% ABV
Brewed with Cascade, Chinook and Centennial, this IPA begins with an assertive yet smooth bitterness up front that transitions to a soft pine, citrus finish.
---