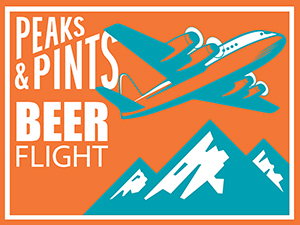 In the buildup to Super Bowl LIV, all eyes are on Patrick Mahomes, the 24-year-old superstar quarterback of the Kansas City Chiefs. Mahomes is just one game away from adding a Super Bowl ring to his rapidly growing collection of impressive statistics and electrifying highlights over his first two seasons as a starter. Standing in Mahomes' way is the NFC's best defense as the San Francisco 49ers have regained their early-season dominance on that side of the ball. It is only fair that this matchup gets top billing in the biggest game of the year, but there is another side to this game that is really flying under the radar: Peaks and Pints Craft Beer Crosscut 2.2.20: Flight of Super Bowl LIV. We'll pour a five-beer flight from two breweries that have an allegiance to two teams playing today: Boulevard Brewing and 21st Amendment Brewery. The game is being played at Hard Rock Stadium in Miami Gardens, Florida, with kickoff at 3:30 Pacific time. The Super Bowl beer flight is being played at 3816 N. 26th St. in Tacoma's Proctor District with beeroff at 11 a.m.
Craft Beer Crosscut 2.2.20: Flight of Super Bowl LIV
Boulevard Chocolate Ale
9.1% ABV, 24 IBU
In 1989, believing that Kansas City was suffering from light-beer fatigue, John McDonald launched Boulevard Brewing Co. McDonald is a pioneer in creating a craft beer culture in Missouri and beyond, redefining American beer as Boulevard grew from a small-scale brewery to the largest in the Midwest. Boulevard's two top-selling flagship beers, Pale Ale and Unfiltered Wheat, were instrumental in developing a market in Kansas City for craft beer. In Kansas City, Missouri, Christopher Elbow has been handcrafting masterpieces in chocolate for more than 15 years. In developing Chocolate Ale, Elbow and Boulevard brewmaster Steven Pauwels harmonize the interplay of chocolate and malt. Valrhona chocolate from Dominican cacao nibs weaves between layers of honey, brown sugar, caramel and nutty malt, rounding into a luscious, lingering finish.
Boulevard Tank 7 Farmhouse Ale
8.5% ABV, 38 IBU
Boulevard's Tank 7 Farmhouse Ale sort of presented itself in 2008. The brewers were developing a base beer for Saison Brett — a Belgian style beer — and through the "cantankerous" personality of fermentation vessel 7, "ended up with a really remarkable beer." Rather than disassemble the tank and battle its unique personality, the brewers count on its "black sheep" to keep creating this complex beer. Tank 7 is a liquid masterpiece. Black pepper and orange zest are set on a backbone of cracker and Italian bread crust malt flavors. Citrus and fruit notes derive from both the yeast and the hops. Fully attenuated, this beer has very little residual sugars remaining and thus allows the beer to finish very dry and clean. 
Boulevard Whiskey Barrel Stout
11.8% ABV, 32 IBU
Roughly one-third of Boulevard's Whiskey Barrel Stout is freshly brewed beer; the rest is aged for up to a year or more in both first and second use whiskey casks. This twist on the classic style starts with several types of malted barley, rye, oats and wheat. This whiskey barrel goodness pours out a nice dark black color with a minimal amount of brown head. Whiskey rules the nose, with some hints of dark chocolate. Robust flavors of vanilla, espresso, whiskey, chocolate and roasted grain are balanced by hints of date and plum, with just enough hops to round it all out. This beer also shows off an amazing balance that becomes even more delicious as it warms up.
21st Amendment Brew Free! Or Die IPA (Blood Orange)
7% ABV, 70 IBU
In 2000, Nico Freccia and Shaun O'Sullivan founded 21st Amendment Brewery in the South Park neighborhood of San Francisco, California. As avid beer enthusiasts, Freccia and O'Sullivan were determined to establish an ongoing celebration of the overturned 21st Amendment to the Constitution and gave their brewery the amendment's namesake to commemorate it. Fruit forward beers across the board have been a very popular seller for 21st Amendment. After the breakaway success of Hell or High Watermelon Wheat beer, brewmaster Shaun O'Sullivan decided to go the blood orange route with Brew Free! Or Die. Ever since O'Sullivan first introduced Brew Free! Or Die to the beer festival circuit, there has been a palpable buzz from patrons who can't get enough of the citrusy combo of Citra hops and orange. It hits the nose with strong orange, with notes of pine and fragrant ale malts. The taste is medium bitter, but sweetened by strong orange and subtle pine.
21st Amendment Toaster Pastry
7.6% ABV, 74 IBU
When 21st Amendment upgraded to a bigger facility in 2015, the San Francisco-based brewery produced as a tribute to the building's former life as a Kellogg's factory. Unlike a sweet frosted Pop Tart, though, this award-winning India-style red ale is a subtle whisper of the sugary childhood classic, made with both biscuit and dark crystal malts for nostalgia-inducing hints of toaster pastry. Calypso and other experimental hops give this ruby ale a berry-citrus notes that meld nicely with the toasted breadiness from the malts, underlined by caramel, pine, and resin.
---