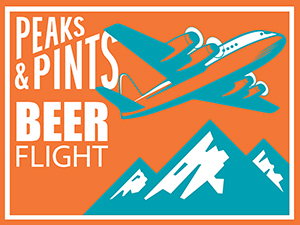 Peaks and Pints' staff knows February's a struggle with cold rain and wind in the South Sound, and that's why we're making it rain stouts every day this month. First, stouts are one of our favorite craft beer styles, and second, it's cool to sip a single style from several brewers side-by-side. Not all stouts — a style marked by the use of roasted malts and barley — are created equal though, with alcohol levels, recipes, flavorings and textures running the gamut. From the traditional stouts that emerged after porter rose to popularity in England in the 1800s to today's kaleidoscope of craft variations, the characteristics found within the category are myriad. Today, we kick off Peaks and Pints February Get Stouts Done with a stout flight we call Craft Beer Crosscut 2.1.20: Flight of Stout Month.
Craft Beer Crosscut 2.1.20: Flight of Stout Month
E9 Foss Stout
5.5% ABV
Peaks and Pints picked up the nitro version of E9 Brewing's Foss Stout. A creamy mouthfeel adds to this American stouts malt bill with marris otter, chocolate malt, flaked wheat and chocolate rye malt. This dark black complex ale has hints of espresso and slightly bitter chocolate.
Fort George Mr. Chocolate Bar
6.8% ABV
Jack Harris started his first Stout Month in 1992 at Cornelius Pass Roadhouse, while working for McMenamins. "I carried it with me to The Lighthouse Brewpub in Lincoln City and then to Boulder, Colorado," he said in a press release. "I also imposed Stout Month on Bill's Tavern in Cannon Beach for nine years before bringing it up here to Astoria." Harris speaks of Fort George Brewery, which he co-owns with Chris Nemlowill. The two opened the brewery March 11, 2007 in the Lovell building in downtown Astoria, Oregon, and brew a crazy amount of stouts every February, which they showcase annually at their Festival of the Dark Arts. Mr. Chocolate Bar is brewed to be a salted almond dark chocolate bars with chocolatey sweetness, rich almond nuttiness, and saltiness.
pFriem Pastry Stout
9.5% ABV, 45 IBU
pFriem Family Brewers Pastry Stout began with a robust milk stout inspired by the English tradition. The beginning of milk stouts goes back to the early 1800s in England, when milk was actually blended with darker beer in effort to make milder more nutritious ales. pFriem then built upon their creamy foundation with cacao and Indonesian vanilla beans. Decadent aromas of cinnamon raisin toast, chocolate truffles and bourbon spiked coffee tumble playfully from the glass. Comforting flavors of fudge, Girl Scout cookies, chocolate covered bananas, and crème brûlée envelop the palate. A warming finish of coffee cake, chocolate mousse and espresso blankets the soul.
Fort George Whale Shark
12.7% ABV
Brewed with seven malts, including chocolate wheat, this imperial chocolate stout aged in bourbon barrels was intended for the annual stout event at 16 Tons Bottleshop in Eugene, Oregon, this past November. The Fort George brews didn't unleash the Whale Shark. They felt it could swim longer in the bourbon and oats. It's ready now. Expect chocolate, toasted nut characters, dark licorice and molasses notes.
Oskar Blues Barrel Aged Ten Fidy
12.9%, 98 IBU
Oskar Blues Ten Fidy imperial stout is made with enormous amounts of 2-row malt, chocolate malt, roasted barley, flaked oats and hops with the malt blanket hiding the high bitterness but not flavors of chocolate-covered caramel and coffee. When the brewers age it in bourbon barrels for a year, the nose on Ten Fidy now touches on oak and spirits with an underlying richness. The sip is clean and crisp with a rich and slightly sweet mid palate braced by a cleansing tannin. It's rich and sweet, but not too rich and sweet.
---