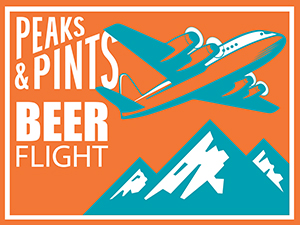 For beer nerds reared on hoppy IPAs and chocolaty stouts, sours are rarely a love-at-first-sip experience. Like stinky cheese and dry-aged beef, drinking sours means entering a realm where descriptors that sound off-putting — gym-sock musk and barnyard funk — can suddenly become holy grails of flavor and aroma. Sour beers can show rustic, earthy and winey notes. Some are rather light and elegantly acidic; some are darker and vinous, while others are exceedingly funky and sour. For our beer flight today we take a look at the tart and funky side of sours — the earthy side. Typically quite sour and funky, and sometimes aged in oak barrels, these brews possess intensely rustic qualities; many show horsey, farmy, earthy, barnyardy, and leathery notes. Milder fruit notes may occur, and are redolent of peaches, strawberries, apricots, and grapes. Drop by Peaks and Pints for our five-beer flight, Craft Beer Crosscut 2.19.19: A Flight of Tart and Funky.
Craft Beer Crosscut 2.19.19: A Flight of Tart and Funky
Verhaeghe Duchesse de Bourgogne
6.2% ABV, 11 IBU
Brewed by Belgian Brouwerij Verhaeghe, Duchesse de Bourgogne is a Flemish red ale, a blend of 8-month-old and 18-month-old ales, in this case. As with all red ales, the drink gets its characteristic sour and tart quality from lactic acid, while aging in oak barrels imparts a deeper body. The drink is named for Duchess Mary of Burgundy, a filthy-rich medieval heiress who suffered an unfortunate (and deadly) fall from her horse — it happens. This ruby-hued sipper boasts notes of tart plums, black cherries, and that funky, yeasty finish every sour fan demands.
De Cam Oude Lambiek
6.5% ABV
Geuzestekerij De Cam's Oude Lambiek is aged for a minimum of three years in oak casks and then bottled. It hits the nose with light apricot and lactic bite, with a touch of pineapple as it warms. Sweet-tart character comes through up front. Subtle Brett character brings in a pleasant bit of funk and horse blanket aroma. On the tongue, expect a moderately high acidity with a sharp Brett character. It's slightly sweet citrus up front with earthy hay notes. Bitter range peel lingers, along with sourness and a hint of sweet.
Atwood Ales Triticale Brett Saison
7.5% ABV
This past February, Atwood Ales' Triticale Brett Saison grabbed a bronze medal at the 7th Annual New York International Beer Competition. Triticale was one of more than 600 submissions from 14 different countries to be judged at the event. Triticale is not only the name of Atwood's award-winning beer, but also the name of a wheat-rye hybrid grain used in the recipe for the beer. Originally bred in Scotland and Germany in the 19th century, triticale combines the spicy flavor, durability and disease resistance of rye with the nutty flavor, yield and quality of wheat. The use of a large portion of malted triticale adds some earthy spice and nuttiness to the beer's flavor profile that complements the spicy, fruity character obtained from the mixed primary fermentation of Saccharomyces and Brettanomyces yeasts. Triticale has thus far been bottle conditioning for eight months and has mild funky, barnyard character and notes of tropical and stone fruits.
Logsdon Spontane Blanc
7.7% ABV
Logsdon Farmhouse Ales Spontane Blanc is a spontaneous fermented American wild ale brewed with Sauvignon Blanc grapes. On the nose, we get a sharpness from the fruit that increases our perception of the sourness beyond that level, mouthwatering and intense, still funky, still obviously made with aged hops, but with a bit of a different fermentation complexion. It's not overly fruity — fermented down to dry and with full respect given to the base beer. It has a pronounced mineral profile with the oak. Some classic lambic funk arrives as it warms up, with a white cranberry tang.
Boon Oude Geuze Vat 92
8% ABV
Brouwerij F. Boon's lambic gueuze Oude Gueuze Vat 92 is a traditional old gueuze from cask n° 92, used by winemakers in the Rhône Valley, France, VAT 92 has a funky barnyard and light citrus nose followed by more musty funk. Light citrus and oak wood with smoky and spicy touches.
---