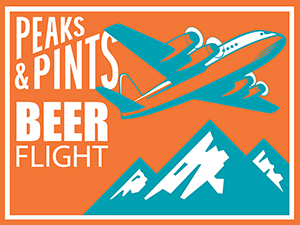 He's been the man behind Keep It Like Vic Secret, What The Flocc, WHOHOO!, Big Tom Milkshake IPAs, and Aroma of Tacoma IPA, among many more beers. He's watched hundreds of soccer games on the big screen. He's seen his fare share of face painters and fire dancers. He canned 60 beers in 2018. He spent more weekends than he can remember at festivals and fairs — and he constantly battled the Joint Base Lewis-McChord traffic to make sure he would eventually marry his wife, Brittany. Jeff Stokes knows a thing or two because he's brewed a thing or two. He homebrewed while earning a political economics degree at The Evergreen State College. He poured beer at notable Olympia craft brew houses Skep & Skein Tavern and Gravity Beer Market. He earned the founding assistant brewing position at Three Magnets Brewing, earning numerous medals with head brewer Pat Jansen, and eventually commanding the 3-Mag brewhouse. Today, he's writing beer recipes and stocking inventory in preparation for his new gig, head brewer at Sig Brewing Company in the Hillside Neighborhood of Tacoma's Historic Brewery District. Peaks and Pints presents a flight of beer associated with our friend Jeff that we call Craft Beer Crosscut 2.16.20: Flight For Jeff Stokes.
Craft Beer Crosscut 2.16.20: Flight For Jeff Stokes
Three Magnets Coffee Tompkins
10.1% ABV, 50 IBU
Like its namesake, Major Tompkins, the 151-ton, iron-hulled steam boat that carried goods, people and mail between Olympia and Seattle, this imperial oatmeal stout is big and strong, thanks to the original brewer of the beer, Jeff Stokes. Three Magnets continues to brew this coffee imperial stout. This new version was conditioned for 48 hours on a single producer natural process Ethiopia Yirgacheffe coffee secured by Olympia Coffee Roasters for deep, exotic fruity notes. Those fruity notes, combined with the hefty chocolate notes of the roasted malts and soft oatmeal mouthfeel make for a delicious treat.
Chainline/Narrows Contrast IPA
7.2% ABV
Chainline Brewing's Contrast IPA is the brainchild of the Redmond brewery's new found friendship with Narrows Brewing in Tacoma. This is the second edition of their two-part collaboration, which started with Compare IPA. The two breweries used the same hops and feature three completely different yeasts. This hazy juicy IPA offers tropical tendencies with notes of overripe mango, papaya, fresh citrus, and a touch of dankness, thanks to Citra, NZ-Waimea, NZ-Bruce blend, and Idaho 7. How did this beer end up in Jeff Stokes' beer flight? Stokes' wife, Brittany, has been assistant taproom manager at Narrows Brewing since its early days, under the supervision of taproom manager Mary Asami, her mother (laughter). Jeff has spent a few hours in the Narrows taproom, as well as many a beer discussion with Narrows' head brewer, Matt Rhodes.
Rainy Daze Stoked For Daze
6.2% ABV, 30 IBU
After leaving Three Magnets Brewing, Stokes enjoyed a few precious moments of rest, when he wasn't slinging a hammer at Sig Brewing. He found time to collaborate on a few beers, including an IPA with Rainy Daze Brewing, Stoked For Daze. Stokes and Rainy Daze's owner and head brewer Mike Montoney have been friends for years, often joking about doing a collaboration. Well, it happened. This light, golden IPA is brewed with incognito Sabro hops in the whirlpool, then dry hopped with Sabro, El Dorado, and Citra hops for a very aromatic beer with big tropical and citrus flavors.
Sig So Just Let me Introduce Myself IPA
7% ABV, 40 IBU
Sig Brewing Company looks to an early-April opening in the Hillside Neighborhood of Tacoma's new brewery district. For those who have been following Sig on Instagram know the brewery will have an open kitchen, a view of the brewhouse from the service floor, a custom concrete bar top, scenic views of the surrounding area for around a 100 people. This week, Sig released a couple of teaser beers, including So Just Let Me Introduce Myself IPA. Tacoma's newest brewery Sig hits the market with So Just Let Me Introduce Myself IPA. Inspired by the NW ingredients and the local yearning for well balanced IPA, this beer is kettle hopped with Columbus and Simcoe then double dry hopped with Citra and Sultana (the hop formerly known as Denali). Ripe fruit, tropical, citrus, and a balanced clean finish.
Sig Terp Slurp – Limonene
6.5% ABV, 20 IBU
Terpenes are naturally occurring hydrocarbon chains found in all organisms. These hydrocarbons are made up of building blocks of five carbon chains known as isoprenes (isoterpenes, C5H8). Terpenes are important in brewing for their role in hops, specifically, but not isolated to, its presence in hop essential oils. Sig Brewing Head Brewer Jeff Stokes explores the world of terpenes derived from a range of sources — except cannabis. His Terp Slurp- Limonene features Lotus hops in the kettle, and double dry hopped with El Dorado and NZ Moutere then infused with Limonene terpenes from Portland's True Terpenes. Expect a huge zesty citrus nose with a refreshing juicy orange flavor.
---