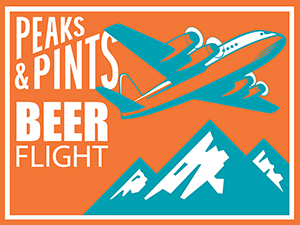 Craft brewers brew pilot batches as building blocks for future recipes. These small-batch beers are, basically, experiments. Brewers try new things, new recipes, and new concepts. If it's delicious, or at least interesting, the beers make a test run in the brewery's taproom. Brewers and bartenders will monitor feedback. If the beer's a hit, then it's more than likely made available for distribution. In 2017, Bale Breaker Brewing launched a 5-barrel pilot brewhouse that's an exact replica of the their 30-barrel production brewhouse. The Moxie, Washington brewery uses the pilot system to test new ideas and get creative. They call the pilot series Imagination Station. Peaks and Pints scored three Imagination Stations beers, and with a couple of Bale Breaker pilot batches that went pro, we present a Bale Breaker beer flight, Craft Beer Crosscut 2.15.20: Flight of Bale Breaker Pilot Series.
Craft Beer Crosscut 2.15.20: Flight of Bale Breaker Pilot Series
Bale Breaker Hazy L IPA
6.2% ABV, 40 IBU
Hops have long defined life at B.T. Loftus Ranches in the Yakima Valley. Back in 1932, Kevin Smith and Meghann Quinn's great-grandparents founded this family hop farm that's now run by their older brother, Patrick. Meghann and her husband, Kevin Quinn, and younger brother were keen homebrewers. Wouldn't it be natural to start a brewery on the farm? In 2013, the trio took down three acres of the farm's Field 41 and built Bale Breaker Brewing, which is surrounded by fields of hops. Named after the Bale Breaker's great-grandparents B.T. and Leota Mae Loftus' cattle brand, "Lazy L," this hazy is brewed with Citra, Sabro, and Mosaic hops grown by BT Loftus Ranches. Expect notes of Piña Colada, grapefruit juice, lemon squares, and strawberry candy.
Bale Breaker Desert Bite
7.1% ABV, 55 IBU
"Here in Yakima Valley, 42% of the world's supply of hops are grown, able to thrive because of our rich, volcanic soil and plentiful sunshine," states Bale Breaker's media releaser. "Our land is challenging — the winters are cold and bitter. … Winter days in Yakima are short and dark, with cold nights and bright, chilly days. We brewed Desert Bite with those tough conditions in mind — a beer for those who take on the elements no matter the season. … It's an IPA that sticks to your bones and will keep you warm throughout the coldest time of year." The fruity, crisp IPA features Pahto (HBC 682), a newly developed hop variety known for its smooth bitterness. Pahto is especially near and dear to Bale Breaker's heart, having been planted in their own Field 41 for the 2019 growing season. Expect complex fruit — tangerine, blueberry, peach, and melon — with herbal and resin notes, plus moderate bitterness.
Bale Breaker Earth Bound
7.4% ABV, 60 IBU
Bale Breaker has grown to become the fourth largest independent craft brewery in Washington. With a 30-barrel brewhouse and a 27,000 square foot facility, they craft five year-round canned beers, including the widely celebrated Topcutter IPA. They also have a 5-barrel pilot brewhouse, the Imagination Station, where they test and develop new recipes such as Earth Bound, an IPA with big juicy hop aroma and flavor, low bitterness and malt flavor.
Bale Breaker Waterloo Sunset
6.1% ABV, 67 IBU
Waterloo Station is a major railway and underground station in London. The station is near many tourist attractions including The London Eye, The South Bank and County Hall. Waterloo isn't just a train station; this well-connected south London area is home to a couple of world-famous theatres, quality food markets, hip coffee shops, and plenty of great pubs and bars. Waterloo always had a lot of significance for The Kinks frontman Ray Davies. The original idea for what became The Kinks' 1967 hit "Waterloo Sunset" came to Davies in a dream. He wrote an early iteration in tribute to Liverpool — he adored the city's Merseybeat sound and wanted to acknowledge The Kinks' popularity in the city. But he relocated it after concluding that it was better to work with what you know. Long story short, Bale Breaker's Waterloo Sunset minds the gap with this sunny flavor explosion tangerine, lemon, and pineapple that hits you like a blast of air as the Tube rushes by the Waterloo Station. Hints of peach, and tropical fruit also appear in this moderate bitterness, medium bodied IPA.
Bale Breaker Love & Roots IPA
7.5% ABV, 67 IBU
This pilot batch for Bale Breaker's second Sown & Grown Series release showcases the darker, danker side of the brewery's homegrown ingredients, including pancakes-and-syrup flavors from their homegrown Munich malt and complex fruit and a hint of pine from Mosaic and Loral hops.
---