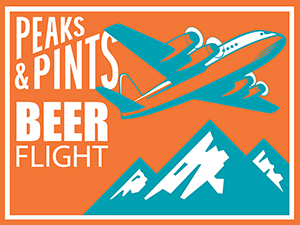 Though Orson Welles would beg to differ, Peaks and Pints says — we're never really alone. We have books and podcasts and Instagram and long reads about barrel-aging and whether stationary bikes are inherently sinister, sentient beings. And then there are the humans we encounter every day, from buoyant Met Market employees to stone-faced red-light runners. Though the best — and undoubtedly most entertaining — humans, we've found, hang at Peaks & Pints. We love you Peak's guests! You laugh at our jokes. You tactfully ignored our daily wineglass crashes. Today, you are our Valentines, Peaks & Pints Pals. Enjoy this Valentine's Day beer flight, Craft Beer Crosscut 2.14.20: Flight for Peak's Valentines. BONUS: We'll include a free chocolate truffle made by Eugene chocolatier Davey Wendt with every flight, while supplies last. Cheers!
Craft Beer Crosscut 2.14.20: Flight for Peak's Valentines
Urban Family Heart Strings
6% ABV
It's been a while since Urban Family Brewing made a beer juicy and fruit-forward enough to earn the "Heart" series name. The newest addition to Urban Family's fruited sour series, Heart Strings, is a mix of fresh strawberry and red currant juiciness. This bright red beer has excellent berry-forward characteristics, and is held in good balance with the slight sweetness in the finish of the beer.
Block 15 Love Potion #9
6.3% ABV, 24 IBU
We're in love with Block 15 Brewing's Love Potion #9. First, it's a marionberries rather than cherry stout, and melts like a chocolate truffle on the tongue. Second, it succeeds because the intense, silken dark chocolate that floods the mouth is immediately followed by the slightly tart berry. Third, the craft beer is, for its style, dry. Each sip is an infusion of intensity but never excess, allowing our senses to revisit the sensation of a liquid truffle over and over again. Give us a few minutes and we'll come up with a total of nine reasons why we could drink two pints of this potion.
Rogue Double Chocolate Stout
9% ABV
Rogue Ales is unconventional and their Chocolate Stout, which debuted for Valentine's Day in 2001, is no exception. Imagine an oatmeal chocolate chip cookie and a chocolate truffle got together in a bed that had been strewn with hops. Now imagine the imperial version. Rogue's Double Chocolate smells like the inside of pain au chocolat thanks to ample bittersweet Dutch chocolate. Clocking in at 9 percent alcohol by volume and wearing a red 750ml casing, this 2010 World Beer Championships gold medal winner is definitely a Valentine's Day buzz.
Skookum Dust of Broken Heart
10% ABV
Skookum Brewery's Dust of Broken Heart imperial oatmeal milk stout is brewed with raspberry and cherry purees. Conditioned on cocoa nibs and whole vanilla, this Valentine's Day beer has flavors of red fruit cordials, milk chocolate and black forest cake.
Oakshire Heart Shaped Box
14% ABV,
It's been two years since a new vintage of this Oakshire Brewing imperial chocolate stout was released. The 2020 Heart Shaped Box version is aged in Kentucky bourbon barrels for nearly a year where it develops its complex flavor profile and character. The beer is further conditioned with generous amounts of tart Oregon grown raspberries, Eugene roasted organic Guatemalan coffee from Farmers Union Coffee Roasters, organic vanilla beans and organic cocoa nibs. Indeed. Notes of rich bourbon, cocoa nibs, espresso, tart raspberry, roasted malt, vanilla bean and wood coat the tongue. It's rich yet crushable at the high percent.
---