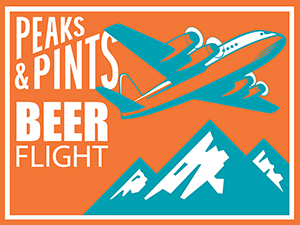 In 2010 — with his Siebel Institute education, training in Germany and Belgium, and degree from Yale tucked under his arm — Ben Edmunds opened Breakside Brewery in the quiet Woodlawn neighborhood of Northeast Portland as a restaurant and nano-sized brewery. Breakside celebrates their 10th anniversary in 2020, changing up their seasonal lineup, adding new year-rounds and new series of beers. With two Portland brewpubs and a production facility in Milwaukie, Oregon, Breakside is continuing to show-off their diverse lineup and ability to brew a wide range of beers from all three locations. Today, Peaks and Pints, once again, pours a Breakside Brewery flight, this time calling it Craft Beer Crosscut 2.13.20: Flight of Breakside 10th Anniversary.
Craft Beer Crosscut 2.13.20: Flight of Breakside 10th Anniversary
Breakside Golden Cluster
9.6% ABV
Golden Cluster is a wood-aged sour beer that is co-fermented with Oregon-grown Riesling juice. This is Breakside's first foray into oenobeers or grape ales — beers that use a large portion of grape juice in them to impart wine-like characteristics. Golden Cluster was blended from two beers in their wood cellar — the majority of the blend is a lambic-inspired beer brewed in September 2018, made with aged hops and fermented entirely in wood casks with naturally occurring bacteria and yeast. This was mixed with a small portion of a similar beer from July 2018, which was more acidic. Finally, the blend was re-fermented with 35 percent fresh-pressed Riesling juice from the Willamette Valley. Expect an interplay of vinous flavors and sparkling acidity.
Breakside Pilsner
5.2% ABV, 35 IBU
First brewed in 2012, Breakside's Pilsner hits the nose with bready, grainy pale malt, white soup crackers, subtle apple and pear fruit notes, slightly edgy yeast, and peppy leafy, herbal, and rather floral hop bitters. Yet, it glides in with grainy malt flavors that build a solid, biscuit foundation, on which is perfectly balanced a classically floral German hop profile. It's not a loud mouth. It's not trying to steal your girlfriend. It's just a very well balanced German-style pilsner — a clean, thirst-quenching lager.
Breakside The Mountains of Instead
9.5% ABV
Breakside aged a souped-up version of their Fall Apple Ale in apple brandy barrels from Clear Creek Distillery for 13 months. The apple brandy barrels give off a slightly tart and sweet aroma. The barrel doesn't hit you over the head but lends a richness to the palate, caramel apple and brown sugar mix with the brandy for a rich and sweet winter ale. It finishes with dark fruit and oaky wood.
Breakside Mutual Admiration
6.2% ABV, 42 IBU
A part of Breakside's 10-Year Anniversary Collaboration Series, Mutual Admiration is a hazy, juicy pale ale brewed with Sunriver Brewing. Brewed with exclusive, new Southern Hemisphere-grown hops for a hard-to-place quality that gives the beer amazing depth, balanced by a malt backbone. The aroma is tropical with slight coconut. It's slightly sweet with subtle pineapple and citrus and a slightly bitter finish.
Breakside Star Sprinkles
6.3% ABV
Breakside kicked off their 10th anniversary year collaborating with Cloudburst Brewing on Star Sprinkles, an IPA brewed with Cashmere, Comet, Amarillo and Chinook hops. It hits the nose with toasted grain and moderately hop aromas of orange, lime, and star fruit. Starts with bright pineapple, grapefruit and floral hop flavors. Finishes dry with grass and orange citrus flavors.
---