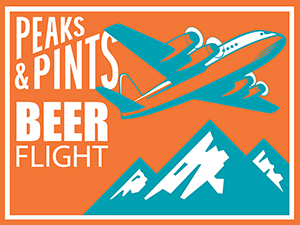 Peaks and Pints February Get Stouts Done hacks your entire existence to gain maximum stout drinkability and improved overall stout management. The Tacoma Proctor District craft beer lodge promises to maintain six stouts on our Western cedar tap log through February. You'll now be able to get stouts done faster and more efficiently — at least for 29 days. You'll also now be able to enjoy stouts, milk stouts, imperial stouts, pastry stouts, nitro stouts and other variations from your barstool while clearing your junk mail of witbier promotions, blocking sour beer spam, or deleting someone's Twitter blip about the latest one-per-customer sticke alt release. Today, Peaks and Pints offers our time management method in flight form, Craft Beer Crosscut 2.11.20: Flight to Get Stouts Done.
Craft Beer Crosscut 2.11.20: Flight to Get Stouts Done
Fort George Spumoni Stout
6.4% ABV
The Old Spaghetti Factory was founded by Guss and Sally Dussin in Portland, Oregon, in 1969, a good 13 years before the quasi Italian Olive Garden chain that brought us breadsticks and the never-ending pasta bowl. As a kid, Peaks and Pints ate spaghetti and clam sauce and endless garlic bread for every momentous occasion. And then there's the spumoni — a dessert we ate first with a sense of obligation and then learned to enjoy, but only there, out of those little tarnished dishes. That is, until Fort George Brewery brewed Spumoni Stout. The flavor combinations of sweet cherry, rich chocolate, and the slightly salty pistachio — This beer pays homage to that small moment of satisfaction.
Fort George Sagittarius A*
11.4% ABV
At the center of our galaxy is the giant black hole called Sagittarius A*. A natural source that not only binds our mammoth spinning galaxy, but at the same times slowly consumes it as it pulls all matter inward towards an event horizon that nothing may ever escape. Fort George Sagittarius A*is brewed in honor of all things that we know will eventually destroy us, but still we cannot break their bonds. This medium bodied imperial stout stars with a roast flavor that gently flows into a more chocolaty and sweet middle, with the molasses and brown sugar helping with end flavors that swirl with the warmth of the bourbon barrel aging.
Firestone Walker Parabola (2020)
13.6% ABV, 55 IBU
It's a little early for Peaks and Pints' weekly Fancy Pants Sunday column where we champion high ABV, complex and delicious craft beers, but Firestone Walker Brewing's Parabola is, indeed, fancy. It's a beer of darkness and immensity, a barrel-­aged beast that is routinely ranked as one of the top beers in the world.  This Russian imperial stout is aged for a full year in premium bourbon barrels, developing flavors of rich, chewy roasted malts, charred oak, black cherry, coffee and bourbon-y vanilla. Parabola bares its teeth with its impenetrable black hue and soaring alcohol, yet its bite remains refined with a silky, balanced finish.
Bale Breaker The Ossifier
10.4% ABV, 60 IBU
Created in 2014 from a conversation between a local craft brewer in Ireland and Jameson's distiller Dave Quinn, Jameson Caskmates is classic whiskey with a modern twist; it's three-times distilled then finished in craft stout barrels for a totally original taste. And to keep creating even more totally distinct tastes, Jameson has sent its whiskey barrels to breweries all over the United States as part of its Drinking Buddies program, including Bale Breaker Brewing in the Yakima Valley. A complex version of their Dormancy Breakfast Stout, barrel-aged in Jameson barrels for two months. It's described as decadent German chocolate cake with whiskey frosting and notes of chocolate, vanilla, coconut, smoke, almond, and whiskey.
Rogue Rolling Thunder
14.4% ABV, 63 IBU
In 2015, Rogue acquired vintage French WWII-era coopering equipment and built a barreling facility. Longtime employee Nate Linquist was tapped to be Rogue's first cooper and spent six months apprenticing, learning the ancient art of barrel making. Using Oregon oak, Linquist assembles, raises, toasts, chars, hoops, heads, hoops again, cauterizes, sands and brands each barrel, one at a time, all by hand. The 2020 Rolling Thunder Imperial Stout was aged for 9 months in one of these handmade Rolling Thunder Barrel Works barrels previously used to age Rogue's Dead Guy Whiskey. Rich, viscous notes of chocolate and coffee combine with the flavors of whiskey-soaked Oregon oak in this impressive imperial stout.
---