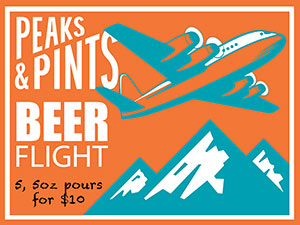 Taste is one of the greatest benefits that good craft beers offer the 48 percent of adults who prefer beer for their alcohol consumption. While Budweiser and their competitors are focused on profit margins and Super Bowl commercials, American craft beer producers give a heck how their beer tastes. Not to mention, the more than 5,300 breweries that bring us American craft beers make thousands upon thousands of different flavor combinations. So there is a flavor to fit any taste preference; you aren't forced into that one-size-fits-all flavor that mainstream beer companies give you. Today, Peaks and Pints presents the flavors our customers currently enjoy most in a beer flight we call Craft Beer Crosscut 12.6.17: A Flight of Proctor District.
North Coast Scrimshaw Pilsner Style Beer
4.7% ABV, 22 IBU
Named for the delicate engravings popularized by 19th century seafarers, North Coast Brewing's Scrimshaw is a fresh tasting pilsner brewed in the finest European tradition using Munich malt and Hallertauer and Tettnang hops. It pours a honey gold with a frothy, white head. Grains and soft hop notes abound in the aroma. The swallow is closer to a pale ale, starting with ample two-row malt sweetness, followed by lemony, zesty hop tastes. The perfect carbonation and light body create a smooth, creamy mouthfeel with a crisp, dry finish and mild fruity aftertaste. It's not trying to do anything fancy — it's just a very well-balanced pilsner. It's not a hop bomb, or a malt showcase. It's just clean, thirst-quenching lager.
Silver City Tropic Haze
6.4% ABV, 50 IBU
This beer spent some time in test tubes. Silver City Brewery Brewmaster Don "Big Hazy" Spencer opened up the secret experimental hop hope chest, brewed pilot batch after pilot batch, blind-tasted close friends and discovered a secret hop made for hazy IPAs. No, the pineapple juice, mango or orange flavors aren't additives; it's the hop behind the curtain. Tropical, indeed. Juicy tropical fruit, but not sweet and overpowering. Just the right amount.
Ecliptic Starburst IPA
7.8% ABV, 75 IBU
John Harris' dream to make it easier to bring Ecliptic Brewing on stargazing treks into the mountains became real when he selected a counter pressure canning system from Codi Manufacturing out of Golden, Colorado. He selected his juicy Starburst IPA to lead off the aluminum charge. The dry-hopped IPA explodes with Amarillo, Azacca, Centennial, Citra, Mosaic and Simcoe hops for fresh flavors of citrus, fruit and pine. Starburst is backed by 100 percent pale malt for a super clean finish and puts the focus on the hop flavors and aromas.
Three Magnets #EBFG Juice
8% ABV, 50 IBU
Clint Dempsey isn't your typical soccer player who hits the tanning salon in between games. Once he's off the pitch Dempsey transforms into rapper "Deuce" and goes back to the hood and spits fire flame bars in the streets, yo. Three Magnets Brewing Co. isn't your typical brewery. The award-winning Olympia brewery drops everything when a soccer game hits its big screen. It makes complete sense; Three Mags brewed a beer to honor the reigning superstar of soccer, Deuce. Three Magnets recently brewed Deuce Juice 2 in an all-out attempt to get Dempsey's attention. Its fruity-and-piney hop profile pays tribute to the places Dempsey has played (Seattle, Texas, UK), and an 8 percent ABV for his international jersey number. It's a five-hop blend winner that captures an endless amount of tropical fruit and pine wrapped up in silky-smooth haze. Then, Three Magnets was contacted by Major League Soccer and asked to change the branding. Three Magnets opted to name the beer #EBFG Juice — Eternal Blue, Forever Green — anthem of the independent supporters group for Major League Soccer's Seattle Sounders FC.
No-Li Wrecking Ball
9.5% ABV, 100 IBU
In 2012, No-Li Brewhouse introduced the Wrecking Ball Imperial Stout, and the name alone should be an indication that this beer is here to make a statement. Ignoring the 9.5% ABV, the statement is balance. Inky black with five types of dark, roasted malt for complex flavors of coffee, chocolate and brown sugar is balanced with two large hop additions to prevent the dark malt from totally dominating this monster of a beer. It's sweet enough to accompany a rich dessert and packs enough punch to help you wind down.
---