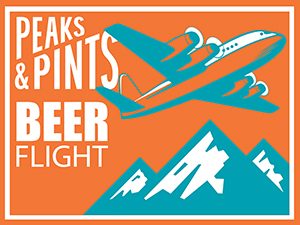 Initially known as HBC 291, the hop has become known in the beer world as Loral. Loral comes with a noteworthy lineage. Its mother is the U.S. developed aroma variety Glacier; the grandmother being the long-established European noble aroma variety known as Tardif de Bourgogne originating in the Bourgogne region of Eastern France. The father is a son of the U.S. developed Nugget variety. Loral provides a more traditional yet unique hop character, providing the floral and herbal notes one would expect from a fine noble aroma hop. The aroma profile of this hop has some great floral, peppery, and even herbal notes to it, reminiscent of German noble hops. However, it doesn't stop there. The citrus (specifically lemon) and some dark fruit character make this a truly unique hop. The name "Loral" came about interestingly enough as a combination of the words lemon and floral; to help identify it. Peaks and Pints salutes the Loral hop with a flight of five beers brewed with the hop. We call the flight, Craft Beer Crosscut 12.30.18: A Flight of Loral.
Craft Beer Crosscut 12.30.18: A Flight of Loral
Brunswick Ora et Labora
7.5% ABV, 30 IBU
Brunswick Bierworks in Toronto, Canada, invited Belgian's Trappist Brewery Koningshoeven, better known as La Trappe, to collaborate on a "New World Double Bock" named Ora et Labora, which translates to "Work & Pray" — the philosophy of the La Trappe monks. La Trappe's brouwmeester Lodewijk Swinkels and Brunswick Bierworks master brewer Christian Riemerschmid von der Heide weaves traditional krausen fermentation with a mighty malt bill and a unique blend of Opal, Loral, Mandarina Bavaria and Ontario Newport hops sourced from the Americas and Europe; bridging the two worlds of brewing. The recipe is "double bock" in strength with the ingredients and process with re-fermentation more like a wheat double bock — however the fermentation and yeast is like grand cru. Taste is plum and caramel, moving to nuts, some roast and light tart cherry. Finish is peat and some roast.
Pike Douglas IPA
7.2% ABV
Pike Brewing's Douglas IPA is a "modernized" take on the resin-forward West Coast IPA: Pilsner malt base paired with whole leaf Cascade and dry hopping done with Loral cryo hops to create a light mouthfeel with fresh pine notes.
Bale Breaker Topcutter IPA
6.9% ABV, 70 IBU
Topcutter IPA had the highest number of nominations during Peaks and Pints' Tournament of Beer: Washington IPAs seeding process. Bale Breaker's flagship IPA has changed lives. In fact it's rumored that Birchfield, the unincorporated community in Yakima County where Bale Breaker harvests hops and brews beer, is considering changing its name to Topcutter, Washington, to draw tourists from nearby Yakima. And why wouldn't Birchfield's council? Topcutter is a well-balanced yet aggressive West Coast IPA that showcases Yakima Valley hops, including late additions of Simcoe, Citra, Loral and Mosaic for a complex citrus, fruity and floral aroma and flavor.
Old Schoolhouse Little Craggy
8.6% ABV, 75 IBU
Casey and Laura Ruud purchased the floundering Winthrop brewery in 2008, changed the name to Old Schoolhouse Brewery, cleaned it up, and quickly turned it into an award-winning gem of a brewpub. Nate and Jake Young, and their buddy Troy Anderson — longtime fans of the brewery — bought it in 2016 with the intent of keeping it awesome. Little Craggy is a West Coast style double IPA brewed with Loral cryo hops, as well as Mosaic, Citra and Simcoe for a bitter bite of grapefruit, citrus and resin. 
Stone Scorpion Bowl IPA
7.5% ABV, 76 IBU
Stone Brewing's IPA version of a Scorpion Bowl cocktail is a brash, Mosaic, Loral and Mandarina Bavaria hop-forward ale that hinges on an assault of fruit that is so bold it borders on being electric. There's a wee bit of pineapple, Mandarin orange and mango in the middle of the sip — and all the passionfruit — but all of the fun stuff happens in your mouth after the Scorpion disappears. That's when an intense, tart fruitiness takes over, like you're sucking on one of those sour candies. The finish is dry at first, but then your mouth starts to water again and that fruitiness comes back with a vengeance.
---