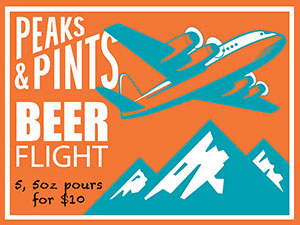 If you had more than one American craft beer, chances are you've tasted Cascade hops. Named for the Cascade Mountain Range, Cascade hops — a crossbreed of English Fuggle and Russian Serebrianker — were developed by the U.S.D.A breeding program in Oregon and released to the public in 1972. Flavors of pine, citrus and floral undertones give Cascade-brewed beers their life and personality. And a moderate alpha level (think bitterness) lends them their versatility as both aroma and bittering hop. In the American beer scene, no other variety of hops has the presence Cascade hops can boast. Drop by Peaks and Pints today and come face to face with the classic citrus and pine flavors of Cascade in our beer flight Craft Beer Crosscut 12.30.17: A Flight of Cascade Hops.
Avery Ellie's Brown Ale
5.5% ABV, 28 IBU
T'was 24 years ago that Adam Avery (blessed be his name), smiled upon Boulder, Colorado and the world at large by opening Avery Brewing, which begat White Rascal Ale, which begat Out of Bounds Stout, which begat Ellie's Brown Ale. This beautiful, deep russet brew has the sweet and somewhat nutty character of Avery's late (1992-2002) Chocolate Lab, for which it is named. Avery adds Cluster hops at the beginning of the 60-minute boil primarily to add bitterness. Cascade and Fuggles hops are added at the middle and end of the boil respectively for their aromatic contributions. Ellie's Brown has a rich maltiness with a complex caramel and roasted combination in the flavor profile for a lovely, balanced beer. Overall, a flavorful and sweet brown ale, almost too much.
Sound Old Scoundrel Barleywine
10.4% ABV, 40 IBU
Sound Brewery's Old Scoundrel is a delicious malt balanced barleywine with enough Cascade hop to make it a great marriage of the Old and New Worlds. The nose is malt forward, with healthy doses of caramel and toffee, often characteristic of English barleywines. There is also an essence of molasses and a vague fruitiness. Notes of brown sugar, faint nuttiness and dried apricots coat the tongue followed by a distinct hoppiness. While hoppy, Old Scoundrel is well balanced against the malt and sweetness.
Three Magnets #EBFG Juice
8% ABV, 50 IBU
Clint Dempsey isn't your typical soccer player who hits the tanning salon in between games. Once he's off the pitch Dempsey transforms into rapper "Deuce" and goes back to the hood and spits fire flame bars in the streets, yo. Three Magnets Brewing Co. isn't your typical brewery. The award-winning Olympia brewery drops everything when a soccer game hits its big screen. It makes complete sense; Three Mags brewed a beer to honor the reigning superstar of soccer, Deuce. Three Magnets recently brewed Deuce Juice 2 in an all-out attempt to get Dempsey's attention. Its fruity-and-piney hop profile pays tribute to the places Dempsey has played (Seattle, Texas, UK), and an 8 percent ABV for his international jersey number. It's a five-hop blend — Amarillo, Mosaic, Horizon, Cascade and Chinook — that captures an endless amount of tropical fruit and pine wrapped up in silky-smooth haze. Then, Three Magnets was contacted by Major League Soccer and asked to change the branding. Three Magnets opted to name the beer #EBFG Juice — Eternal Blue, Forever Green — anthem of the independent supporters group for Major League Soccer's Seattle Sounders FC.
Bear Republic Racer X
8.3% ABV, 100+ IBU
Family run Bear Republic Brewing Co., based in northern California, has embraced the kind of high-octane styles that have become synonymous with West Coast craft brewers. The big beers they produce, with lots of hops and inventive names, have lent Bear Republic a dedicated following. With kettle and dry hops of Cascade, Columbus and Centennial, this full-bodied, double IPA beer will satisfy your need for hops without leaving you hungry for more malty substance. The nose is pinecone and deep forest camping mornings. On the tongue, it embodies the role of big brother to the brewery's popular Racer 5 IPA with grapefruit and festive citrus countering a muscled, caramel malt base.
Two Beers Wonderland Trail IPA
7.1% ABV, 84 IBUs
Joel VandenBrink, the founder of Two Beers Brewing Co., hiked the 93-mile trail circumnavigating Mount Rainier solo. He dreamed of above 80 International Bitterness Units while hiking through Mystic Camp at 5,570 feet. He believed he could push an IPA close to the alcohol by volume mark of a double IPA as he trudged along the South Mowich River. He drew inspiration mixing strong citrus flavor hops with hops boasting earthy, pine characteristics while traversing along a ridge to Devil's Dream Camp. Wonderland Trail IPA is the product of nearly two years of recipe development. Featuring a seamless blend of Washington-grown hops, this flavorful Northwest-style IPA is brewed with Cascade, Amarillo, Mosaic and Legacy hops, then dry hopped with Citra and Mosaic hops, complemented by 2-Row, Vienna and Munich malts. On the nose, a slightly sweet aroma of tangerine is followed by a wave of citrus and passion fruit on the palate, finishing clean and refreshing.
---