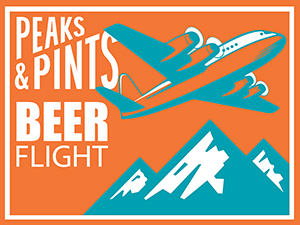 What are the first couple things that come to mind when you hear of Marshawn Lynch? The Beast Quake run and Skittles, right? If you don't mention those two things, you probably don't know the man, the myth, and the legend they call Beast Mode. Today, the 33-year-old, five-time Pro Bowler running back will don a Seattle Seahawks jersey again to face the San Francisco 49ers tonight. He has signed a deal that lasts only for the remainder of this season. He last played in Seattle, leading the Seahawks to a Super Bowl XLVIII victory in 2015. In celebration, Peaks and Pints presents a flight of original Skittles flavors — lemon, strawberry, grape, lime and orange — that we call Craft Beer Crosscut 12.29.19: Flight for Marshawn Lynch.
Craft Beer Crosscut 12.29.19: Flight for Marshawn Lynch
One Tree Lemon Basil Cider
6.6% ABV
OK, it's not a beer, but Marshawn Lynch is suiting up today so it's all craziness. Grant Barnes and Neal Hennessy started making cider as a hobby, and it turned into a vocation. One Tree Hard Cider started in Barnes' Spokane Valley garage, with exactly one recipe: a relatively straightforward semi-sweet apple cider. They went pro in the summer of 2014. Real lemon and fresh basil make this a sweet, sassy bouquet of awesome.
Matchless Just Strawberry
5.6% ABV
After finishing his West Olympia postal route for the day, botanist Patrick Jansen grabbed his homebrew for a weekend at the Helsing Junction Sleepover, a rad summer K Records music festival at Helsing Junction Farm in Rochester. Darby's Café owners Nate and Sara Reilly danced with Jansen's homebrews in their hands. Yes, their joy had roots in the music, but their beer foam-covered smiles announced they found their dream brewery head brewer. Jansen became the founding head brewer for the Reilly's Three Magnets Brewing Co., a downtown Olympia brewery that gobbled up awards. In June 2017, Jansen and Grant Bolt — a taproom manager at Three Magnets, as well as founder of WortWorks Soda Co. — opened Matchless Brewing Co. near the Olympia Regional Airport in Tumwater. Matchless Brewing aged their sour foudre beer on 400 pounds of strawberries from Bellingham, Washington, for over 6 months. Just Strawberry is lightly tart, floral, fruity and drinkable.
Paradox Tart Noire 2016
7% ABV
Paradox Beer Company's barrel-aged wild and sour beers undergo exclusive polymicrobial fermentation process. With their brewery nestled in the rich Colorado mountain environment, they have been able to harvest their own wild and feral Brettanomyces. Paradox brewed Tart Noire with grape musk and aged in oak red wine barrels. This sour ale hits the nose with grape, cherry, oak, and currant followed by flavors of musty wood, grape, cherry, bitter raspberry and slight chocolate.
Founders Mas Agave
10% ABV
Founders Brewing's margarita-inspired release is an imperial gose, brewed with agave and lime, and aged in tequila barrels. Dip your nose in for all the margarita — salty, tangy, lime, and agave. In fact, Founders Mas Agave tastes like a margarita too — citrusy lime, tart, salty, smooth, with minimal alcohol warmth at 10 percent.
21st Amendment Brew Free! Or Die IPA (Blood Orange)
7% ABV, 70 IBU
Fruit forward beers across the board have been a very popular seller for 21st Amendment. After the breakaway success of Hell or High Watermelon Wheat beer, brewmaster Shaun O'Sullivan decided to go the blood orange route with Brew Free! Or Die. Ever since O'Sullivan first introduced Brew Free! Or Die to the beer festival circuit, there has been a palpable buzz from patrons who can't get enough of the citrusy combo of Citra hops and orange. It hits the nose with strong orange, with notes of pine and fragrant ale malts. The taste is medium bitter, but sweetened by strong orange and subtle pine.
Original Marshawn Lynch photo by Keith Allison
Original Skittles photo by Evan Amos
---