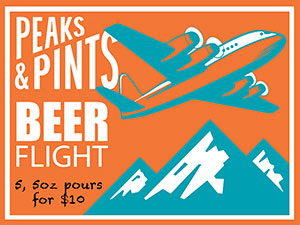 Christmas is everyone's favorite holiday, but true beer fans know that the most wonderful time of the year is made even more wonderful with a pint in your hand. Winter warmers and other dark, comforting brews take over around the holidays to help carolers and Christmas tree shoppers thaw out after a chilly night. These beers dance on the tongue, fill the belly and warm the soul. Many of the traditional winter warmers are malty, high-strength ales with a sweet and/or roasty character. Old ales, strong ales and barleywines fit right in. Some new holiday beers boast Christmas-inspired herbs, fruits and spices. Almost all of them are rich and delicious, including the five Peaks and Pints presents in this weekend's beer flight: Craft Beer Crosscut 12.22-23.17: A Flight of Christmas.
Full Sail Bourbon Barrel Aged Wassail Ale
10.2% ABV
Full Sail Brewing has brewed Wassail every holiday season since 1988. This multi-medal winning winter warmer's range of caramel and dark chocolate malts gives it a deep mahogany color and full malty body. The aroma and flavor are like a toasted invitation to imbibe: caramel apples, papayas, pears, honeyed roasted nuts, delicate spices and tamarind with bubbles swirling around the tongue like a snow flurry and a warming, interesting, long fruit cake and latte finish. Now, take this rich, malty winter ale and age it in bourbon barrels and you have all the previous flavors and smells but now boozy AF.
The Bruery 10 Lords-A-Leaping
10.5% ABV
A decade ago, Placentia, California based The Bruery debuted the first in a line of "12 Beers" brewed in honor of nearly 250-year-old "Twelve Days of Christmas" song. The first beer was obvious — A Partridge in a Pear Tree, a Belgian strong dark brewed with spices. Each year, the Belgian strong dark style has varied, from Two Turtle Doves to this year's 10 Lords a Leaping. In lieu of 10 Lords, the brewery has 10 spices "leaping" into this seasonal release: coriander, orange peel, cinnamon, ginger, nutmeg, allspice, mace, anise, dried apples and cloves — with cloves leading the bunch. Overall, the flavor is moderately sweet, wheaty and spiced with minimal bitterness.
Maritime Pacific Jolly Roger Christmas Ale
9.2% ABV, 50 IBU
George and Jane Hancock founded the ma-and-pa Maritime Pacific Brewing Company in an old transmission shop in 1990 in Seattle's Ballard neighborhood. In 1997 they opened the Jolly Roger Taproom named, as they say, "in honor of our most popular holiday brew": Jolly Roger Christmas Ale. A beer fridge staple, Jolly Roger English Strong Ale combines rich malt character with a blend of fresh Northwest Chinook and Cascade hops. This year, Maritime gave its famous winter ale a spruce treatment. Spruce tips have been used in the brewing process for hundreds of years. They were one of the main additions in beer before people learned about brewing with hops. The fresh, tender tips have a mellow pine scent and a crisp flavor.
Silver City Old Scrooge Christmas Ale
8.5% ABV, 60 IBU
What's the difference between a Christmas beer and a winter beer? Well, the labels for Christmas beers are usually red and green, while winter beer labels tend to be blue and white. As far as style goes, though, there's not much to differentiate them. In fact, neither is even an official beer style. It's fair to say Silver City Brewery's Old Scrooge Christmas Ale is a Christmas beer. Besides its red and green label and Scrooge reference, "Christmas" is actually in its name. The old ale is bound to delight the palate with notes of apple, cherry and apricot.
Rogue Santa's Private Reserve
7.8% ABV, 23 IBU
Rogue Ales has reformulated its popular winter seasonal, Santa's Private Reserve, crafting a Belgian Strong Ale made with cherries, raspberries, Belgian Candi sugar and Imperial Gnome yeast. Rogue Brewmaster John Maier must have been listening to "The Twelve Days of Christmas" as this craft beer was brewed with 12 ingredients: Premium 2 Row, Munich, Weyermann Carabelge, Weyermann Caramunich III, Weyermann Special W & Midnight Wheat Malts; Willamette Hops; Belgian Candi Sugar, Red Raspberries, Cherries, Imperial Gnome Yeast and Free Range Coastal Water. The Candi sugar enhances the sweet and tart characteristics of the raspberries and cherries, and the beer takes a little bit from both sides of the list: it will put a little color on your cheeks, but finishes on the sweet side.
---