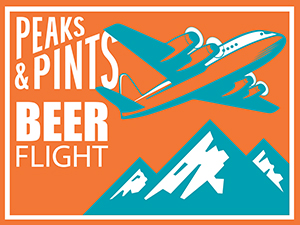 "Yo Ho! my boys," said Fezziwig. "No more work to-night! Christmas Eve, Dick! Christmas, Ebenezer! Let's have the shutters up!" cried old Fezziwig with a sharp clap of his hands, "before a man can say Jack Robinson. … Hilli-ho!" cried old Fezziwig, skipping down from the high desk with wonderful agility. "Clear away, my lads, and let's have lots of room here! Hilli-ho, Dick! Cheer-up, Ebenezer!"
Tonight, Peaks and Pints presents A Barleywine Carol, inspired by the classic Charles Dickens holiday tale A Christmas Carol, the festivities held at Mr. Fezziwig's old warehouse, and a glass of Christmas cheer for the holidays. In addition to live bluegrass by the Barleywine Revue, Peaks and Pints will tap seven barleywines. Despite its name, the barleywine is indeed a beer but at wine strength — ranging as low as 7-percent alcohol by volume in British versions and upwards of 15 percent in American interpretations. Despite its name, barleywines aren't made with tons of specialty grains, as one might assume. Historically, barleywines are brewed with pale malt, the same malts used for pale ales. Brewers achieve that rich caramel flavor that's expected in barleywines by extending the length of the boil, which caramelizes the flavors and imparts that deep color. Yeast and hops vary between English-style and American-style barleywines, but either way, the barleywines we drink today are expectedly bold, yet surprisingly complex. All day, Peaks and Pints presents five, 3.5-ounce pours of barleywines in our Craft Beer Crosscut 12.20.18: A Flight for Fezziwig. Cheers!
Craft Beer Crosscut 12.20.18: A Flight for Fezziwig
Sound Old Scoundrel Barleywine
10.4% ABV, 40 IBU
Sound Brewery's Old Scoundrel is a delicious malt balanced barleywine with enough Cascade hop to make it a great marriage of the Old and New Worlds. The nose is malt forward, with healthy doses of caramel and toffee, often characteristic of English barleywines. There is also an essence of molasses and a vague fruitiness. Notes of brown sugar, faint nuttiness and dried apricots coat the tongue followed by a distinct hoppiness. While hoppy, Old Scoundrel is well balanced against the malt and sweetness.
Firestone Walker Sucaba
13.5% ABV, 42 IBU
One of Firestone Walker Brewing Co.'s annual Proprietor's Vintage Series releases, Sucaba is a 13.4 percent ABV English barleywine brewed with Munton's pale, crisp Maris Otter pale, Munich, dark and light crystal and chocolate malts along with spalter select hops before being aged in bourbon barrels. Big, boozy bourbon and American oak aromas combine with soft chocolate malty undertones. Aroma offers chocolate, roast malt, vanilla and caramel tones. Flavor follow the nose with rich, almost fudgey toffee, caramel, brown sugar, toasted notes, slight chocolate, lots of vanilla from the oak, plus dried and candied figs. A touch of booze and drying from the oak counteract the sweetness in the finish, but it's still a rich, sweet beer with a full mouthfeel and soft carbonation.
Hair of the Dog Doggie Claws
11.5% ABV, 70 IBU
People have been making pilgrimages to Portland for Alan Sprints' beer since the dark ages — back when hazy and sour beers weren't made that way intentionally. Hair of the Dog's Doggie Claws, a holiday-themed barleywine, is brewed with Simcoe and Amarillo hops along with Organic Pilsner malt, British crystal and dark wild flower honey collected on Mt. Hood. It smells of thick, decadent caramel coupled with notes of raisins, molasses and dark fruits. First sip brings a sweet caramel-raisin infused maltiness that carries hints of dark fruits, cherry and sourdough. This is followed by a nice wave of piney, citric, herbal hop bitterness causing a nice interplay between the sweet and bitter aspects of the craft beer.
Wander 2017 3 Ton Holiday Barleywine
12.3% ABV
Wander Brewing brews their annual 3 Ton Holiday Barleywine in tribute to the 3 ton cranes that watched over their Bellingham brewery. This is the 2017 version of what seems to be an annual changing recipe. This one is "50% Ale, 50% Ale aged in Bourbon barrels." The nose is malty with caramel, toffee, and some alcohol. On the tongue, expect caramel, toffee, some toasted notes, and a rich malt character. Alcohol showed up in the finish. It's drinkable for its strength.
Against The Grain London Balling
12.5% ABV, 80 IBU
Brewed with enough Maris Otter Pale, Aromatic and Caramel malts to nearly overflow Against The Grain Brewery's mash tun, the Louisville, Kentucky brewery then balances this English style barleywine with English Nugget and Kent Goldings hops before aging it in Angel's Envy bourbon barrels for three months. The resulting ale is well-balanced with whiskey, barrel, and malt in harmony. Raisin and plum character jumps out of the glass with a light smokiness. It's sweet up front that fades into moderate bitterness and alcohol, thanks to the touch of English hops that appears very light toward the end. Alcohol warmth is there and lingers. By the way, Balling is a measurement of specific gravity.
---
Category:
Beer Line Blog
,
Craft Beer
,
Critical Drinking
,
Crosscut Flight
,
In The Cooler
,
Shop
,
Specials
Tags: A Barleywine Carol, Against The Grain Brewery, barleywine, beer flights, craft beer, Craft Beer Crosscut, Firestone Walker Brewing Co, Hair of the Dog Brewery, Sound Brewery, Wander Brewing Co