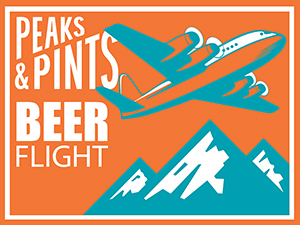 For many brewers and drinkers of beer, winter is the time to think big. Heavy beers flavored like pie and as strong as a Napa Cabernet proliferate in the season of short days, sleet and Arctic winds. Brewers around the world tear open the pantry cabinet and pour bucketfuls of nutmeg, cinnamon, vanilla, flowers, fruits and secret potions into perfectly good vats of beer. Could you use a from the gingerbread cookies? Peaks and Pints present a flight of sour beers we call Craft Beer Crosscut 12.14.18: A Flight of Sour Beer. Holiday spoils and grand adventures are never had by those who do not pursue them. Sour beer is the oldest type of beer in history. Nearly all beer used to be at least somewhat sour before pasteurization and sterilization was entirely understood. Sours today are tart tasting, and made with wild bacteria and yeasts, whereas more familiar beers are made in sterile environments with specific yeast strains. With beer styles ranging from gueuzes to the Berliner weisse, sour beers have flavor profiles that are sure to please and, of course, shock. Despite some flavors that can best be described as "funk," rest assured these beers aren't off: they're meant that way.
Craft Beer Crosscut 12.14.18: A Flight of Sour Beer
pFriem Druif
7.3% ABV, 6 IBU
"Druif" in Old Dutch translates to "grape," which pFriem Family Brewers add plenty of in their Druif lambic-style sour. Riesling grapes from Brooks Estate Vineyard mixed with the Hood River, Oregon brewery's lambic-inspired base imbue this sour with inviting aromas of fresh bread and berries. The grape flavor is subtle and offsets the sharpness of the acidity and sourness to a degree. Sourness is still the dominant characteristic, suggesting a degree of age that has developed the sour expression of the yeasts and other bugs from the fermentation process. The finish is tart.
Cascade Cuvee du Jongleur
8.4% ABV
Cascade Brewing Cuvée du Jongleur is a blend of select barrels of Flanders reds, triples, and blond quads that have undergone lactic fermentation and barrel aging up to 18 months. Dip your nose into the glass for wonderful sour grape and peach wine aroma. Expect a cherry wine like flavor with tons of oak and malt support. It sports a Champagne-like carbonation with a dry palate.
Logsdon Far West Vlaming
6.5% ABV, 16 IBU
This Logsdon Farmhouse Ales red ale is brewed in the "Vlaming" or West Flanders style. A combination of pale, crystal, and dark roasted barley malt, wheat, and oats are brewed with local whole-cone hops, with a select variety of yeast and lactic bacteria. The Hood River, Oregon brewery ages it in oak barrels for a period of time to develop complex richness, soft tannins and fruity, tart character. The aged beer is then blended with young beer to create the desired balance of malt sweetness with a dry finish. It's relatively clean for the style with added wood notes and hints of soft, ripe fruits.
Jolly Pumpkin Simcoe Single Hop
6% ABV, 60 IBU
Simcoe Single Hop is the first beer in Jolly Pumpkin's Hop Portal Series, which showcases the unique characteristics that a specific hop variety imparts on a beer. This sour pale ale was brewed exclusively with Simcoe hops, but is well balanced with Simcoe's vibrant, dank and earthiness on one side and Jolly Pumpkin's funk on the other, with stone fruit notes as an added bonus.
Modern Times Creature Times
4.9% ABV
A collaboration with Creature Comforts Brewing out of Athens, Georgia, Modern Times Beer's gose was brewed with smoked malt, pineapple, salt and chili peppers. The aroma and flavor have smoked ham, citrus, pineapple, peppery spice and heat. It's an interesting flavor profile — almost like a Hawaiian pizza.
---