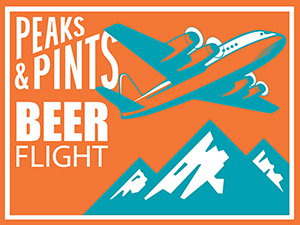 Though there's some dispute as to their origin, we can say generally the IPA's genesis began with the British Empire in the mid-19th century. These brews — noted for their floral aroma, earthy flavors and solid hop expression — quickly became drinking staples, and when the style jumped the pond a century later, it kick-started a hop-bomb craze. Now IPAs are the most popular craft styles out there, with drinkers embracing bitterness, hops and appearances that shine bright like diamonds. Well, there's a new sheriff in town, and craft beer has a new style to play with: milkshake IPA. Made with milk sugar and lactose to give it a creamy, milkshake-like mouthfeel and appearance, this style also typically includes the kinds of sweet treats you would find in a milkshake: strawberries, peaches, chocolate, vanilla, mangoes and the like. Most milkshake IPAs are spinoffs on the popular New England-style IPAs, which have tropical flavors and low bitterness. Today, Peaks and Pints presents a flight of milkshake IPAs that we call Craft Beer Crosscut 11.6.18: A Flight of Milkshake IPA.
Craft Beer Crosscut 11.6.18: A Flight of Milkshake IPA
Skookum Cherry Pie Clouds
7% ABV
Skookum Brewery serves a cherry IPA brewed with oats and lactose, finished on sweet and tart cherry purée, whole vanilla and toasted cinnamon sticks. Citra, Mosaic and a touch of Simcoe hops prove it's an IPA, but bright, full cherry flavor, with a cinnamon like spice lingering in the background. Floats the idea of a cherry pie. Aroma is proof enough that they nailed the cherry pie specifics with this brew: cherry, vanilla and cinnamon all blend well.
Decadent Blueberry Cream Pop
8.6% ABV, 55 IBU
Formerly known as Blueberry Creamsicle, Decadent Ales Blueberry Cream Pop is an all Mosaic dry-hopped double IPA brewed with blueberries and Madagascar vanilla beans and a propriety blend of Turbinado (typically used to make simple syrup for cocktails) and Muscovado (a darker, more molasses-like sugar). Taste brings fresh grass, pine, citrus, zest, butterscotch, floral hops, peach tea, white grapefruit juice, orange peel, orange pulp, pronounced blackberry and berry pie upfront, with vanilla on the mid-palate and a finish of blackberry, blueberry and black cherry.
Riverbend Berry the HOPetition
7% ABV, 60 IBU
"Milkshake PA" was first coined by Swedish brewery Omnipollo, and Riverbend Brewing has fully committed to the sub-genre, producing four different varieties. There's something for almost every palate in the lineup, but Berry the HOPetition brewed with raspberries, blueberries, blackberries and boysenberries is a standout, offering a creamy, fruity package without the Cascade and Mosaic hop bitterness getting in the way. It tastes like berry jam, equally tart and sweet.
Decadent Ales Tropical Smoothie
7.3% ABV, 60 IBU
Decadent Ales Tropical Smoothie is all Citra double dry-hopped with pineapple, peach, mango and strawberry added. It smacks of sugary fruit slushies in the nose with peach gummy rings and lollipops, Brach's jam-filled strawberry hard candies and sweet-tart pineapple brightness. Its flavor has a tart citrus and springtime strawberry undercurrent overlaid with a thick veneer of peach gummy candy, pineapple tang, juicy mango and pine bitterness.
Decadent Ales Double Toasted Marshmallow
9.5% ABV
Decadent Ales brewed a double IPA dry hopped with a blend of Madagascar vanilla bean, candied turbinado sugar and candied coconut sugar. Yeah, weird, but tasty. The aroma is super intense vanilla pods with a lot of grain, alcohol marshmallow (somehow), pure caster sugar, a dose of yeast and some more sugars with a good dose of quite resinous hops at the tail end. This full-bodied IPA begins with rich vanilla, sugar and malt flavors. Orange-y hops make a brief appearance before ending with mild marshmallow, resin and a bittersweet kick.
---