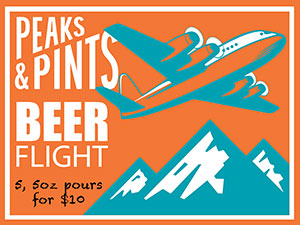 Yesterday, Peaks and Pints had citrus on the brain. It brought back memories of our incredible warm past summer. Geez, we miss the warmth. All we can think of now is a striped tote bag, our faces slathered with SPF 90, flip flops and a cooler full of tropical and citrus craft beers. We could grab a plane ticket to paradise and stuff our suitcase with craft beer made with hops having flavors and aromas ripped from a fruit bowl, including Motueka (lemon, lime, tropical)), Citra (papaya, mango), Cascade (grapefruit), Mosaic (berries), El Dorado (watermelon, pears), Amarillo (orange), Galaxy (peach, melons), Hull Melon (honeydew), Vic's Secret (pineapple) and Sorachi Ace (lemons). Or, we could crank up the thermostat and drink citrus and tropical craft beers from our taps and cooler, which we will today in our Craft Beer Crosscut 11.5.17: A Flight of Citrus and Tropical Hops.
Alpine Windows UP IPA
7% ABV, 41 IBU
After Green Flash Brewing's lupulin lab grabbed the production reigns of several Alpine Beer Co. brews, the mad IPA scientists brewed even more amazing hopped-up masterpieces such as Hop Boxed, which was Alpine's Duet's malt bill, but instead of Simcoe and Amarillo hops, scientists used Citra and Mosaic. Alpine changed the name of Hop Boxed to Windows Up, but the mix of Citra and Mosaic still hold the window up for a soft and bitter room. Windows Up is a dank IPA of two profiles that truly meets in the middle. With an aromatic floral and orange nose, the flavor begins soft on the mouth with a green meets papaya-citrus wash over the tongue that breaks away to a piney punch that leads to a bitter finish.
Boulevard Tropical Pale Ale
5.9% ABV, 45 IBU
In 1989, believing that Kansas City was suffering from light-beer fatigue, Boulevard Brewing Co. launched with a spotlight on its Pale Ale. Inspired by Boulevard Brewing's collaboration with Florida's famed Cigar City Brewing, Tropical Pale Ale marries Boulevard's passion for balanced pale ales with the bright refreshing flavors of grapefruit and passion fruit accented by juicy, citrusy hops. If Tropical Pale were a style, this would be it. Pack your bags and bring your taste buds.
Elysian Dayglow IPA
6.5% ABV, 65 IBU
First brewed as part of Elysian's Manic IPA series, Dayglow IPA is made for today's flight. It's packed with hops featuring juicy pineapple and tropical fruit flavors and aromas. It drips with tropical, sunshiny Mosaic hops and twinkles with hints of El Dorado. Tropical and citrus forward, with an intense hop pungency mix (including Centennial) over pale, dextrapil and wheat malts, Dayglow shines with sweet orange, papaya, pale malt, earth and a hint of pine resin.
The Bruery Humulus Rye
6.4% ABV, 70 IBU
The brewers at The Bruery swore to never make an IPA, and to them, Humulus Rye is the next best thing. The "India Pale Lager" (IPL), mimics the IPA with that aromatic, hop punch but, true to the lager style mellows out in overall flavor. Brewed with German rye malt and a low mash temperature to let the hops take center stage. Formidable bitterness teams with heavy citrus and tropical notes thanks to American, New Zealand and Australian hops, accentuated by mild rye malt complexity.
The Hop Concept Tropical & Juicy
8.5% ABV, 85 IBU
First brewed in 2015, The Hop Concept's Tropical and Juicy double IPA garners its namesake flavor profile by concentrating on Mosaic, Galaxy, Vic Secret and Citra hop varietals. Well-blended citrus and tropical fruit — orange, lemon and pineapple — as well as pine hits the nose. On the tongue, expect grapefruit juice notes and some orange — sweet but not too sweet. It's an intensely bitter DIPA with strong citrus character, a nice nose and flavor, and well-balanced.
Save
Save
---