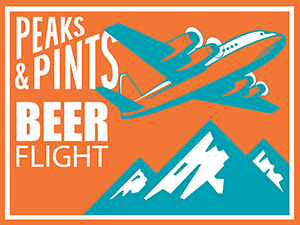 Cities all over the nation are supporting American Express' "Small Business Saturday" campaign, which encourages shoppers to consider supporting their local retailers this weekend, particularly the Saturday after Black Friday. According to Civic Economics, out of every $100 spent on a small business, $67 returns to the community. Nationally, the Small Business Saturday website reports small businesses employ half of all private sector employees. Additionally, the Small Business Administration says, "for every year over the last decade, 60-80 percent of new jobs were generated by small businesses." Peaks and Pints craft beer bar, bottle shop and restaurant is a small business owned by three lifelong Tacomans. Today, our small business celebrates other local small business by offering a flight of local craft beer, which we call Craft Beer Crosscut 11.30.19: Flight For Small Business Saturday. Bonus: We're offering six local breweries for the price of five.
Craft Beer Crosscut 11.30.19: Flight For Small Business Saturday
E9 Brewing The Last In Line
10% ABV
In the early '90s, Dusty Trail converted the historic Engine House No. 9 bar into a brewpub, and brought back the Tacoma Brew, the famous Tacoma lager of 1888. Dick Dickens grabbed the reins in 2002, bringing in head brewer Doug Tiede. Heads turned and medals were hung. In 2011, X group purchased E-9, with Shane Johns running the kettles. Saisons and sours and gold medals followed. Today, the brewery, E9 Brewing, has moved out of the Engine House and into a much larger production facility and taproom in Tacoma's Historic Brewing District. The Last In Line is a non-barrel-aged version of E9's Holy Diver Belgian strong dark ale. This new beer has complex fruity notes of raisin, date and brown sugar with the classic taste of sweet malt and caramel.
Narrows Dark Mode Stout
5.5% ABV, 20 IBU
Part of the historic mill building at Tacoma's Narrows Marina, Narrows Brewing Company's Taproom and Brewhouse looks out at the waters of the Puget Sound. Dark Mode is the Tacoma brewery's brand new, almost year-round oatmeal stout. Brewed with rolled oats and chocolate malt and then boiled for an extended time, this stout is creamy and sweet with refreshing notes of coffee, dark chocolate and oatmeal cereal.
Wingman Mayan Chocolate P-51
8% ABV, 31 IBU
The P-51 Porter was Wingman Brewers' first real beer recipe. "It goes back to 2008 when Derrick (Moyer) and I were home brewing," explains Thoburn. "At the time, Lazy Boy Porter from Everett was my favorite beer around, so we tried to emulate that. The beer was initially made for a friend's birthday and called Nalty's Tall Order Porter since he's a tall dude and asked us to make a Porter for his birthday party. The beer went over so well with our friends that it remains the only recipe we've never changed since Wingman started … with Washington-grown barley and Moxie valley hops." Wingman Brewers introduced a peanut butter and coconut porter to the Port Townsend Strange Brewfest several years ago. They were a huge hit. Many variations followed, including Mayan Chocolate with cinnamon sticks, vanilla beans, cayenne peppers and, or course, a whole lot of chocolate.
Wet Coast Handshake Agreement Collaboration (v.1)
5.4% ABV, 40 IBU
What happens when Thurston County firefighters hang out with West Pierce Fire and Rescue firefighters? Wet Coast Handshake Agreement pale ale. West Pierce Fire and Rescue firefighters and Wet Coast Brewing Co. founders Bryan Copeland and Aaron Johnson invited Thurston County firefighters and Top Rung Brewing Co. founders Jason Stoltz and Casey Sobol to their Gig Harbor, Washington brewery to trade stories and brew a beer. The two local breweries added Strata and El Dorado hops to a malt bill of Marris Otter and Golden Promise. Strata has notes of strawberry, passion fruit and grapefruit, with El Dorado adding tropical fruit notes.
Tacoma Cigar Box IPA
8% ABV, 50 IBU
Morgan Alexander brewed beer in high school. He used Baker's yeast and apple juice, which Alexander says was horrible. He kept the lab coat on, home brewing with unusual ingredients for years before converting his beloved Tacoma Triangle District Amocat Cafe into Tacoma Brewing Company, a tiny taproom that he eventually abandoned for a ginormous space up the street. His reoccurring Cigar Box IPA is aged on Spanish cedar opening an aroma of cedar, vanilla, tobacco and sandalwood. The rich, mellow, spicy hint of wood receives a puff of grapefruit, thanks to Chinook, Simcoe, Cascade, and Centennial hops.
7 Seas Boobytraps
7% ABV, 65 IBU
While 7 Seas Brewing has been in existence since 2008, a fire in January 2009 at the original downtown Gig Harbor address meant Mike Runion and Travis Guterson had to relocate. Popularity and growth forced them to move to their current and much larger location back in downtown Gig Harbor. In 2016, 7 Seas added another location, opening an 80,000-square-foot expansive taproom, marketplace and production facility with 10,000 sq. ft. basement for barrel program in downtown Tacoma at a site that once held the Heidelberg Brewery. Boobytraps is a flavorful and bold black IPA, yet maintains a crisp quality of light bodied drinkability that is perfect for the cool months of the year." Light and smooth, Boobytraps is loaded with piney hops and a hint of roasted malts for a lingering, flavorful finish.
Photo by Lyn Topinka
---