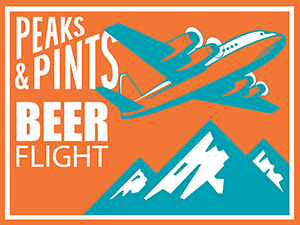 Take a whiff from your Peaks and Pints taster glass, have a sip, and you'll see. The flavors that develop when beer is aged in booze-soaked oak are stunning. Bitter, harsh stouts can turn seductive and smooth as silk. The alcohol percentage tips the scales over 10 percent, the body of the beer becomes silk-smooth, and wood characteristics — like oak, vanilla and dry tannins — sink into the roasted malts, creating a symphony of dark flavors. Today marks the last day of our Dark Side of Thanksgiving imperial stout festival, and we're going out with a bang! We have four Goose Island Bourbon County Brand Stouts on tap, cellar imperial stout bottles for sale, and a flight of bourbon barrel-aged stout, which we call Craft Beer Crosscut 11.29.19: Flight of Dark Side Boozy Stouts.
Craft Beer Crosscut 11.29.19: Flight of Dark Side Boozy Stouts
Boulevard Whiskey Barrel Stout
11.8% ABV, 32 IBU
Over the top but surprisingly approachable, Boulevard Brewing's twist on a whiskey barrel-aged stout starts with several types of malted barley, rye, oats and wheat. Robust flavors of vanilla, espresso, whiskey, chocolate and roasted grain are balanced by hints of date and plum, with just enough hops to round it all out. Roughly one-third of the final blend is freshly brewed beer; the rest is aged for up to a year (or more) in both first and second use whiskey casks.
Breakside Grandpappy
9% ABV, 33 IBU
Inspired by whiskey-sauced bread pudding, this Breakside Brewery barrel-aged imperial stout is a special variant of the Portland brewery's Grandmammy imperial stout, which is the Van Winkle wheated bourbon barrel version of their Salted Caramel Stout. Also aged for more than a year in Van Winkle wheated bourbon barrels that have been used to house Bissell Maple Farm maple syrup, Grandpappy doesn't smell like cigars and dust, but rather toffee, caramel and baking spice. If you kissed Grandpappy, you'd taste charred oak, sun-dried grapes, and chocolate-covered citrus.
Reuben's BBIS
11.9% ABV
Reuben's Brews' Bourbon Barrel Imperial Stout, or BBIS, has been years in the making. The majority of the barrels in this year's blend have been aging for about one year, and the addition of some two year-aged BBIS into the blend adds layers of complexity. The Seattle brewery barrel ages this stout in a blend of 10- to 12-year bourbon barrels. Using the same oat-forward and British specialty malt recipe that hails back from the original version brewed in 2013, they introduced some new techniques to make the beer bigger, richer and silkier.
Goose Island 2018 Bourbon County Brand Stout
14.7% ABV, 60 IBU
More than 21 years ago Greg Hall wanted to brew something truly unique for Goose Island brewpub's 1000th batch — he just needed inspiration. Then a chance encounter between Greg and Jim Beam's legendary distiller, Booker Noe, led to Goose Island acquiring the barrels for what was to become the world's first bourbon barrel aged beer. Since then, the beer has become a phenomena. The 2018 version is aged in 4-plus year old Heaven Hill Bourbon barrels for sweet and roasty dessert flavors of cocoa, vanilla, caramel, almond, cherry, plus leather and tobacco.
Oskar Blues Barrel Aged Ten Fidy
12.9%, 98 IBU
Oskar Blues Ten Fidy imperial stout is made with enormous amounts of 2-row malt, chocolate malt, roasted barley, flaked oats and hops with the malt blanket hiding the high bitterness but not flavors of chocolate-covered caramel and coffee. When the brewers age it in bourbon barrels for a year, the nose on Ten Fidy now touches on oak and spirits with an underlying richness. The sip is clean and crisp with a rich and slightly sweet mid palate braced by a cleansing tannin. It's rich and sweet, but not too rich and sweet.
---