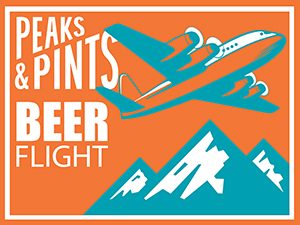 Does the sound of "Away in a Manger" tinkling out of a plastic cherub at Target make you twitch? Do you fantasize about hiring Barry Scheck to get you out of Hanukkah with your in-laws? Do the words solstice and kwanzaa sound like synonyms for "Please God, not another party"? Does prolonged exposure to tinsel in public spaces make you want to go postal? Stop, take a deep breath, and put down the candy cane you've just sharpened into a vampire-slaying stake. You are not alone. There is help. There is Craft Beer Crosscut 11.30.18: A Flight of HoHo, or Holiday Overcomers Helping Others, which was established in 1973, when a Nixon loyalist found he was simply unable to squeeze out any seasonal goodwill; empty-handed on Christmas Eve, he made the unfortunate decision to burn down his house instead of admitting that he hadn't done any shopping. His ex-wife, with the divorce settlement she received in early 1974, went on to found HoHo, determined that no one else's Christmas should go up in smoke. Though there are no official HoHo chapters in this area, Peaks and Pints is happy to share the five steps to getting in the spirit. We've taken every step on this flight and learned the truth: with some planning and a lot of willpower, anyone can avoid holiday burnout. And that is what HoHo is all about … and the craft beer, of course.
Craft Beer Crosscut 11.30.18: A Flight of HoHo
Brouwerij St. Bernardus Christmas Ale
10% ABV, 28 IBU
All the self-restraint of day-to-day life, the emphasis on physical and fiscal fitness — forget it. These four weeks of holiday celebration are just not like the other 48; you have to approach them with "dog years" math. One holiday week really takes the toll of seven on your body. Obviously, such a pace is exhausting, and you'll need extra supplies for stamina. So go ahead, enjoy a Brouwerij St. Bernardus Christmas Ale — and if Jenny Craig doesn't like it, let her do your shopping. While there are plenty of great imported beers, especially from Belgium, this Belgian quadrupel consistently ranks in the top five Christmas beers of all time. It's meant for sipping: strong, complex and thick with molasses sweetness, apricots and mint. Indulge.
Anchor Our Special Ale (Christmas Ale)
6.9% ABV, 40 IBU
Surely you must have enjoyed this holiday at one time in your life. Try to remember the details. Was it an afternoon of sipping mom's spiced punch flipping through pages of the Sears catalog? We knew it. Coincidentally, back in 1975, Anchor Brewing Co. released the first holiday beer in America since Prohibition. Since then, Anchor creates a new, secret recipe with a unique hand drawn label for their Our Special Ale, aka Christmas Ale, but the intent with each brew remains the same: joy for the changing seasons and celebration of the newness of life. This is our go-to holiday meal beer. This year, the label sports a Korean pine (Pinus koraiensis) and the specific beer recipe is, as always, a secret. So part of the fun of trying this beer is trying to figure out what's in it. We're tasting strong cocoa and pine notes. Good times.
Lagunitas Brown Shugga
9.7% ABV, 51 IBU
Forward-looking companies call it "creative visualization" or "thinking outside the box," but it's nothing more than the act of wishful thinking. Imagine a best-case scenario: you finish gift shopping a week early, pay your entire credit card bill on time, and win money from the instant-win label on your McDonald's fries. Then figure out which fantasy you are most likely to realize — and do it, while sipping a Lagunitas Brewing Brown Shugga. After all, Brown Shugga was created in 1997 after Lagunitas brewers attempted to rescue a failed batch of Olde GnarlyWine Ale by adding "boatloads of brown sugar" — or so the story goes, anyway. Super sweet notes of caramel and brown sugar are yanked back by piney hops that kick in with a bitterness that intensifies for two or three seconds before starting to fade. You'll wish you could have more than our flight sampler glass.
Sierra Nevada Celebration Fresh Hop Ale
6.8% ABV, 65 IBU
Repeat after us: "I know that not loving the holiday season is no crime." "I am not a Grinch, I am merely honest about my feelings." "Hallmark cannot manipulate me. Hallmark cannot shame me. I have power over Hallmark." "I can drink fresh hop IPA during the holiday season." Indeed. Sierra Nevada's Celebration Fresh hop Ale is an early holiday classic, first brewed in 1981. These days it's brewed as a fresh hop beer, i.e., it uses unkilned hops fresh from the hopyard, which gives it an intensely hoppy nose. Using three hop varieties — Cascade, Centennial and Chinook — the results are redolent of citrus and pine, a Christmas tree in a glass. Look at yourself in the mirror while drinking this delicious IPA.
Hair of the Dog Doggie Claws
11.5% ABV, 70 IBU
The importance of recognizing your own worth cannot be overstated. And how better to say "I am a good person" than to give yourself a little present, a token of your self-esteem and affection? You will surprise yourself with how thoughtful you are when you appreciate, say, the decadence of Hair of the Dog's Doggie Claws holiday-themed barleywine. People have been making pilgrimages to Portland for Alan Sprints' beer since the dark ages — back when hazy and sour beers weren't made that way intentionally. Hair of the Dog's Doggie Claws is brewed with Simcoe and Amarillo hops along with Organic Pilsner malt, British crystal and dark wild flower honey collected on Mt. Hood. It smells of thick, decadent caramel coupled with notes of raisins, molasses and dark fruits. First sip brings a sweet caramel-raisin infused maltiness that carries hints of dark fruits, cherry and sourdough. This is followed by a nice wave of piney, citric, herbal hop bitterness causing a nice interplay between the sweet and bitter aspects of the craft beer. It's self-gratification at its best.
---