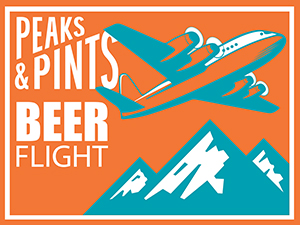 Long before the arrival of Europeans, Native Americans were producing maple sugar to flavor their food and as a valuable item for trade. Colonists learned the technique from Native Americans and used maple sugar in place of cane sugar, which was then an expensive luxury. Nicknamed the sugarbush, the sugar maple yields sap that is boiled and concentrated into one of the best reasons to wake up any morning: an amber or golden maple syrup to douse pancakes and waffles — or add to craft beer. It's healthful, too: high in manganese and zinc, maple syrup is touted to help strengthen the immune system. It has antioxidant compounds, and research continues to tie its beneficial effects to the prevention of neurodegenerative diseases. Anyhoo, Peaks and Pints is a craft beer bottle shop and taproom, not a maple syrup store. Brewers do, however, add maple to their beers, which is right up our alley. Stop by Peaks and Pints today for a flight of beer brewed with maple that we call Craft Beer Crosscut 11.3.18: A Flight of Maple.
Craft Beer Crosscut 11.3.18: A Flight of Maple
Midnight Sun Son of Berserker
6.9% ABV, 20 IBU
Head to the highest point in the United States, the untamed tundra of Anchorage, Alaska, and you will find Midnight Sun Brewing Company. Since their kettles fired up in 1995, this brewery and brewpub has been warming the good folks who braved that last frontier with their multitude of year-round, seasonal and specialty brews. Its Son of Berserker is a small stout — a second running, usually called "small beer," of Berserker Imperial Stout. This beer displays its complexity from the first sniff; it is a cornucopia of bittersweet chocolate, dark roast coffee, roast malt, caramel, black cherries, plums, figs and a light resiny hop aroma. The flavor follows suit, although the maple syrup and molasses are not overtly noticeable, they do add an additional layer of richness and depth to an already complex beer.
Boulder Beer Maple Syzzurp
5.9% ABV, 39 IBU
Boulder Beer Company's Shake Chocolate Porter tastes like a chocolate shake with its rich chocolate aroma and velvety mouthfeel. This beer, which took home a gold medal in the Chocolate Beer category from the 2014 World Beer Cup, is brewed with five different grains, including chocolate wheat, and has added cacao nibs. It's chocolaty, but the swallow's still crisp and clean; milky chocolate notes connect with traditional porter roast and ride a cola-like mouthfeel all the way down. When Boulder added a bunch of maple syrup to Shake, they renamed it Maple Syzzurp.
Evil Twin Maple Bourbon Barrel-Aged Imperial Mexican Biscotti Toasted Coconut Cake Break
10.5 ABV
Jeppe Jarnit-Bjergsø contract brewed at Westbrook Brewing in South Carolina before moving his Evil Twin Brewing to New York City. As he brewed his Biscotti Break imperial stout with vanilla, almond and coffee he drank Westbrook's Mexican Cake imperial stout with cocoa nibs, vanilla beans, cinnamon sticks, and fresh habanero peppers. Then one day Biscotti Break met Mexican Cake and they knew it was much more than a hunch. Soon they became the Imperial Mexican Biscotti Cake Break, an imperial stout brewed with coffee, cinnamon, almonds, cocoa nibs, vanilla and habanero peppers. The two brewery's kept the drive alive, brewing variants of the Imperial Mexican Biscotti Cake Break, including Maple Bourbon Barrel-Aged Imperial Mexican Biscotti Toasted Coconut Cake Break — a 10.5 percent ABV imperial stout brewed with almonds, cocoa nibs, coffee, cinnamon, habanero peppers, toasted coconut and vanilla beans before being aged in maple bourbon barrels. The bourbon barrel leads the way, with charred oak, bourbon, vanilla, caramel, maple, toasted coconut and marshmallow, roasted malts, subtle spices and earth flavors. It's sweet, indeed, and it's not hot, with a dry, warming, roasty mouthfeel.
Evil Twin Some People Are Immune To Good Banana Stout
10.7% ABV
Knock, knock. Who's there? Banana. Are you sure? The banana is subtle in this imperial stout with banana and maple syrup additions. Brewed at Westbrook Brewing Co. in South Carolina, Evil Twin's Some People Are Immune To Good Banana Stout hits the nose and tongue with roasted malts, chocolate, maple syrup and mild banana character. We's gotsta have more banana, Evil Twin! Some People Are Immune To Good Banana Stout does have a big body, syrupy mouthfeel and the chocolate is accountable in this tasty stout.
Founders Canadian Breakfast Stout
11.7% ABV, 45 IBU
Since 1997, the Grand Rapids, Michigan brewery, Founders Brewing Company, helped to put the Midwest on the map as a craft beer mecca. Founders' brewers awoke early one day and brewed their Breakfast Stout with flaked oats, chocolate, and two kinds of coffee beans. In 2002, they aged the beer in Jack Daniels barrels, bumped up the ABV and Kentucky Breakfast Stout, or KBS, was born. In 2010, they aged the Breakfast Stout in spent bourbon barrels that had most recently been aging pure Michigan maple syrup. Canadian Breakfast Stout, or CBS, was born, with notes of syrupy malt and strong alcohol.
---