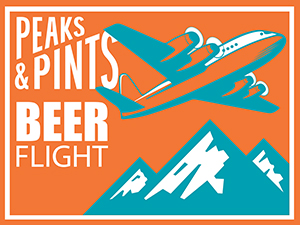 Winter beer is a slippery category that used to comprise slightly boozy ales brewed with spices and dark fruits, but has long since metastasized to include not only those traditional "winter warmers," but also just about any damn thing a brewery's marketing department feels like hanging a snowflake on. Slapping a reindeer label on a coffee stout does not make it a winter beer. Winter beers are much darker in color, ranging from a deep amber to a rich black, with distinctively festival flavorings such as notes of dark fruit, roasted barley, chocolate, coffee and bitter hops. The emphasis is on strong flavors and a full mouthfeel, rather than being a thirst-quencher. From doppelbocks and Russian imperial stouts to barleywines and Scotch ales, Peaks and Pints presents the winter beer flight Craft Beer Crosscut 11.2.18: A Flight of Winter Is Coming.
Craft Beer Crosscut 11.2.18: A Flight of Winter Is Coming
Boundary Bay Scotch Ale
6.4% ABV, 31 IBU
Scotch ales are top-fermenting brews that were originally served in small quantities (thus, the "wee heavy" nickname) for a few schillings in 19th-century Scotland. This style is boiled extensively in kettles, which creates toasty caramelization and sweet, full-bodied flavors. Boundary Bay Brewery & Bistro is the oldest craft brewery in Bellingham. It is the creation of Ed Bennett, a University of Washington alum who went on to earn his Master's degree in winemaking from UC Davis before landing in another small college town, Bellingham, to begin exploring his new love, beer. In 1994, he signed the lease for the Thomas Burns building at 1107 Railroad Ave. to begin building Boundary Bay Brewery. His Scotch Ale became a Northwest classic with the inaugural brew in 1995. The long boil in the kettle caramelizes the wort, producing deep-copper tones. Scotch Ale hits the nose with caramel and biscuit, which is also the flavor profile with added light spiciness, oak notes and a touch of fruit.
Double Mountain Bock Steady
7.5% ABV, 35 IBU
Bocks have a long and storied history that dates back to medieval times, although some scholars believe they were even brewed by earlier pagan societies. These brews are bottom-fermented lagers that require a few extra months of cold storage, which contributes to their smooth taste. Doppelbocks offer enhanced malty flavors, an even more full-bodied mouthfeel, and higher alcohol levels than standard bocks, too. Double Mountain Brewery's Bock Steady rocks it with Country loaf crust, caramel, fig, ripe red fruits and Tootsie Roll. There's a soft curtain call of coffee and treacle, with a light fruited bitterness.
Drew Curtis/Wil Wheaton/Greg Koch Stone Farking Wheaton wOOtstout
11.5% ABV, 45 IBU
Often referred to as the king of stouts, Russian imperial stouts were originally created in the 19th century by brewers looking to curry favor with Queen Catherine II. These beers are top-fermenting ales that usually offer high alcohol by volume, low levels of carbonation and burnt, malty flavors. This year marks the sixth year Stone Brewing's collaborative Russian imperial stout hits the street. Stone Farking Wheaton W00tstout — a now 11.5 percent ABV imperial stout brewed with rye, wheat malt and pecans before being partially aged in Kentucky bourbon barrels — is a collaboration between actor Wil Wheaton, Fark.com creator Drew Curtis and Stone CEO Greg Koch. It's named after Wheaton's annual festival celebrating cross-genre geekdom w00tstock. Expect raisins, coffee and roasted malt flavors with a spicy finish. The booze is evident but for the ABV it goes down easy. Woot! Woot!
Stone 2015 Old Guardian Barley Wine
11.2% ABV, 80 IBU
A barley wine is a style of strong ale that's typically characterized by high alcohol by volume, a bittersweet taste and a thick, rich mouthfeel. These top-fermenting beers were originally brewed by the ancient Greeks, who stored their barley wine in silver and gold kraters. Barley wines are traditionally hefty brews, but Stone Brewing's is downright excessive. It grabbed a Silver Medal winner at the 2000 Great American Beer Festival, as well as a Gold Medal at the 2002 World Beer Championships. The huge maltiness of this beer is only tamed by an equally prodigious addition of hops, creating a rich, slightly sweet, caramel-hued ale infused with assertive bitterness and bright hop notes, all culminating in a pleasing dryness. This 2015 version hits the nose with floral hops, caramel and light pine. The taste is fruity caramel, not overly sweet light alcohol and a lingering floral bitterness throughout.
Double Mountain Fa La La La La
7.6% ABV, 85 IBU
Winter warmers are top-fermenting ales that offer plenty of malty and sweet flavors alongside a balanced hop character. Many of these tasty brews are blended with spices, which give the style its trademark "warmth." Double Mountain Brewery's winter warmer is a big, malty hop bomb. Brewer Matt Coughlin loads the brewery's inaugural holiday brew up with Gambrinus Organic Pilsner, Munich malt, imported Crystal malts and enough Centennials to fill Santa's toy bag.
---