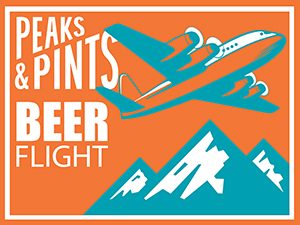 Let's address the obvious: even though the brown ale is named for its color, things aren't quite that simple. To begin with, the hues of this commonly misunderstood style can actually range anywhere from dark copper or amber to deep brown or sometimes ruby. The term itself was first coined by London brewers and referred to a whole family of classic British varieties, such as their mild ale in the early 18th century. There are really two types of brown ales nowadays — the more traditional British brown and its Americanized cousin. British browns can be dark, rich and nutty, and sport strong malt characteristics and most are brewed from 100 percent brown malt. American Browns share their British brethren's caramel tones and rich malt backbone, but tend to be markedly hoppier. Most brown ales are traditionally lower octane affairs and are drinkable by design. Today, Peaks and Pints offers a flight of brown ales paired with a brownie that we call Craft Beer Crosscut 11.29.18: A Flight of Brown.
Craft Beer Crosscut 11.29.18: A Flight of Brown
Marsee Baking Brownies
Today's flight arrives with two brownies from Marsee Baking in Seattle: cream cheese and fudgy nut brownies.
Boulevard Plaid Habit Imperial Brown
13.9% ABV, 9 IBU
Born a double-mashed imperial brown ale, then matured for 18 months in freshly emptied 10-year Canadian rye whisky barrels, Boulevard Brewing's sturdy ale strikes the nose with toffee, toast, pecan and nearly shuttering alcohol spice. Lush sweetness splashes against the tongue with the full brunt of caramel, toffee, simple syrup and honey for a full on malt display.
Modern Times Bedrock
6.2% ABV, 30 IBU
Nitrogenized Bedrock is a marriage between Modern Times Beer's coffee and beer program, combining a nitro brown ale and the brewery's Black House Blend coffee. If you enjoy a delicious bold cup of coffee you will enjoy this brown ale. Ready your pressure synapses for a creamy, toasty, chocolaty delight that goes down smooth.
Rogue Hazelnut Brown Nectar
5.6% ABV, 33 IBU
Oregon produces nearly 99 percent of all American hazelnuts. It's the official state nut. It also boasts 230 craft breweries. Naturally, these local goodies make their way into a few beers around the Beaver State, including Rogue Ales' Hazelnut Brown Nectar. At 1993's American Homebrewers Association convention, Rogue Brewmaster John Maier tasted a brown ale with an unusual twist. His pal Chris Studach had added hazelnuts, an addition that later inspired the Oregon brewery to create the rich, malty, and medal-winning Hazelnut Brown Nectar. Its aroma is hazelnut, strong toasted malts, caramel and chocolate. Flavor opens very mild and thin, developing sweet hazelnut notes mixed with some toasted malt.
The Lost Abbey Gnoel de Abbey
8.5% ABV
The Lost Abbey's seasonal Gnoel de Abbey is a fresh take on the winter warmer. Partially aged in bourbon barrels means it drinks like roasted chestnut-flavored coffee that's been respectfully spiked with bourbon. Beginning with aromas of freshly brewed espresso, Gnoel has hints of cocoa, vanilla, holiday spice, finishing with a crisp coffee bitterness. The body is so light that we forget we're drinking a barrel-aged beer.
---