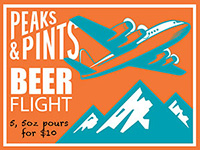 Before you drive over the river and through the woods to whomever's house you're going to this Thanksgiving, consider planning your road trip at Peaks and Pints while enjoying a flight of West Coast breweries that we call Craft Beer Crosscut 11.21.17: A Flight of Thanksgiving Road Trip. But remember, road trips are better with a tidy, organized car; a set schedule; well-stocked, pre-planned stash of snacks like healthy trail mix, fruit, crackers, and maybe even some cut veggies and dip; bottled water; and, of course, a properly tuned vehicle.
Selkirk Abbey 12˚ — Idaho
11.8% ABV, 32 IBU
In Post Falls, Idaho, Selkirk Abbey Brewing Company produces 12° strong dark ale, the boldest of its Belgian-style brews. Beneath the sweet aroma and rich caramel, raisin and dark cherry flavors is a distinct alcohol warmth, which isn't surprising given the 11.8 percent ABV. The layers of seemingly endless malt yield ever so slightly to allow hints of tobacco and leather in the finish. It's rich, thick and well done. Why go: the brewery has an abbey themed taproom that is a warm, comfortable and a surprising contrast from the building's industrial exterior.
Boundary Bay Cabin Fever — Washington
8.5% ABV, 45 IBU
Brewed with CTZ, Simcoe, Willamette and Celeia hops and five malts — including Chocolate malt and oats — Boundary Bay Brewing's Cabin Fever is rich, malty and deceptively strong. With an extended conditioning period, this winter warmer has a smooth mouthfeel. The aroma has a rich, nutty maltiness with some vanilla, raisins, caramel and bread. The flavor leans sweet nutty initially and then opens up for more of a balance with spicy hops that are not strong and end up creating a lovely lingering bready aftertaste. Nice balance. Why go: This kid-friendly brewery and bistro not only has delicious food and a bevy of award-winning beer brewed on-site, but it also hosts a variety of local and touring bands.
Breakside Back To The Future IPA — Oregon
6.5% ABV, 56 IBU
Back to the past, summer of 2015, Fremont Brewing collaborated with Breakside Brewery on the Official Beer of Portland Beer Week, Back To The Future IPA, using varietals they thought might be the "next hot hop." This year, Breakside went back to the future without Fremont, reviving this beer in the same spirit, brewing it with combinations of hops that Breakside thinks have a lot of promise (Vic Secret) and pairing those hops with ones that are already beloved (Hallertau Blanc, Citra). Why go: Breakside Brewery's Slabtown location features a full-service restaurant with three levels with a large outdoor dining space and a rooftop patio.
Lagunitas A Little Sumpin Sumpin — California
7.5% ABV, 65 IBU
Lagunitas Brewing's A Little Sumpin Sumpin is truly a unique beer with a strong hop finish like an IPA but boasts nearly 50 percent wheat grain bill, giving it some smooth hefeweizen characteristics. All the hops starting with the letter "C" are used in this beer, but the bitterness still remains low enough not to wreck your palate. On the tongue, expect citrusy hops and earthy hops before it smooths out in a creamy and slightly bitter finish. Why go: Lagunitas Brewing is super chill, like incredibly mellow, dude, with a giant outdoor patio filled with rustic wood benches and live music at precisely 4:20 p.m.
Revision Citra Revenge IIPA — Nevada
9% ABV
In 2015, Jeremy Warren left everyone knee deep in tears when he departed the brewery he founded, Knee Deep Brewing Co. In March 2017, he opened Revision Brewing Company in Sparks, Nevada, laving everyone knee deep in hops. He began pounding taste buds with his lupulin-laden creations once again, including Citra Revenge IIPA. Brewed with a healthy dose of and dry hopped by plenty of specially sourced Citra hops, this double IPA can be described as a citrus bomb. Pouring a tarnished gold with a clean white head, it boasts notes of tangerine, orange, lemon, grapefruit, honey and melon throughout. Why Go: Warren built one of the largest, hoppiest breweries in Sparks for $2 million with a chill taproom and live music.
---