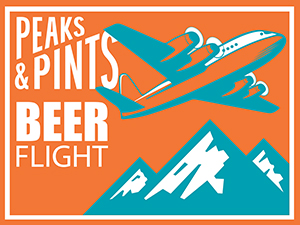 The historical epoch of Armistice Day began with the Nov. 11, 1918, signing of a ceasefire between Germany and the Allied powers of World War I. President Woodrow Wilson initiated it. In the South Sound, we're reminded of war's impact more often than people in most other cities. But even so, it's not often enough. Our freedoms, our heritage and the way of life we enjoy today are made possible because of our military veterans. Today's 100th anniversary of Veterans Day honors all of America's veterans for their patriotism, service and sacrifice. And for their families, there is no better time than now to recognize them and give thanks for the remarkable sacrifices they have made. Happy Veterans Day to all the veterans and current troops serving in our military. Our freedoms, our heritage and the way of life we enjoy today are made possible because of you. As a thank you Peaks and Pints will offer $2 off our special beer flight, Craft Beer Crosscut 11.11.19: A Flight for Veterans Day. Thank you for your service to our country. Cheers!
Craft Beer Crosscut 11.11.19: A Flight for Veterans Day
Boundary Bay Citraweisse
4.5% ABV, 8 IBU
Bruce Kale was Boundary Bay Brewery's first employee. The Army veteran's parents also served in the Armed Forces. His father, Glen Kale, served as a drill sergeant in Greensboro, N.C. before shipping off to India during World War II. His mother, Frances Curtis Kale, served in the Navy as a radio radar receiver as well as an assembly and repair airplane carrier also during WWII. Currently, Kale's parent's uniforms are on display at Boundary Bay. Boundary Bay's General Manager Janet Lightner's father, Craig Lightner, also served as a pilot in the Navy. Citraweisse is a kettle-soured Berliner-style Weiss fermented with a mixture of German Ale Yeast and Lactobacillus, creates Citraweisse's distinguishing sharp tartness. A hefty dry-hop of Citra gives this refreshing sessionable ale a powerful citrusy punch.
Wingman P-51 Coconut Porter
8 ABV, 31 IBU
Anxious to start a business venture in the growing craft beer industry, homebrewer Ken Thoburn didn't have to look far for inspiration for his brand, Wingman Brewers. With a grandfather who painted various nose art designs on a variety of World War II airplanes, Thoburn fell in love with the 1930-40s-era vintage military theme. Combine that with an area that has a large saturation of active-duty and retired Air Force and military members and Tacoma's Wingman Brewers was born. Head Brewer Thoburn, including Derrick Moyer and Daniel Heath, started Wingman Brewers in April 2011, brewing beer to sell to local bars, restaurants and grocery stores out of a small storefront in Tacoma. Wingman Brewers took off in a big way, with a constant eye on their vintage military theme. The P-51 Porter was Wingman's first real beer recipe. "It goes back to 2008 when Derrick (Moyer) and I were home brewing," explains Thoburn. "At the time, Lazy Boy Porter from Everett was my favorite beer around, so we tried to emulate that. The beer was initially made for a friend's birthday and called Nalty's Tall Order Porter since he's a tall dude and asked us to make a Porter for his birthday party. The beer went over so well with our friends that it remains the only recipe we've never changed since Wingman started … with Washington-grown barley and Moxie valley hops." Wingman Brewers introduced a peanut butter and coconut porter to the Port Townsend Strange Brewfest several years ago. It was a huge hit. Wingman went on to separate the two flavors and release both as seasonals. The coconut version hits the nose with coconut chocolate and molasses. The flavor follows with loads of coconut, finishing with a medium bitterness and chocolate.
Odd Otter Ottzel Quatzel
5.5% ABV, 35 IBU
Five owners — three with ties to the military, two accomplished homebrewers — opened Odd Otter Brewing Co. in downtown Tacoma during the summer of 2014 in a downtown Tacoma building built in the late 1880s, and later became the home of a Sailors and Soldiers Club during World War I and a USO Center in World War II. There have been a few changes over the years, including Greer Hubbard grabbing the helm in the brewhouse. The 2018 Washington Brewer's Awards Gold medalist Ottzel Quatzel pale ale is heavily dosed with Mosaic hops for tropical and berry aromas. A simple grain bill accentuates the hop flavors.
Triceratops Sammy IPA
7.5% ABV
Homebrewer Rob Horn left New Jersey to become a firefighter at Joint Base Lewis-McChord. He and his wife, Kelly, opened Triceratops Brewing in August of 2014. With the last name Horn and three awesome kids, is there really any other name? At first, they brewed out of their home garage. After thriving there for three years they opened a tasting room next to Matchless Brewing in Tumwater. Sammy, the Horn's oldest child, is a lover of all things floral and sweet, and his namesake beer is no exception. Lemon drop hops contribute a citrusy, candy-like note while the pilsner malt gives it a lager-like sweetness.
Rainy Daze Sgt. Hoppy
7.6% ABV, 60 IBU
Rainy Daze Brewing Sgt. Hoppy is brewed with Yakima Chief Hops Veterans Blend 2019. The Veterans Blend is inspired by the military veterans of Yakima Chiefs Hops, as they were seeking a way to give back and honor their fellow servicemen and women. Each year, the Veterans Blend recipe is hand-selected by a group of veteran-owned breweries from across the US, representing multiple branches of the military. The group of participants also decide on a different mission-driven nonprofit organization to receive a donation of $3 per pound sold of the Veterans Blend. This year's donation will be made to the Wounded Warriors Family Support Fund, which is dedicated to providing support to the families of those who have been wounded, injured or killed during combat operations. More information on the Wounded Warriors Family Support can be found at https://www.wwfs.org/. The 2019 Veterans Blend recipe includes a well-balanced mixture of Ahtanum, Ekuanot, HBC 472, Loral and Simcoe providing a mix of floral, tropical fruit and citrus aromas.
---