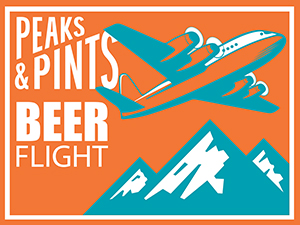 In case you haven't heard, the Seattle Sounders will play Toronto FC in the Major League Soccer championship game, the MLS Cup, today — the third time in four seasons, and people are excited. These two clubs have consistently ranked among the top performers in both the regular season and postseason. They have also collected multiple trophies in domestic cup competitions — Seattle in the U.S. Open Cup and Toronto in the Canadian Championship — and they have regularly represented MLS on the international stage in the Concacaf Champions League. In the all-time series between these two teams, Seattle has enjoyed the decided advantage, winning nine of their 14 regular season meetings. This time, the game will be in Seattle (noon at CenturyLink Field), but tickets are sold out, and resale tickets are upwards of $250. If you missed your chance to get tickets, that doesn't mean you can't be part of the action — Peaks and Pints will show the game. As well as offer a Seattle Sounders themed beer flight, Craft Beer Crosscut 11.10.19: Flight of Seattle Sounders.
Craft Beer Crosscut 11.10.19: Flight of Seattle Sounders
The bluest skies you've ever seen are in Seattle

And the hills the greenest green, in Seattle

Like a beautiful child, growing up, free and wild

Full of hopes and full of fears, full of laughter, full of tears (beers)

Full of dreams to last the years, in Seattle

. . . in Seattle!
Everybody's Green Ice Pacific Pilsner
5.2% ABV, 32 IBU
It should come as little surprise that the Sounders will be wearing their traditional rave green at home when they take on Toronto FC in the Major League Soccer championship game today. In fact, the Emerald City will change out light bulbs — the most famous installation is the Russell Investments Center, which illuminates a giant "74" over the city's waterfront in honor of the year the original Sounders were formed. On a slightly smaller scale, Everybody's Brewing in White Salmon, Washington will tap their Green Ice Pilsner in honor of today's game. Peaks and Pints follows (green) suit, placing the crisp and light pilsner on this flight. It has touch of Northwest hops on top of Weyermann Premium Malt. Everybody's ferments it long and cold. It's a Pacific Northwest take on a pilsner with citrusy aroma, some tropical notes in the taste with a pale ale-like finish.
We came to drink, we came to sing, whoa whoa

We came to drink, we came to sing, whoa whoa

We came to drink, we came to sing ECS from one thirteen!

Whoa, ooohhh, oohh

Burn destroy wreck and kill, whoa, whoa

Burn destroy wreck and kill, whoa, whoa

Burn destroy wreck and kill, Seattle Sounders surely will!

Whoa, ooohhh, oohh

Emerald City we are here, whoa whoa

Emerald City we are here, whoa whoa

Emerald City we are here, supporting Sounders drinking beer!

Whoa, ooohhh, oohh
Hellbent Seattle Sunshine Hazy Pale
5.7% ABV, 34 IBU
Hellbent Brewing brewed a hazy pale ale for the Emerald City Supporters, an independent supporters' group for the Seattle Sounders FC. The ECS sings "Seattle Sunshine" every time it rains on them! Seattle Sunshine Hazy Pale is all about the hops, and contains no bittering additions. The first hops that hit the field — Mosaic, Citra, and Simcoe — are added in the whirlpool, forming citrus, tropical, and stone fruit hop flavors. Then, the Seattle brewery kicks the hop party up a notch by dry hopping at the end of fermentation with Azacca, Citra, Amarillo, Mosaic, and Simcoe, which creates a sublime hop burst of citrus and tropical fruit aromas that will blow your cleats off.
Whoa, ooohhh, oohh,

ooohhh, oohh, ooohhh, oohh…

Sha la la la la la la la la

Eternal blue, forever green

Sounders 'til I die!

Hey!
Wingman Juicy Pale Lager
7% ABV, 35 IBU
Emerald City Supporters subgroup 253 Defiance hangs at Wingman Brewers for away games. Founded in 2009 by their president, Paul Rosa, and a handful of friends, 253 Defiance has members throughout the South Sound, but their hub is the City of Destiny, which is why they're dubbed, "Supporters of Destiny." The 253 Defiance members who didn't score a ticket to the MSL Cup will, no doubt, hang at the Tacoma brewery, probably drinking the delicious Juicy Pale Lager, a collaboration with EDGE Brewing out of Boise, Idaho. This kellerbier is brewed in the style of a hazy India pale lager with Motueka, Nelson Sauvin and Denali hops.
Take 'em all, Take 'em all,

Put 'em up against a wall and shoot 'em,

Short `n tall, watch 'em fall,

Come on boys, take 'em all

Take them all

Watch them fall
Three Magnets Tasty Beveridge
5.5% ABV
In 2014, Nate and Sara Reilly opened Three Magnets Brewing in downtown Olympia with the intention of creating a soccer bar. They have succeeded. Not only is the brewpub packed for all Sounders gamers, but Three Mags is an official Seattle Sounders Pub Partner, meaning season ticket members may receive exclusive offers all day, every day, by showing their digital season pass. The brewery is also the official home of the Black Hills Militia, a chapter of the Emerald City Supporters. Three Magnets collaborated with Beveridge Place Pub, a homey neighborhood ale house in West Seattle, on Tasty Beveridge, a 60 shilling Scottish style ale. Toasted malts and some brown bread notes hits the nose before said malts, toasted malts, light caramel, and brown bread add flavor. It's a light bodied Scottish style ale with mild carbonation, a light sweetness and a dry, earthy finish.
Seattle Sounders here we go,

here we go, here we go (x 2)

Ole Ole! Ole Ole, Seattle Sounders here we go

A Sky of blue, A sea of green, Seattle Sounders here we go

(To the tune of "Yellow Submarine")
Dogfish Head 120 Minute IPA
18% ABV, 120 IBU
If you averaged out each MLS game including stoppage time for each half, Peaks and Pints guesses the average playing time would be approximately 94 minutes. MLS follows FIFA guidelines, therefore they play two 45 minute halves with stoppage time (also known as injury time) added on for the time that play was stalled in each half — for throw ins, fouls, cards, substitutions, goal celebrations, or Peaks and Pints running on the field. If you account for halftime, which is about 15 minutes and ultimately up to the referee's discretion, then an MLS game last about 120 minutes, which is the average time it takes to drink a Dogfish Head's 120 Minute IPA. Layers of syrupy, grassy, dank on dank on dank, resin hops get boiled for two hours, using Amarillo, Simcoe and Warrior hops continuously in the brewing and fermenting process  —  this beast ain't about fresh, it's about hop power. Taste starts bittersweet with piney hops and orange peel but then the booze kicks in and burns the throat. Despite this, there's a nice, smooth finish that follows the initial hoppy burn.
Thanks to the Emerald City Supporters for the songs!
---