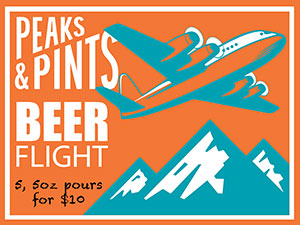 Sours get their trademark tartness and sourness from bacteria and wild yeasts — Lactobacillus, Acetobacter, Brettanomyces and other critters — which you wouldn't find in other styles of beer. Each type of bacteria gives its own trademark flavor and aroma: Lactobacillus has a yogurt tang, Acetobacter has the sourness of vinegar, and Brettanomyces has a barnyard, earthy, or farmhouse aroma. For some of the sour styles, the wild bacteria and yeast come into the beer during an open or spontaneous fermentation, with open vats of wort exposed to the natural air. Other sour styles don't use open fermentation, but they do rely on the bacteria and yeast in barrels to do a similar job. As the barrels get older, the more sour the beer gets, which leads to the common practice of blending beer from several different barrels, young and old, to get a consistent beer. Peaks and Pints offers a flight of five different kinds of sour beers today in what we call Craft Beer Crosscut 11.11.17: A Flight of Sour Power.
10 Barrel Cucumber Crush
5% ABV, 4 IBU
Berliner weisse is a rare thing: a sour beer, intensely flavored and the embodiment of refreshment. Its tartness is generally mild. Its carbonation is high. It's refreshing with soft, wheaty flavor. 10 Barrel R&D brewer Tonya Cornett brewed her cucumber Berliner weisse for the 2013 Portland Fruit Beer Fest. It went on to win a gold medal at the 2014 and 2015 World Beer Cup. The flavor is clean and refreshing, leading with clean and uncomplicated citrus and cukes before a flash of lactic acidity is doused by cucumber water, while the gourd's invigorating peel is all that remains on the tongue after the sip.
Harmon Skyline Trail Wildflower Sour
5% ABV
In August 2016, Harmon Brewing Head Brewer Jeff Carlson, Production Manager Bill Lundeen and Director of Brewery Operations Jesse Holder as well as Peaks and Pints staff collected yeast from wildflowers blooming along the Skyline Trail at approximately 5,400 feet on the south slope of Mount Rainier. The yeast was added to a sour blonde base, inoculated with Saccharomyces and aged for a year. In September 2017, it was blended with a blonde base that was aged two years in a foeder. It's a funky, tart, pale amber-colored ale that's light in body and exhibits aromas of stone fruit, oak and spice.
New Belgium Transatlantic Kriek
8% ABV, 8 IBU
Lambics are sharp, acidic and fruity. They can be compared to yogurt or vinegar but with hints of sweetness. New Belgium's cherry lambic, Transatlantic Kriek, is a little different. The Fort Collins brewery partnered with an "Old" Belgium brewer, Oud Beersel, which sent a big stash of their cherry lambic to Colorado. New Belgium blended the lambic with its own golden lager. In spite of the bright red color and soft pink head, it's not a flavor bomb that jumps out at you. The cherry nose gives way to a pleasingly sour flash across the palate that rolls gently into a slightly sweet finish.
Ecliptic Zenith Grapefruit Gose
4.5% ABV, 10 IBU
Gose (pronounced Gose-uh) is a top-fermented beer that originated in Goslar, Germany. It is brewed with at least 50 percent of the grain bill being malted wheat. Gose belongs to the same family of sour wheat beers, which were once brewed across Northern Germany and the Low Countries. Ecliptic Brewing's Zenith Grapefruit Gose is a traditional German-style sour ale with a touch of coriander and salt. The Portland brewery's interpretation of this style includes grapefruit that finishes dry, tart and refreshing.
Petrus Oud Bruin
5.5% ABV, 17 IBU
Oud bruins are similar to Flanders red ales, but tend to be a bit less tart, with additional darker fruit flavors such as figs, raisins or prunes. The malt is darker than the Flanders red ale and should taste of caramel, toffee, or chocolate. Like the red ale, Flanders brown ales are sour, but should not be acetic or vinegary. Petrus Oud Bruin's flavor is simple and not jarring, particularly appealing to those making a first sojourn in this style: There's a rush of syrupy cherry sweetness, followed quickly by soft acidic sourness and woody oak notes like those in red wine. Oud Bruin finishes remarkably dry, with a tart quality that lasts well into the aftertaste.
Save
---