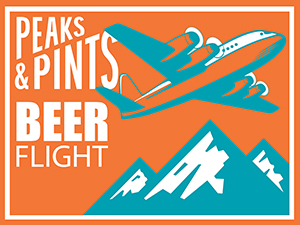 October in Washington brings juicy plums, the smell of boiling Dungeness crab and pumpkin spice lattes. But for beer drinkers, October means wet hop beers. One of the most seasonally specific styles that a brewery can make, wet-hop (or fresh-hop — there isn't a difference) beers are brewed with just-harvested whole-cone hops rushed from farms to brew kettles to capture the most vibrant flavors and aromas of these pungent flowers before they begin to fade. This limits the brewing period to the very short hops harvest season every August and September, with the bounty arriving in early October, at least this year. Today, Peaks and Pints presents another round of wet-hop beers on draft, and thus a good reason to offer a flight of them, too. Enjoy Craft Beer Crosscut 10.9.19: Flight of Wet Hops.
Craft Beer Crosscut 10.9.19: Flight of Wet Hops
Matchless The Freshmaker
6.5% ABV
Brewed with Skookum Brewery, Matchless Brewing's The Freshmaker fresh hop IPA returns, this time with wet Mosaic hops on the hot side the wet dry hopped with Idaho 7 on the cool side. It's not as danky as last year, but it's still delicious with a bit more floral and sweetness.
Wet Coast Soppin' Wet Citra
5.5% ABV
Citra was developed by the Hop Breeding Company of Yakima, and released in 2008. The hop is known for high alpha acid content and strong fruit aromas and flavors. Although Citra ranges in alpha acid content from 10 to 12%, it is typically used for flavoring and aroma. Wet Coast Brewing Company in Gig Harbor selected Citra for its s "Soppin' Wet Series," a fun name for its string of fresh hop beers this season. Freshly picked Citra hops make the voyage from their bine at Loftus Ranches in Yakima to the Gig Harbor brewery's brewhouse in less than 24 hours to create a succulently hoppy ale packed with juicy notes of ripe citrus, plus a little sweetness thrown in for good measure.
pFreim Fresh Hop Oregon Amarillo Hazy IPA
5.5% ABV
pFriem Family Brewers' New England style hazy IPA was brewed with more than 300 pounds of fresh, Oregon-grown Amarillo hops. It pours a luminous, sunburnt, rose gold with thick white foam. Aromas of candied lemon, papaya, mango and sorbet precede resinous flavors of ripe peach, powdered sugar and lime before a fluffy melon finish.
Gigantic Sodbusted VII: The Simcoe Awakens
5.5% ABV, 42 IBU
A nod to the Star Wars franchise, Gigantic Brewing's "Sodbusted" series returns with Sodbusted VII and awesome label artwork from Rob Reger that was inspired by the film. Using fresh Simcoe hops from Sodbusted Farm in Oregon's Willamette Valley, this pale ale awakens with sweetness followed by all the bitter, a unique citrus taste, which morphs into a dank finish. The Force is strong with this one.
Double Mountain Killer Green
7.6% ABV, 96 IBU
Double Mountain Brewery and Taproom was established in 2007 in the heart of downtown Hood River, OR. Founder Matt Swihart opened the brewery with a clear mission: make great beer for craft beer fans. Their unique location lends to not only using pure and clean glacial water for their beers, but they also take advantage of regionally grown hops. Killer Green fresh hop IPA is brewed with Brewer's Gold and Simcoe hops straight from Sodbuster Farms in the Willamette Valley. Quick from bine to the boil for initial bright evergreen, red fruit and blood orange flavors that finishes will all the juicy pine and slight herb.
---