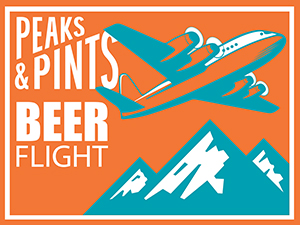 Growing up surrounded by vineyards and winemakers, Adam Firestone (of Firestone Vineyard) always had an interest in combining the family business with beer making. He found the perfect business partner in his brother-in-law David Walker and the two founded Firestone Walker Brewing Company in 1996. In addition to winning gobs of medals for individual brews, these obnoxiously talented brewers from Paso Robles California, often take home the major hardware at competitions like the Great American Beer Festival and World Beer Cup — titles such as "Brewery of the Year" or "Brewer of the Year." Peaks and Pints would be hard-pressed to think of a more deservedly decorated outfit than Firestone Walker. We've selected five Firestone Walker beers for our beer flight Craft Beer Crosscut 10.9.18: A Flight of Firestone Walker Brewing.
Firestone Walker Agrestic Ale
6.6% ABV, 30 IBU
Fittingly, Agrestic Ale begins its journey as DBA; the foundational beer first offered when Firestone Walker opened its doors in 1996.  Oak barrels along with our proprietary collection of microflora act like a chrysalis process, transforming DBA into Agrestic Ale over the course of several months. The result is a synergistic blend of beer matured in French and American oak with signature flavors and aromas: wood-derived toast, lemon pith, and rosewood swirl on the nose and palate, followed by an amazing harmony of vanilla, coconut and Earl Grey tea. Dark cherries, caramel malt and spice round out its complexity and drinkability. The finish is crisp with a mouthwatering acidity and chewy tannins.
Firestone Walker UnderCurrants
6.3% ABV
Firestone Walker's Barrelworks brewers hand-harvested whole black currants from Poland then blended them with 150 barrels of Agrestic Ale that had been aging for 12 to 48 months. The currant-infused Agrestic blend was then inoculated with Barrelworks' proprietary Brettanomyces yeast and aged for an additional four months in oak foeders. Lastly, more Agrestic Ale was added back into the blend for a sweet flavor of black currant, raspberry, cranberry, red wine and lemon with funk and oak that leads to a dry, sour, acidic finish.
Firestone Walker Pivo Pils
5.3% ABV, 40 IBU
Firestone Walker Pivo Pils is a smooth operator. It has a silky, foamier head than most other pilsners, while also sporting the lightest consistency and color, making it look a little like sparkling grape juice. Fruit scents like apple and tangerine tickle the nose, balanced by a tart, peppery detail that rounds out the sweetness nicely. After a potent aroma, the taste was deceptively subtle, balanced and clean. Pivo is astonishingly — almost dangerously — drinkable.
Firestone Walker Luponic Distortion Revolution No. 010
5.9% ABV, 59 IBU
Firestone Walker Brewing's Luponic Distortion is a series of craft beers that revolves approximately every 90 days, all of which showcase specific hops. The California brewery keeps a continuous "base beer" and alters the hops that are used with each new version of the series. The 10th and latest edition features a blend of seven hops, led by three cultivars from the Pacific Northwest, Germany and Australia. Collectively, these hops combine to present fruity aromas and flavors of mango creamsicle, peach ring and ruby grapefruit.
Firestone Walker Leo v Ursus – Doublus
9.5% ABV
The Leo v. Ursus Chronology is born of a longing for high experimentation that was finally fulfilled by the recent launch of the Propagator, Firestone Walker's pilot brewhouse in Venice, California. Inspired by our iconic Double Jack, Doublus is a next-generation double IPA that incorporates massive dry hopping for caramel malt aroma with notes of stone fruit, grapefruit, floral and pine resiny hops. It pours a cloudy, golden orange color with a large off white head that has excellent retention. The flavor begins with caramel malt, stone fruit and grapefruit flavors, then finishes dry and bitter with floral and pine resiny hop flavors that cling to the palate.
---