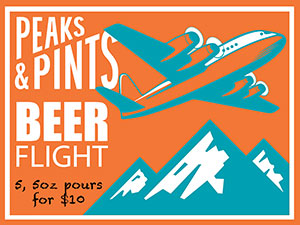 Fresh hop season is a perk you get for living in the Pacific Northwest, with farm-fresh, bright-green hops throwing off beautifully idiosyncratic farmy notes in beer made just a car ride from where the hops are grown. It's more than just another feel-good "buy local" movement — with the yearly harvest comes a torrent of fresh-hop beers made from hops are at their peak of freshness, bursting with aroma from rhizome to rhizome. Why the time-sensitive frenzy? For something so associated with brash bitterness, hops are surprisingly delicate — breaking down almost as soon as they're harvested. The Northwest leads the world in the production of these tasty seasonals, and the alert drinker can try a dozen of them at Peaks and Pints — or the five we picked today for our Craft Beer Crosscut 10.7.17: A Flight of Hop Harvest.
Wet Coast Soppin' Wet Loral
5.1% ABV
The aroma profile of Loral hops have been described as that of a "super noble hop," with its wonderful floral and herbal notes followed by a backdrop of citrus and earthy character. In beer, the floral notes are accentuated yet complemented nicely by fruity and citrus notes with a hint of herbal. Wet Coast Brewing Company in Gig Harbor selected Loral for its second "Soppin' Wet Series," a fun name for its string of fresh hop beers this season. Loral's lemon, pepper and floral notes are brought to life by a simple grain bill comprised of only Copeland Ale Malt from Skagit Valley Malting in Burlington, Washington.
Fremont Field to Ferment Amarillo
6% ABV, 50 IBU
Fremont Brewing Co.'s "Field to Ferment" beer series and its fresh-hop brew from Cowiche Canyon are a big draw again this fall. It's easier to find this year, since the brewery increased production from 1,200 barrels to 1,921 barrels for its "Field to Ferment" fresh-hop beers. Fresh, spring-like forest, this batch highlights Amarillo fresh hops with a nose of fresh pine and weed. The first sip is deep piney resin, with a light and crushable body, with some resinous sticky edges. Expect quintessential Northwest hop flavors.
Breakside Fresh Hop Cascade Wanderlust
6.2% ABV, 50 IBU
Breakside Brewery just took gold at the Oregon Beer Awards for its Cascade-fresh-hopped Wanderlust IPA. The judges blindly chose this fresh hop version of Wanderlust IPA made with wet cascade hops from Crosby Farms in Woodburn, Oregon, as well as Summit, Mosaic and Amarillo hops. Expect flavors of pinecones, resins, grapefruit, some peaches and some malts, too. It's full-bodied, quite dry, nicely carbonated with hops forever on the finish.
Two Beers Fresh Hop IPA
6.2% ABV, 70 IBU
Two Beers Brewing Co. beats the entire world to fresh hops every year. Every year, the Seattle brewery races out to a Yakima Valley farm, picks fresh centennial hop vines for four hours then races back to its Seattle SoDo brewery where 40-plus volunteers pick the hops from the vines. A hyper seasonal, Two Beers Brewing's Fresh Hop IPA features a juicy citrus aroma — offering hints of grapefruit and passion fruit — that can be, obviously, attributed to the fresh Yakima Valley-grown Centennial hops used to create it. Dark straw in color with light caramel malt tones, Fresh Hop resembles an aggressively dry-hopped IPA, but packing the punch and flavor only fresh hops can deliver.
Bale Breaker/Cloudburst Citra Slicker Wet Hop IPA
6.2% ABV, 70 IBU
The longest line at last weekend's Fresh Hop Ale Festival in Yakima was in front of the Cloudburst Brewing booth where folks clamored for the Seattle brewery's fresh hop collaboration with Bale Breaker Brewing Co. — Citra Slicker Wet Hop IPA. Cloudburst founder Steve Luke first brewed the beer when he was with Elysian Brewing in 2014. He and then Elysian owner Dick Cantwell would drive the two hours to Bale Breaker in Yakima, collect hundreds of pounds of wet Citra hops picked fresh from Bale Breaker fields then travel just four minutes from the farm to the kettle. Luke brewed the fresh Citra IPA again this year at Bale Breaker's brewery heavily dry-hopping the light bodied beer for tropical and citrus flavor.
Save
---