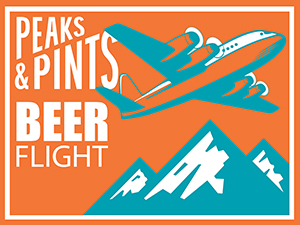 It was 2007 when Ron and Jackie Walcher opened Skookum Brewery down a dirt road near Arlington. Today, Skookum head brewer Hollis Wood and his small team churn out "big bold strong" craft beers in a giant facility with a popular taproom down the street from the Arlington Airport — managed by an angel, a big, bearded lovable man named "Angel." Skookum Brewery brews beers that are locally sourced, with more than 90 percent of their barley grown and malted in state, on equipment predominately purchased locally including several pieces made in Washington state. Today, Peaks and Pints presents a five-beer flight of the Arlington brewery's craft beers that we call Craft Beer Crosscut 10.4.19: Flight of Skookum Goodness.
Craft Beer Crosscut 10.4.19: Flight of Skookum Goodness
Skookum Deep Color
10.3% ABV
OK, not so cloudy, but still delicious. Old ale recalls the type of beer brewed before the Industrial Revolution, stored for months or even years in unlined wooden vessels known as tuns. The beer would pick up some lactic sourness as a result of wild yeasts, lactobacilli and tannins in the wood. The result was a beer dubbed "stale" by drinkers: it was one of the components of the early, blended porters. Skookum brewed a strong old ale, added cherry wood smoke malt then aged in in whiskey barrels for 10 months. The result is Deep Color with deep notes and aromas of dark fruit, tobacco, oak, and mild smoke.
Skookum Double Pineapple Clouds
8% ABV
Double IPA brewed with oats, lactose and more than 400 pounds of pineapple puree, then conditioned on whole vanilla beans. Although the hop bill of heavy Citra and lighter amounts of Mosaic and Denali differ slightly from Skookum's Colada Clouds, this is definitely the double version of Colada Clouds.
Skookum Pumpkin Pie Clouds
7.7% ABV
This seasonal IPA is brewed with a ton of oats and lactose. More than 8 pounds per barrel of pumpkin, 5 pounds per barrel of graham crumbs, 2.5 pounds per barrel of Citra and Mosaic hops, 3.2-ounces per barrel of candied ginger, three whole vanilla beans per barrel, a sprinkle of cinnamon, and a zesting of nutmeg. Make no mistake about it, this beer is an IPA and a pumpkin pie all rolled into one.
Skookum/Old Schoolhouse K'POWW
8.1% ABV, 80 IBU
Brewed in collaboration with Skookum Brewery for the second time, Old Schoolhouse Brewery presents this wet hop version of the original KPOW. The two breweries brewed this double IPA with three different hops — Simcoe, Mosaic, and Citra — and five different hop products — kief, pellets, oil, whole cone, and wet hops — over a bed of Pilsner, Golden Promise, floor malted Otter, flaked oats, and wheat for all the fruit, plus some dank.
Skookum Final Form
10% ABV
This triple IPA is brewed with gobs of wheat and oats then hopped to high heaven with Vic Secret, Galaxy, and Citra for notes of sticky papaya candy, orange marmalade, and clouds of stannnnnk.
---