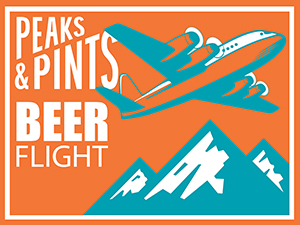 In the past, pumpkin beers were o'plenty — American colonists would substitute pumpkin for grains in their beer. The popularity of the style began to wane in the 1800s as whole grains became more widely available. Eventually, pumpkin beers were rare — a seasonal sideshow, showing up only in the breweries daring enough to make them and enjoyed only by drinkers willing to take a chance on the oddities. As the craft beer craze took hold in the 80s, so too did the revival of the pumpkin ale with Buffalo Bill's Pumpkin Ale arriving in 1985 claiming to use an original recipe from George Washington, followed by Elysian Brewing's pumpkinpalooza. Today, however, brews made with pumpkin have officially become mainstream, with nearly every brewery worth its yeast churning out bottles and kegs packed with pumpkin, nutmeg, ginger and more. Peaks and Pints presents a flight of pumpkin beers that we call Craft Beer Crosscut 10.3.19: Flight of Pumpkin Beer.
Craft Beer Crosscut 10.3.19: Flight of Pumpkin Beer
Pfriem Pumpkin Bier
6.9% ABV, 15 IBU
Each batch of pFriem Family Brewers Pumpkin Bier is made with fresh pumpkin and real spices in addition to the standard malt and hops. Notice the thick bright white foam on top of a pumpkin orange body in the taster glass. Dip your nose for vanilla, ginger, cinnamon, and clove. The first sip reveals rich flavors of pumpkin pie with a touch of caramel. It finishes with a soft, creamy, and fluffy mouthfeel.
Elysian Dark Knife
4.2% ABV
Elysian Brewing's Dark Knife touts itself as a "schwarzbier," which a passing familiarity with the German tongue would tell you means "black beer." And that's exactly what this is — not a stout, not a porter, but rather a black beer. While it has flavor notes in common with what you'd expect in a stout, it's a bit lighter, not as full-bodied, and a little more refreshing. Brewed with Pale, Munich, roasted barley, and dark malts, as well as 90 pounds of pumpkin entrails, cinnamon and ginger, the pumpkin pie spice flavors are less pronounced than Elysian's other pumpkin beers.
Postdoc Kilty MacPumpkin
5.7% ABV, 18 IBU
Seattle's Postdoc Brewing's Kilty MacPumpkin takes its Kilty MacSporran Scottish Ale and makes it seasonal just for fall by adding baking spices and pumpkin. This multiple gold medalist ale is brewed with Maris Otter, Northwest Pale, Crystal and Roasted malts with traditional pumpkin pie spices. The caramelized flavors of the Kilty MacSporran Scottish Ale base round it all out, providing the perfect backdrop for all of that roasted pumpkin.
Elysian Punkuccino Coffee Pumpkin Ale
5% ABV
Elysian introduced its Punkuccino Coffee Pumpkin Ale at the brewery's annual Great Pumpkin Festival in 2013. The beer's a pumpkin milk stout loaded with Stumptown's cold-pressed coffee with just a shake of cinnamon and nutmeg, plus, of course, pumpkin added into the mash, kettle and fermenter. Pale, brown, biscuit, C-77 crystal, chocolate and kiln-coffee malts provide the body, German Northern Brewer lends a touch of bitterness, and lactose sweetens the beer just a touch. The java turns the beer roast-forward; the lactose and pumpkin smooth out the sip.
Rogue Pumpkin Patch Ale
6.1% ABV, 25 IBU
Pumpkin were planted in late spring alongside the Rogue Farms hops, jalapeños, marionberries and buzzing honey bees. As soon as they were picked, the pumpkins were driven to the Rogue Brewery in Newport, Oregon just 77 miles away. The pumpkins were hand-chopped and seeded, roasted in pizza ovens, and pitched fresh into the brew kettle along with vanilla bean, ginger, cardamom, cloves, cinnamon, nutmeg, orange peel and Rogue Farms Independent hops to create flavors of caramel, burnt brown sugar, dry floral spices, cinnamon stick, and some tang. It's heavy on spice, but whatever.
---