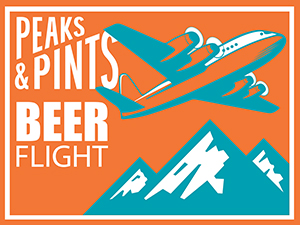 Abbey beers are that family of beers originally brewed by monks dating back to the Middle Ages, Peaks and Pints suspects, but certainly a common feature of monastic brewing from the 19th century forward. Included in that family is the dubbel — a medium-strength amber/brown ale that serves as a great platform for lots of fantastic malt flavors and fermentation characteristics, along with some supporting herbal/earthy hops. Dark fruit, burnt sugar, citrus esters, clove, a touch of banana and more all feature in what ends up being a surprisingly dry beer. The trick (there's always a trick, isn't there?) is to avoid going overboard and yielding something too sweet, too alcoholic, or too … Belgian. When this style goes bad, it's hard to drink — cloying, muddled and hot. It's enough to make the monks weep. When it goes good, it ends up on Peaks and Pints' Craft Beer Crosscut 10.4.18: A Flight of Dubbel Style.
Block 15 Specular Reflections
6.5% ABV
Block 15 Brewing's Belgian-style dubbel Specular Reflections riffs on a Trappist-style dubbel with a classic dubbel aroma: clove, cinnamon, and nutmeg spices cover fig, raisin, dark cherries, freshly baked sweet bread and Belgian dark candi. The initial sips while still cold bring out the same dark fruits as mentioned earlier with a large emphasis on the clove and nutmeg spices. As it warms, sweet icing covered cinnamon rolls take lead — and it's glorious.
New Belgium Abbey
7% ABV, 20 IBU
The story of New Belgium Brewing begins with an abbey: Not only were Belgium's monastic beers the inspiration behind the Colorado brewery, but Abbey, a Belgian-style dubbel, was one of the first beers New Belgium released in 1991. Since then, it's become its most award-winning offering, and in 2015, it updated the recipe. This garnet brown hued Belgian-style dubbel is strong on character and rich in flavor. Seven malts, including caramel Munich and chocolate, and a definitive Belgian yeast, waft off sweet, spicy aromas. Rich tones of chocolate and dark caramel mix with nuanced dried cherries, burnt sugar and figs. Expect a sweet and roasty upfront, followed by a slightly bitter finish.
Atwood 1918 Dubbel Centennial
7.1% ABV
Located just 18 miles north of the burgeoning Bellingham brewery scene, on the outskirts of a scenic seaside town, is Blaine, Washington's first, and oldest, brewery — Atwood Ales. The unique setting provided by a 100 year old farmhouse and barn and the surrounding acreage is not only visually compelling, but also provides countless opportunities to directly incorporate estate and locally grown agricultural and natural ingredients into Atwood's small batch beers. It's a family-operated farm and brewery. The family's farmhouse was built in 1918. This beer marks their 100th batch, brewed in March of 2018. To celebrate the "hundreds" of accomplishments of both their farmhouse and their brewhouse, owners Josh and Monica Smith brewed this dubbel abbey-style ale with Belgian and Skagit Valley malts, their estate-grown Centennial hops and a fresh pitch of Trappist ale yeast. It's is a malt-forward beer with dark fruit and caramel notes, light fruity esters and phenols, and a light, dry finish.
Ommegang Double Barrel Dubbel
9.9% ABV, 20 IBU
Brewery Ommegang's luxurious brew begins with a big, beautiful Abbey dubbel that then heads to our cellar, where it's gracefully aged for six months in a mix of bourbon and brandy casks. This blend of barrels adds an additional layer of flavor and complexity to what is already an incredibly layered drinking experience. The result is a beer worthy of slow-sipping, and deep contemplation. A beautiful fusion of dark fruit, caramel, molasses, and bourbon. Sip and enjoy, but be warned, Double Barrel Dubbel may result in a spiritual awakening.
Brouwerij St. Bernardus St. Bernardus Prior 8
8% ABV
Between 1946 and 1992 the St. Bernardus brewery brewed the beers of the Sint-Sixtus abbey in Westvleteren. In 1992 production reverted to the abbey of Westvleteren. By some mathematical equation this means the recipe for the St. Bernardus Prior 8 originated in 1946. And to this day, this abbey beer wears the original Westvleteren yeast. On the nose, expect sturdy banana esters, moderate toffee-like malt and slight clove. It drinks like a dubbel with fruit esters (light raisins, banana, and clove) that finds a spicy counterpoint in sharp black pepper. Subtle earthy hops punctuate these malty, yeasty notes as the beer washes back.
---