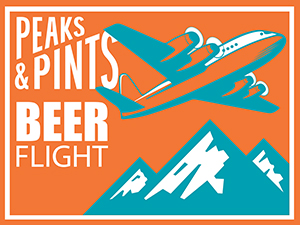 Peaks and Pints celebrates its two-year anniversary with a series of prefunk celebrations that kicked off Saturday, Oct. 27 and runs through Thursday, Nov. 1. In honor of our Cool Camp IPA we brewed at Double Mountain Brewery in Hood River, Oregon, we've dubbed our string of anniversary parties, "Cool Camp Week," with Double Mountain in the house for the beer release on our true anniversary date, Nov. 1. Peaks and Pints' Cool Camp isn't the first cool camp in Tacoma. That honor goes to Tacoma Girls Rock Camp — an organization dedicated to empowering youth in the South Sound region through a music education camp. Peaks and Pints will host a fundraiser for Tacoma Girls Rock tonight, as part of our second anniversary week. In support, Peaks and Pints presents a flight of music-inspired craft beer that we call Craft Beer Crosscut 10.30.18: A Flight of Tacoma Girls Rock.
Craft Beer Crosscut 10.30.18: A Flight of Tacoma Girls Rock
Abita Purple Haze
4.2% ABV, 13 IBU
You're making music, but you aren't tripping, so that new ditto looper pedal you bought on eBay just isn't working how you thought it would. No worries; there's a solution for that, and it's Abita Brewing's Purple Haze. An American wheat with pureed raspberries, it's light and a more universally legal version of the taboo alternative. Your ditto looper may still sound a bit off and colors may appear all to realistic, but not hallucinating has its upsides, too. Now, excuse us why we kiss the sky.
Silver City MxPx Best Life IPA
6.2% ABV
Bremerton punk legends MxPx have been playing with a dangerously youthful hysteria for 27 years. Guitarist Yuri Ruley and drummer Tom Wisniewski are a tight combination of pulsing notes and solid beats, and Mike Herrera's undulating bass line and strenuous vocals is the funky, nasty glue keeping it all together. Distinctly left coast, MxPx is music for youth on the fringes of conformity. In January 2017, Silver City Brewery and MxPx brewed a California common "Secret Weapon," named after the band's 2007 hit of the same name. The beginning of this month, the two entities collaborated again, this time brewing the hazy IPA, MxPx Best Life. The unfiltered IPA takes on a lightly tropical, juicy, Left-Coast hop character with a malt bill incorporating flaked wheat, fermented with the brewery's specialized "haze" yeast.
Belching Beaver Phantom Bride IPA
7.1% ABV, 55 IBU
Chino Moreno, lead singer of alt-metal band Deftones, is a hophead. When Moreno isn't screaming "I watched you change into a fly!" he's drinking craft beer. A longtime fan of artisan beer — and IPAs in particular — Moreno requests local ales at every stop along his band's tours. San Diego brewery Belching Beaver got word of Moreno's drinking passion offering the Sacramento band a collaboration opportunity to brew Phantom Bride IPA, a single off the band's recent album, Gore. Moreno chose the Mosaic, Amarillo, Simcoe and Citra hops that went into this hoppy, West Coast style IPA. The crushable, super fruity IPA offers orange, citrus, pine, grapefruit and peach flavors with a moderately low bitterness.
Silver City Hop Generator Wet Hop IPA
6.7% ABV, 66 IBU
There's something ultra-satisfying about Mos Generator's plump, swollen riffs — like rolls around Fat Albert's stomach, they're something you can really grab onto. The Port Orchard trio effortlessly possesses the meaty dissolution that all stoner bands would kill for. Silver City Brewery partnered with Mos Generator on this fresh hop IPA featuring Azacca, Columbus, El Dorado, Citra, Cascade, Cashmere, Chinook and Mosaic hops for citrus and tropical fruits on the nose followed by bitterness and slightly dank flavor, which is so Mos Generator.
GoodLife G. Love's Special Sauce
7% ABV, 70 IBU
In 1994, Philadelphia-based blues/hip-hop artist G. Love scored his biggest mainstream hit with "Cold Beverage." His band, G. Love & Special Sauce has been touring pretty much nonstop ever since. Last June, that included a set on the lawn at the Bend brewery. That, in turn, led to GoodLife Brewing's latest collaboration between the brewery and G. Love himself, to make what the brewery calls "the dankest of the dankest IPAs known to mankind." G. Love's Special Sauce IPA combines six different types of hops — Mosaic, Idaho 7, Mandarina Bavaria, Centennial, Columbus and El Dorado — for a danky dankster of a beer.
---