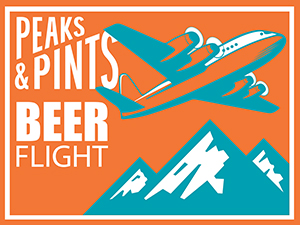 Belgians produce more than 1,100 varieties of beer, a few you can taste at Peaks and Pints' second annual Carnivale de Belgian Beerloo today — an all-day nod to Belgian beers in conjunction with Peaks and Pints second anniversary week-long celebration, Cool Camp Week. Belgian beer is known for having quite the alcohol content. It can be pricey, but has quite the bang for the buck compared to our domestics. Each brand has their own special glass designed to accentuate the best attributes of the many types of beer. Many of the beers formulations go back hundreds of years, perfected by the Trappist Monks. In Belgium, beer is so important to the culture and lifestyle you can still get Stella Artois delivered to your home, just like the milkman! Anyhoo, Peaks and Pints celebrates all things Belgian today, including a Belgian beer flight, Craft Beer Crosscut 10.28.18: A Flight of Belgian Beerloo.
Craft Beer Crosscut 10.28.18: A Flight of Belgian Beerloo
Lindemans Peche
2.5% ABV, 10 IBU
Indigenous to the Senne Valley of Belgium, lambics stem from a farmhouse brewing tradition several hundred years old. These brews are spontaneously fermented — meaning pots containing the wort are left outside and uncovered, allowing whatever critters happen to be flying by on a passing breeze to ferment the beer. These wild yeast give lambics their distinct tartness. Most Belgian brewers also utilize aged hops, which add antibacterial properties to the beer, rather than bitterness or flavor. In the case of fruit lambics, whole fruits are traditionally added after halfway through fermentation to add sweetness and new dimensions of flavor as Lindemans did with their Peche (peach). Lindemans, a family Belgian brewery since 1822, brews a peche that smells like peach cobbler. We braced for that bubblegum-like flavor of many fruit-infused beers, but instead are greeted with a sugary, sweet peach flavor that races happily through our mouth on soft, bubbly carbonation. A quiet tart note in the finish keeps the beer from becoming too cloying. It's a simple treat that's easy to drink, especially if you love fruit beers.
de Brabandere Petrus Oud Bruin
5.5% ABV, 17 IBU
Oud bruins are similar to Flanders red ales, but tend to be a bit less tart, with additional darker fruit flavors such as figs, raisins or prunes. The malt is darker than the Flanders red ale and should taste of caramel, toffee, or chocolate. Like the red ale, Flanders brown ales are sour, but should not be acetic or vinegary. Enter Petrus Oud Bruin, an ale crafted in the Flemish tradition by Belgian brewery de Brabandere. The impact of barrel aging is apparent to the nose. Woodsy and vinegary scents dominate with mild traces of vanilla. Petrus Oud Bruin's flavor is simple and not jarring, particularly appealing to those making a first sojourn in this style: There's a rush of syrupy cherry sweetness, followed quickly by soft acidic sourness and woody oak notes like those in red wine. Oud Bruin finishes remarkably dry, with a tart quality that lasts well into the aftertaste. As far as sour ales go, this one is fairly mild.
Brasserie DuPont Avec Les Bons Voeux
9.5% ABV, 28 IBU
In January 1970, Belgian brewery Brasserie Dupont needed a gift to dole out to key clients. Key chains just weren't going to cut it. Since the brewery produces amazing ales they thought why not gift an ale: Avec Les Bons Voeux, which translates as "with best wishes." It blew minds. Dupont eventually released it commercially, albeit in limited quantities. A saison that drinks like a tripel, Avec Les Bons Voeux boasts a hefty 9.5-per-cent alcohol, it pours with a hazy tint and is almost buttery-smooth in texture. There's mellow fruitiness and yeasty bread flavor at its core, with lively clove and licorice notes folded in, set against a solidly bitter backbone.
Brasserie DuPont Saison Dupont
6.5% ABV, 30 IBU
This seasonal summer beer may sound French in name, but the style actually originated in Wallonia, the French-speaking part of Belgium. Traditionally, saisons were brewed at the end of the winter season to last through the warmer months before refrigeration was common. Thus, the beer had to be sturdy enough to last for months but light enough that it could remain thirst-quenching and refreshing in the summer. They're now brewed year-round in tiny, artisanal breweries whose buildings reflect their origins as farmhouses — hence the saison's alias, farmhouse ale. Saisons are complex brews; most are fruity in aroma and flavor, contain lots of spice and earthy yeast tones, and are moderately tart. They also tend to be semi-dry with many only having touch of sweetness. If saisons were developed to be consumed by hard-working farmers, Peaks and Pints thinks we may need to become a hard-working farmer. Brasserie Dupont's Saison Dupont seems, at first glance, to be a simple saison. The complexities however, are nearly endless. There is an inherent sweetness that is counter-balanced by an earthy taste. Refreshing and subtly complex, Saison Dupont also refuses to disappoint with 6.5-percent alcohol.
Rodenbach Grand Cru
6% ABV, 35 IBU
Flanders red ale is a style of sour ale brewed in West Flanders, Belgium. Flanders red ale is aged in oak barrels with Lactobacillus and Brettanomyces that add yogurt tang and barnyard notes and Acetobacter, which is the bacteria that creates vinegar. Consequently, Flanders red ales have sharp acidic, vinegar notes. Coming out of west Flanders is the World Beer Cup gold medal-winning Rodenbach Grand Cru, a blend of "young" beer (33%) and an older beer (67%) that has matured in oak vats. It is the high percentage of the older ripened-in-oak beer that gives it the complex and intense bouquet with a very long aftertaste like a Grand Cru wine. The late Michael Jackson bestowed upon this beer the titles of "World Classic" and "the Burgundy of Belgium."
---