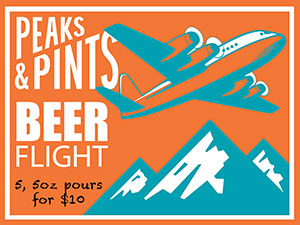 Summer in the South Sound has a tendency to slip by all too quickly. Recapture some of the spirit of summer's potential with a glass of beer infused with the essence the most summer-y of flavors: stone fruits. Remember being hit with the heady aroma of summer at its peak — rows of crimson nectarines and deep-purple plums bursting through the South Sound farmers' markets with vibrant urgency? Spilling onto our food-scape, golden peaches and tender apricots reigned over the region's summer menus, adding texture to whisper-thin flatbreads and savory chutneys. That's the power and grace of stone fruits — nectarines, cherries, mangoes, apricots, peaches and plums. These fruits contain large hard seeds, or stones. Craft beer made with stone fruits is particularly popular with brewers both traditional and innovative, and sipping on a stone fruit brew is a tasty way to hold on to that fleeting summer feeling. So, hold on with our Craft Beer Crosscut 10.2.17: A Flight of Stone Fruit.
Dogfish Head Festina Peche
4.5% ABV, 8 IBU
Dogfish Head continues its love affair with fruit with its refreshing Festina Peche neo-Berliner Weisse. This lacto-cultured beer pours a straw yellow with an earthy, lemongrass and lager aroma with a hint of funk. It washes over the tongue with whole grain cereal sweetness; then … Bam! sour notes and peach flavors storm into the picture, leaving puckered cheeks in their wake. It's a clean beer that's heavy on the tart, but is just forgiving enough that no sugars are needed to counter the experience. It's a perfect blend of sweet backbone and acidic refreshment.
Ommegang Rosetta Kriek
5.6% ABV, 9 IBU
Brewed and blended by Ommegang's sister brewery Liefmans in Belgium, Rosetta combines old (aged on cherries at least three years) and young Flemish brown ale (or oud bruin) with a lively and fruity kriek, or cherry beer. The blend, which was developed by Ommegang Brewmaster Phil Leinhart, results in a complex yet refreshing mahogany-brown brew that is an intriguing interplay of tartness and sweetness.
Pyramid Apricot Ale
5.1% ABV, 11 IBU
In 1992, Hart Brewing and Thomas merged. In 1996, Hart Brewing changed its name to Pyramid Breweries, Inc. It continued, however, to market its Thomas Kemper products under the Thomas Kemper name. There's more to the history of Pyramid; there's more apricot aroma in its Apricot Ale than any other apricot ale. While the flavors are also apricot and wheat, they are in better balance as compared to the aroma.  The apricot flavor is not overdone or sweet, and the wheat provides a nice tang. The use of Nugget hops is subtle and leaves little bitterness throughout. Apricot Ale is light to medium bodied, has moderately high carbonation and is drinkable.
Oskar Blues Dale's Pale Ale
6.5% ABV, 65 IBU
Founded by Dale Katechis in 1999, Oskar Blues Brewery began life as a simple brewpub. The people of Lyons, Colorado, visited and drank often, but none of the place's beers were available anywhere except draft lines in the immediate area. It wasn't until that fateful day in November 2002 that Katechis decided to package his brews, and then he had a decision to make. Would he invest, as most emerging craft breweries were, in a bottling line and a responsible order of 12-ounce bottles? Or would he go all in on cans, a more expensive option that at the time was the realm of the big brewers and soda producers? Katechis ignored the status quo, and by 2003 the "Canned Beer Apocalypse" had begun. Dale's Pale Ale, Oskar Blue's flagship American pale, was the first to hit shelves. Brewed with hefty amounts of European malts, Northern Brewer hops for bittering, Cascade and Columbus hops for flavor, and a big, post-boil addition of Centennial hops for aroma, Dale's Pale Ale delivers a blast of hop aromas, moderate bitterness, stone fruit flavors, bready malts and a peppery citrus and arugula-like hop finish. A really nice and fresh, hoppy pale ale.
Alpine HFS
6.5% ABV
Alpine Brewing Company, a small craft brewery found in the mountains just outside of San Diego, is absolutely beloved by the beer community. The small brewery's beers were always relatively hard to find, however, so experiencing an Alpine beer was considered a special treat. The brewery's acquisition by fellow craft brewery Green Flash Brewing Company in November 2014 has given Alpine a much broader reach, so these days it's much easier to find this much sought-after liquid, including Holy F—ing S–t, or HFS, a Mosaic-, Simcoe- and Citra-infused India pale ale. Expect stone fruit hop explosions of apricot, peach and mango, plus grapefruit, pineapple, orange, lemon plus notes of pine are bold and bitter, like a hoppy punch to the palate.
Save
---