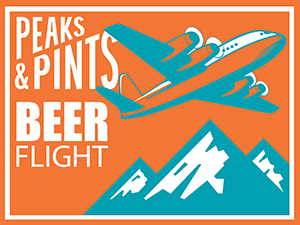 Named after both its founding region in New Zealand and the Sauvignon Blanc grape, Nelson Sauvin is an exciting, distinctive hop varietal that was released in 2000. Hailing from a small bay on the north coast of the country's South Island, the hop sports a compact cone shape with a tapered end. Nelson Sauvin hops have vigorous spring growth and can lend either a dominant hop character to a beer or something much more subtle. Aromas and taste range from citrus to mango and gooseberry, which are supplemented by hints of pepper and allspice. Known to impart a cool climate white wine "fruitiness," Nelson Sauvin's bold, dominant hop character is at home in new-world styles and can be used to produce pithy ales as well as delicate yet bitter lagers. Taste what Nelson Sauvin can do to beer at Peaks and Pints today with our beer flight, Craft Beer Crosscut 10.18.19: Flight of Nelson Sauvin.
Craft Beer Crosscut 10.18.19: Flight of Nelson Sauvin
Culmination Portal Jump
6.5% ABV
Behemoth Brewing came to Portland, not to stroll through Washington Park, admire the beauty of Lan Su Chinese Garden or check out the coin that decided Portland's name. No, the New Zealand brewery came to the Rose City to brew Portal Jump hazy IPA at Culmination Brewing. Dry Hopped with Nelson Sauvin and Citra, this IPA showcases the best of both worlds plus dankness.
Port Brewing Nelson & Nelson
8% ABV
Port Brewing's Nelson & Nelson is all the Nelson Sauvin — brewed with Nelson Sauvin, Cascade, Centennial, and Simcoe, then dry hopped with Nelson and Galaxy. The Nelson nose is honeydew, as well as gooseberry, lychee, mango aromatics with subtle floral notes. It has a fruit-forward palate entry with a sophisticated tropical burst, immediately punctuated and subsumed by a wave of spicy all-spice/pink peppercorn notes. Moderately bitter, growing increasingly dry, but finishing only medium-dry with the spice notes merging with the faint heat from the alcohol eventually. The cracker, clean malt bill balances the muscular, maximum flavor.
Revision VA-DA
8.5% ABV, 30 IBU
According to Urban Dictionary, "Vada is a very kind hearted person, she can be bossy at times but she is a great friend and loyal to everyone, if you meet a Vada she will make you feel special and loved. Don't let her go, she puts a smile on your face every time you see her. That's totally this beer. This Revision Brewing hazy double IPA is packed full of Nelson Sauvin and Vic Secret hops that provide flavors and aromas reminiscent of lychee, gooseberry and a touch of earth, layered over a pillowy mouthfeel.
Wingman/Airways Nelson Sauvin, Sauvignon Blanc
9.8% ABV
Sauvignon blanc is a green-skinned grape variety that originates from the Bordeaux region of France. The grape most likely gets its name from the French words sauvage ("wild") and blanc ("white") due to its early origins as an indigenous grape in South West France. Wingman Brewers and Airways Brewing Nelson Sauvin, Sauvignon Blanc hazy double IPA collaboration is brewed with Nelson Sauvin hops, as well as a healthy addition of Sauvignon blanc wine grapes for a grape nose and a sweet grape juice bomb that finishes dry and herbaceous.
Against The Grain Rico Sauvin
8.2% ABV, 68 IBU
We all remember Rico Suave. According to singer Gerardo in 1991, Rico Sauve was a Latin ladies man whom, according to the song, his "only addiction has to do with the female species." It's our guess after one sip Rico Suave would also be addicted to Rico Sauvin, Against The Grain Brewery's double IPA brewed with Nelson Sauvin hops, which possesses strong fruity aromas and flavors of tropical fruit and crushed grapes that mingle with citrus like tangerine and passionfruit, which is exactly the taste of Rico Sauvin — and better taste than Rico Suave no doubt.
---