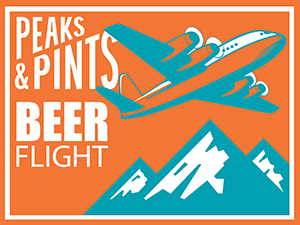 When you drink local, you drink fresh — but you also support the local economy. We'll break it down for you: When you drink a beer brewed in Tacoma you're not only showing some love for a local business, you're supporting a business that's outsourcing their graphic design to a local artist. Everyone benefits. Today's beer sample flight centers on local breweries. Please stop by and enjoy Craft Beer Crosscut 10.19.19: Flight of Tacoma Brew.
Craft Beer Crosscut 10.19.19: Flight of Tacoma Brew
7 Seas Water Chopper Gose
4.8% ABV
Founders Mike Runion and Travis Guterson opened 7 Seas Brewing in 2008, but a fire in January 2009 at the original downtown Gig Harbor address meant the two young beer makers and co-owners had to relocate. Popularity and growth forced them to move to a larger location back in downtown Gig Harbor. 7 Seas Brewing Co. now occupies the 11,000 sq. ft. former QFC grocery store with an 8,600 sq. ft. production facility and 2,400 sq. ft. taproom with long tables and outdoor seating in Gig Harbor AND an 80,000-square-foot expansive taproom, marketplace and production facility with 10,000 sq. ft. basement for barrel program in downtown Tacoma at a site that once held part of the Heidelberg Brewery. This dry, moderately sour, and extremely refreshing beer is made in the gose tradition at 7 Seas' Tacoma production plant. Water Chopper Gose is fermented with Lactobacillus in conjunction with 7 Seas house ale strain, and brewed with 35 percent malted white wheat and German Pilsner malt. For local flavor, 7 Seas Brewing added San Juan Island sea salt, and a pinch of coriander as the gose-style dictates. It's a funky, tart, in-your-face, refreshing creation.
Harmon Skyline Trail Wildflower Sour
5% ABV
In August 2016, Harmon Brewing Head Brewer Jeff Carlson, Production Manager Bill Lundeen and Director of Brewery Operations Jesse Holder as well as Peaks and Pints staff collected yeast from wildflowers blooming along the Skyline Trail at approximately 5,400 feet on the south slope of Mount Rainier. The yeast was added to a sour blonde base, inoculated with Saccharomyces and aged for a year. In September 2017, it was blended with a blonde base that was aged two years in a foeder. It's a funky, tart, pale amber-colored ale that's light in body and exhibits aromas of stone fruit, oak and spice. Harmon ceased brewing operations this past summer, but Peaks and Pints holds on to the great memories and this delicious beer.
E9 Brewing Balaton And Brother Bing
8% ABV
Originally built in 1907, Engine House No. 9, or E9 to locals, doused fires via horse-drawn service. The ground floor was the stable; the second floor the living quarters for the firemen. Engine House No. 9 doused fires until the mid-1960s. In 1965, two News Tribune employees saved the abandoned building and by the early '70s the Engine House No. 9 tavern was pouring beer. In 1995, Dusty Trail converted the early 20th century firehouse into a brewpub, and brought back the Tacoma Brew, the famous Tacoma lager of 1888. Dick Dickens grabbed the reins in 2002, bringing in head brewer Doug Tiede. Heads turned and medals were hung. In 2011, X Group purchased Engine House No. 9, with former chef turned head brewer Shane Johns and brewer Donovan Stewart eventually breaking the brewery off from the restaurant with the new name, E9 Brewing Co. Earlier this year, E9 moved its entire brewery across town to a massive space in Tacoma's Brewery District. E9's Balaton And Brother Bing is a Bing cherry infused wild ale that is tart with a moderate cherry flavor and a moderate fruit-skin bitterness.
Odd Otter Big Drip Grapefruit IPA
6.1% ABV, 27 IBU
Five owners — three with ties to the military, two accomplished homebrewers — opened Odd Otter Brewing Co. in downtown Tacoma during the summer of 2014. There has been a few changes over the years, including Greer Hubbard grabbing the helm in the brewhouse. Hubbard's Big Drip Grapefruit IPA is a refreshing, tropical fruit forward IPA with a strong ruby red grapefruit backbone, thanks to Magnum, Amarillo, Idaho 7, Mosaic, Azacca, Simcoe, and Centennial
hops.
Wingman Juicy Pale Lager
7% ABV, 35 IBU
Ken Thoburn, Derrick Moyer and Daniel Heath started Wingman Brewers in April 2011, brewing beer to sell to local bars, restaurants and grocery stores out of a small storefront in Tacoma. Wingman Brewers took off in a big way, with a constant eye on their vintage military theme. The Tacoma brewery hooked up with EDGE Brewing out of Boise, Idaho, on this kellerbier brewed in the style of a hazy India pale lager with Motueka, Nelson Sauvin and Denali hops.
BONUS: Narrows Brewing's Beans Imperial Stout is also on tap today!
---