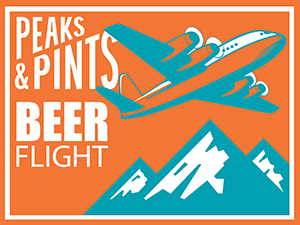 This is the season when people drink way too much, and often argue about Thanksgiving, Christmas, relatives and money. Domestic violence is as serious as it gets. Join YWCA Pierce County and our Tacoma community for Peaks and Pints Gives A Damn: Hops For Hope — a night of beer and conversation about how to empower healthy relationships and prevent domestic violence in the South Sound. Hops for Hope hosts include Jeff Cohen, John Hines, Casey Catherwood, Matthew Jones, and Stephen Murphy, to name a few. YWCA will receive $1 from every draft beer poured at Peaks and Pints from 6-8 p.m., and a $1 from ever flight of Craft Beer Crosscut 10.17.19: Flight For Hope all day.
Skookum Seasonal Switch
6.5% ABV
While one hemisphere is finishing up the hop harvest, the other is just beginning the growth. Skookum Brewery brewed an IPA to celebrate both. Season Switch sports huge amounts of fresh Citra hops from Yakima Valley plus huge amounts of Ella hops from Australia for peach and nectarine notes mingling with citrus and pine. Rye and wheat add a fulcrum of haze and spice.
Gigantic Squawkzilla
7.5% ABV, 58 IBU
As Ben Love and Van Havig worked toward opening Gigantic Brewing Co. in Southeast Portland, they came up with a plan to draw people to their brewery smack dab in a industrial wasteland behind Reed College: Be cool. When they opened Wednesday May 9, 2012, they were cool. Their taproom had a college clubhouse vibe. They brewed amazing one-offs. Their label art, signed by the artists, could hang in museums. And, they would brew with the coolest people, including the Bale Breaker folks on this double IPA collaboration, Squawkzilla. Naturally, this uses hops Bale Breaker's hop farm, B.T. Loftus — fresh Simcoe hops in the hop back and dry-hopped with Simcoe, Citra, and Ekuanot for tropical flavors of tangerine, pineapple, and mango.
Georgetown Velvet Larry
6.7% ABV
Georgetown Brewing went back to Perrault Farms, but this time to snag some of the stickiest Mosaic in the Yakima Valley. The Seattle brewery stuffed 1,750 pounds of fresh Mosaic into their makeshift hop back for each batch, and then topped it off with more Mosaic pellets in the dry hop. Mosaic's good friend, Citra, joined the fun in the dry hop since they seem to get along so well. Contains wheat, so it's, like, hazy.
Bale Breaker Citra Slicker Wet Hop IPA
6.2% ABV, 70 IBU
This is the fifth release of Bale Breaker's award-winning Citra Slicker, a collaboration with Cloudburst Brewing. Heavily dry-hopped yet light in color and body, this IPA is all about these fresh, farm-grown Citra hops handpicked from Loftus Ranches' picking machine and poured directly in the brew kettle in a 4-minute turnaround. Dip the nose for mildly caramel malt, citrus hops, orange, tangerine, grapefruit and a spot of dankness. Good fresh hop character, the hops seem a little more complex than straight Citra, but that hop's character is dominant with citrus, orange, grapefruit, light pine, and pale malt with a little biscuit.
Boneyard Hop Traitor
8% ABV, 80 IBU
In 2010, Boneyard Beer was started in an old auto shop tucked away in the backstreets of Bend, Oregon's historical district. Without any outside investors or major bank loans, Boneyard's inception was unconventional to say the least. After decades in the brewing industry, owner Tony Lawrence built up a "boneyard" of old equipment he collected from 13 different breweries around the country. Alongside co-founders, Clay and Melodee Storey, this second-hand brewing equipment was pieced together to brew the first batch of Boneyard Beer in May 2010. Lawrence is perhaps best known for his bold, in-your-face IPAs, including Hop Traitor double IPA, a collaboration with hop supplier Hollingbery & Son Inc. from Yakima. Expect aromas and flavors of tangerine, candied pear, and limeade from ridiculous amounts of El Dorado, Idaho 7, and Azacca hops.
---